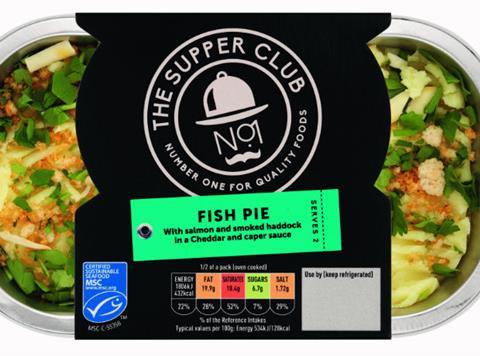 Sainsbury's has latched on to the trend for gourmet ready meals with a range of six dishes exclusive to its stores under new brand The Supper Club.

The new meals are lasagne (700g), beef stew & dumplings (700g), meatballs & pasta (700g), macaroni cheese (700g), red Thai chicken curry (800g) and fish pie (700g).

The lasagne contains Italian Montepulciano red wine, Italian Parmigiano Reggiano, free-range egg pasta, British beef steak and pork shoulder and British smoked bacon lardons.

The meatballs & pasta features Italian free-range egg gobetti pasta, British beef and pork meatballs, Mediterranean sun-dried tomato purée, balsamic vinegar from Modena, sweet Italian cherry tomatoes and extra virgin olive oil.

The fish pie comprises poached and hand-flaked smoked haddock and Alaskan salmon and is made with Italian dry white wine, Spanish capers, extra mature cheddar cheese, British double cream and British sweet cream butter.

The range, which launched in Sainsbury's superstores' chilled aisles this week is on special offer until 21 March, priced at £6.50, after which they will revert to the rsp of £7.

Sainsbury's said the demand for premium ready meals was growing, with almost a third of the nation eating a ready-made meal more than once a week, and two thirds claiming that dine-in deals now taste the same, if not better, than takeaways.

A OnePoll survey for Sainsbury's last month found 12% of Brits were happy to pass off a ready meal as homemade.