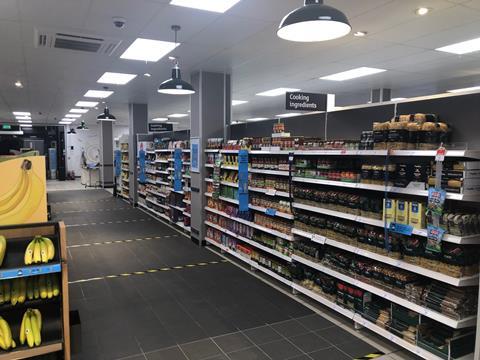 Sainsbury's has opened the doors of its fifth 'Neighbourhood Hub' concept store.
The supermarket has rolled out the new store format to a Sainsbury's Local branch in Billingshurst, West Sussex.
The 6,600 sq ft revamped branch now features more vegan and vegetarian ranges than a typical Sainsbury's Local, as well as petcare, household, cosmetics and beauty lines, an Argos order collection point, a coffee to-go machine and a fresh juicer.
Other refit works include new refrigerators and checkouts alongside display shelving installed in the fruit & vegetable section to cater for the increase in fresh produce.
Sainsbury's first piloted the 'Neighbourhood Hub' concept at its Woodhall Spa, Lincolnshire branch in 2019. It was followed by two more branches in Waltham, Hampshire and Midhurst, West Sussex last year and another in Melbourne, Derby earlier this month.
The revamped stores are designed to offer a blend of convenience with the potential for bigger shopping missions, allowing customers to make fewer journeys to the nearest full-sized supermarket. The Billingshurst branch is around 4.5 miles from the nearest full-sized Sainsbury's supermarket in the area.
Sainsbury's plans to open a total of 18 'Neighbourhood Hub' shops over the next three years.
"We're continually investing in our store network and adapting our estate to ensure it best reflects our customers' changing shopping habits and local demand," said Sainsbury's property director Patrick Dunne.
"We're focused on opening around 18 more 'Neighbourhood Hub' stores over the next few years in addition to investing in upgrading some of our current convenience stores into this new format. They have proved extremely popular and that has really motivated the team to open more for our customers through a combination of acquiring new sites and upgrading current stores."