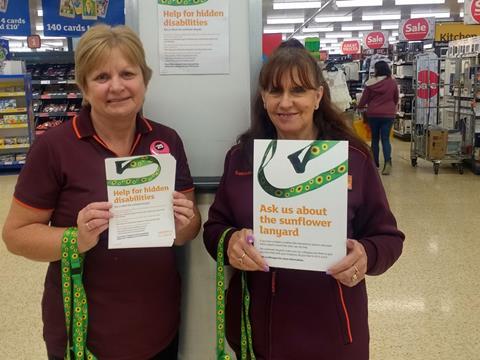 Sainsbury's is to extend its trial of giving lanyards to customers with hidden disabilities to nine additional stores from 1 October.

Customers who may need extra support at its Gatwick Airport and Barnstaple, Devon branches, where the trial is taking place, can collect a complimentary lanyard to indicate as much. Sainsbury's employees provide wearers with additional support such as opening a new checkout lane, assisting with finding shopping items, or giving them more time at the checkout.

The scheme is designed to enhance users' shopping experience through a subtle sign indicating their hidden disability. These could include dementia, autism or hearing or vision impairments.

Shoppers can keep the lanyards and use them each time they visit a Sainsbury's store.

More than 10,000 lanyards have been handed out to customers at the two stores to date.
From next month the lanyards will be available in nine more Sainsbury's branches - Gorseinon (Swansea), Selly Oak (Birmingham), Newport, Mere Green (Birmingham), Alphington Road (Exeter), Monk Cross (York), Foss Bank (York), Bath Road (Cheltenham) and Truro (Cornwall).

This extended trial comes as part of Sainsbury's vision to be the UK's most inclusive retailer. It is the first UK supermarket to trial an initiative like this. The supermarket hopes to encourage other retailers to follow suit, meaning customers would have the option to wear their lanyard in all UK shops in the knowledge that shop floor employees will recognise its meaning.

"We understand that a busy supermarket environment can present challenges for some of our customers," said Sainsbury's company secretary and corporate services director Tim Fallowfield. "We are working with our colleagues to ensure they are fully equipped to provide assistance to those who need it, and we encourage feedback from local communities where we are trialling the initiative."

Mark Lever, chief executive of the National Autistic Society, added: "It's great to see a supermarket like Sainsbury's lead the way in trialling initiatives like this. By introducing schemes like this, Sainsbury's is continuing to take important steps towards our shared vision of making shops and businesses across the UK autism-friendly."