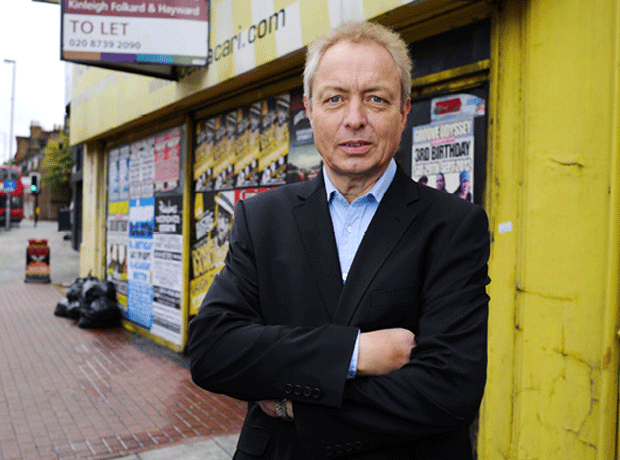 One of the truisms I've come to observe in government is that policy-making tends to lag some way behind what's happening on the ground. Crises are rarely anticipated in advance. Stable doors carry on being closed after the horse has bolted, and the business of government carries on as usual.

I'd like to say that this is what has happened where the Great British High Street is concerned, but the stable door's still wide open and the horse is over the hills. We've certainly seen a deep crisis. And I don't believe it's over. The 40,000 empty shops across the country attest to that. Major household names have collapsed, thousands of jobs have been lost and the high street is not going to return to how it was. A deep process of change is under way and the foundations for recovery are decidedly shaky. The research we carried out as part of our alternative review into the high street showed 20,000 businesses are financially stressed and at risk of failure.

Yet, by and large, ministers carry on as though nothing has changed. Sticking plaster policies - like proposals to allow people to park on double yellow lines and the like - are not going to make a real difference. We need proper support and leadership to help high streets adapt to the huge changes that are sweeping through every town across the country.
"Sticking plaster policies are not going to make a real difference"
Worse still, some existing government policies are deliberately making things worse. Last year we saw the biggest increase in business rates in 20 years. Then ministers postponed the revaluation by two years, meaning business rates are staggeringly out of touch with property values. Some small businesses I came across in our review are now paying more than double the amount in business rates than their rent. This is not sustainable and it's pushing many over the edge.

Since we launched our alternative review last week, we've received widespread support. There is now a growing consensus that the shift in consumer behaviour and growth of online and out-of-town shopping mean high streets must change in order to have a future. But this needs to be converted into action.

If the 31 recommendations we put forward to ministers are given serious consideration, we can start to redesign our high streets to become fit for the 21st century. Business rates need a radical overhaul, serious town centre commissions must be established to plan a 20-year vision for local communities, and a full-time high streets minister should be appointed to ensure a sense of urgency and strategic focus are instilled. The fact that over 50% of local authorities responding to our freedom of information requests had no plan in place whatsoever for their town centre is worrying. Plans need to be put in place immediately and support given to traders carrying the burden of unfairly high business rates.

The Great British High Street is a fantastic national institution but it's not guaranteed a future unless we act now. To give it a fighting chance we will have to hold ministers' feet to the fire until they provide the framework for change to happen. There's already been too much gimmickry and navel gazing. We desperately need action and there's no time to waste.

Bill Grimsey is a retail consultant and former Wickes/Iceland CEO