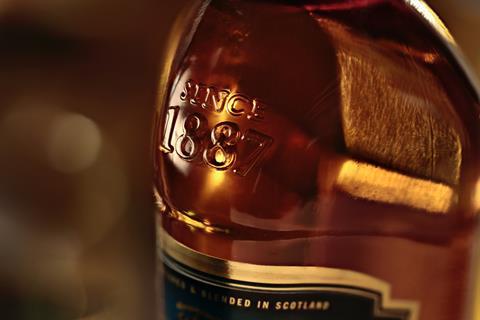 A surge in international sales of scotch whisky helped drive record first quarter UK food and drink exports, latest figures show.

UK whisky exports were worth £1139m in Q1 2019, which is up 19.2% on the same period in 2018, according to HMRC figures. Volumes were up 15.8% year on year.

"The first three months of 2019 have underlined scotch whisky's position as the world's premier whisky," Graeme Littlejohn, director of strategy & communications for the Scotch Whisky Association, told The Grocer.

"Over 300 million 70cl bottles of scotch whisky have been exported between January and March this year. Growth has been particularly strong in the Asia-Pacific, up 37% on 2018 to 75 million 70cl bottles, with India and China in double-digit growth."

Volumes to Japan were up by over 30% as exporters benefited from the EU-Japan EPA - which gives scotch whisky the same geographical indication (GI) protections in Japan as it does in Europe.

The £183.6m growth in sales of whisky helped boost total UK food and drink exports by 10.7% year on year to £5.8bn - the biggest first-quarter sales value on record, according to analysis by the FDF.

UK exports of salmon (40.9%), chocolate (5.9%), cheese (15%), wine (19.7%), gin (29.6%), beef (3.9%) and beer (19.6%) also showed strong value growth compared with the first quarter of 2018.

Food and drink exports to non-EU markets were up 12.2%, meaning they outpaced growth to EU markets (up 9.9%), the FDF said. Japan - which has also reduced or removed tariffs on UK chocolate, cheese, beef and pork under the EPA - recorded the single highest growth rate at 52.5%.

However, the FDF warned UK food and drink exports could slow down over the rest of 2019, with businesses already reporting that key buyers in global markets have stopped buying UK exports amid ongoing Brexit uncertainty.

A no-deal Brexit in October might also see UK exporters lose preferential access to markets like Japan, which is reportedly seeking tough concessions from Britain in trade talks aimed at replicating the EU-Japan EPA.

In order to protect UK export growth amid the "damaging uncertainty" caused by Brexit, FDF director Ian Wright urged the government to co-invest in its Food and Drink Sector Deal proposals and "help us to provide the support our industry urgently needs".