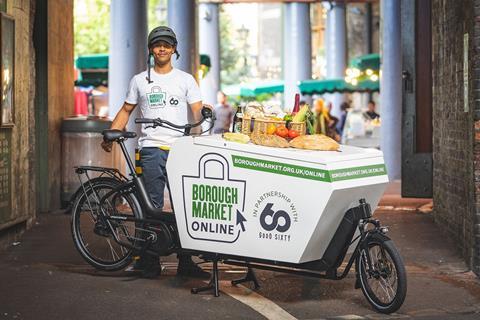 Borough Market is extending its online delivery service to use vans for the first time amid the Covid-19 outbreak.
Since its launch in November 2019, Borough Market Online has offered deliveries by zero-emission electric bike within a 2.5 mile radius of the Southwark market. From tomorrow (19 March) deliveries will be temporarily extended to any location inside the M25.
Electric bike couriers will still be used for deliveries "within a reasonable distance" of the market, but vans will be used further afield. The market says it will use hybrid vehicles "where possible". The service will include a "doorstep drop" option, whereby customers can avoid coming into contact with delivery staff.
"In these extraordinary times as a temporary measure the delivery zone has been extended to within the M25," said Kate Howell, development director at Borough Market. "The priority is for the market to be able to deliver food to customers who live outside its normal delivery zone.
"Once normality resumes, the deliveries will revert to zero-emission bike as sustainability is a priority for Borough Market."
Click and collect is also available from the market up until 9pm each day.
The business has confirmed its central London site will remain open with new public health and hygeine measures in place.
Communal seating has been removed from the Borough Market Kitchen and public events have been cancelled to minimise contact between customers and traders.
Borough Market MD Darren Henaghan said: "We have taken steps to shift the nature of the market from a place of congregation and engagement to one in which contact is kept to a minimum."
Some of the market's restaurants and hot food concessions have closed but produce stalls selling meat, fish, bread and vegetables will continue to operate.
"We aim to remain a haven for food lovers while supporting our small, independent businesses," Henaghan added.
"Borough Market has served this community for a thousand years, through thick and thin. It has survived wars. It has lived through food shortages and curfews. As recently as 2017, our community withstood the trauma of a terrorist attack and the subsequent weeks of closure. It did so by remaining close and supportive, by caring about people – and that's how we'll get through this crisis too."