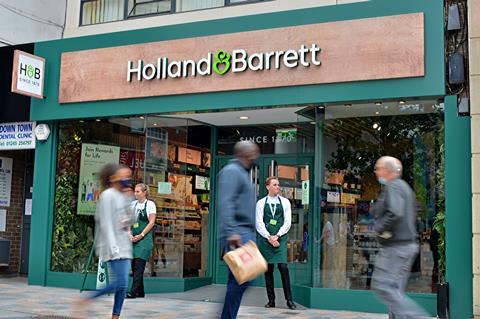 Holland & Barrett has introduced an app for customers to pre-order items to cut down queues inside its stores.
The app is designed for shoppers to browse and reserve products while adhering to coronavirus safety measures that require them to wait outside if maximum capacity has been reached in a store.
Shoppers can use the app in 10 branches to browse or search for products, and create a basket. Items in their virtual basket are then transferred to in-store colleagues to complete their order. Once the customer enters the store, they then pay for and collect their pre-packed items.
The app was first trialled at Holland & Barrett's newly refitted branch in Chelmsford, Essex. The shop stocks more than 4,000 SKUs and offers additional services including the high street's first epigenetics testing and complimentary private video or face-to-face consultations with qualified nutritionists and personal trainers.
The new technology is being rolled out in partnership with digital software provider Mercaux to nine additional branches owing to "positive" customer and staff feedback from the Chelmsford store, said Darsh Chand, head of change & continuous improvement at Holland & Barrett. The other branches now piloting the app are: Marble Arch, London; Victoria Street, London; Marylebone, London; West One Shopping Centre, London; Eldon Square, Newcastle upon Tyne; Southampton More, Southampton; Edinburgh Princes Street; Merryhill Centre, Dudley & Solihull, West Midlands.
The deal, which comes as part of Holland & Barrett's push to become more omnichannel, also gives it access to detailed questionnaires for staff to use on their handheld tablets to help address shoppers' health and wellbeing needs. If products the survey recommends are not available at the store, it will suggest a suitable alternative or fulfil the order online or through another branch. Access to this information previously occurred via the till or a computer in branches' back-of-house areas.
A spokeswoman for Holland & Barrett told The Grocer the new additions were designed to help it "understand the benefits of offering our customers a more connected shopping experience as it aims to connect digital with physical shopping journeys".
"We are testing the impact of giving our colleagues deeper access to information so they can provide customers with health and wellness solutions by giving digital access to our product file through a mobile device."
Olga Kotsur, co-founder & CEO, Mercaux, added: "It's imperative that retailers act now to meet the heightened expectations of customers returning to stores. Holland & Barrett has shown, through the launch of their Chelmsford concept store, the power that digitisation can bring to exceeding these expectations and prevent potential lost sales."
Holland & Barrett's endeavour to become digitally led has seen it make several major changes to bring its online and in-store offerings together. For instance, it introduced its online bespoke vitamin subscription service, Healthbox, in-store for the first time at its revamped Chelmsford branch with a preselected format.
The retailer's online sales also jumped 22% during the quarter ended 31 December 2019.