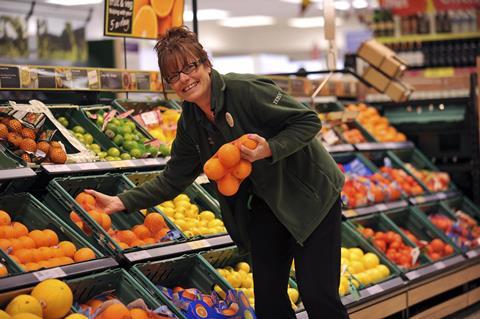 Tesco won this Friday night shop as its Crewe store scored 74 points. It was a busy restocking time and there were trolleys and employees in "almost every aisle" but the store scored full marks on shop floor service, as "polite", "courteous" and knowledgeable staff led our shopper to items.
Asda in Wakefield featured an "impressive and attractive" display of plants but otherwise the first impression was of "carnage" with yellow spillage warning signs "all over the floor". There were "many" disorganised shelves and meat in the toiletries aisle. Staff were "well presented" and most counter services were "well stocked and attractive".
Lidl in Wrexham was "friendly" with a "good range". The floor "was not particularly clean" and restocking trolleys were in the aisles, but not causing an obstruction. Our shopper loved the dual-language signs and PA announcements.
Waitrose in Southend-on-Sea was "bright and clean". The aisles were accessible, but the layout was "a little confusing". The store was "attractive" and featured a "lovely display" of seasonal products. Four items were unavailable.
Sainsbury's in East Kilbride was "very quiet". There were "several" unmanned trolleys that were blocking aisles. Four items were unavailable. Staff were "very helpful".
Morrisons in Reading offered a "good" experience, but our shopper struggled to find an employee to help. Eight items were unavailable and freezers were "almost empty". There were no queues at the tills but the checkout assistant didn't offer help or say goodbye.