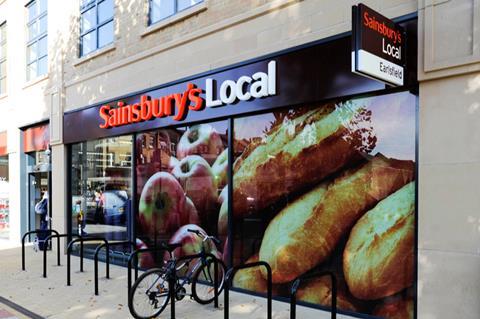 With the ending of the Asda deal, there have been questions about how Sainsbury's can win sustainably going forward, in our fiercely competitive marketplace. But we shouldn't forget that it remains second or a close third in large supermarkets, online and convenience stores. So it must have been doing something right.
So what is Sainsbury's trying to do now? And what can we learn?
First, Sainsbury's talks about being "there for our customers" and it is particularly good at "ease of shop". Navigational signage and pricing is bold and easy to read. Promotions are simple, making it clear what you pay and what you save. Availability in fresh is an area to look at – not just having one of everything, but enough to create a sense of abundance. But it is quick at checkout, particularly in convenience stores, and it is preparing for a post-checkout world with the Holborn store trial.
Next: giving shoppers fair prices. Partly by running its business more efficiently, notably renting space in bigger stores to concession partners, but also by better buying. Sainsbury's is said to be tough, well organised and thoughtful when running tenders, with a strategic eye on efficiencies through the supply chain. Beyond that, its promotional strategy means less "till shock" for shoppers (because there are no multibuys making people buy more than planned). And it can add extra value via Nectar vouchers and offers.
Finally, great product. Sainsbury's has always looked to differentiate here, especially in food and drink. It sees the trend to provenance and craft. Its Future Brands programme looks to welcome that kind of supplier. It has perhaps overdone the number of these entrants in areas like healthy snacking and fresh juice, to the detriment of clarity for the shopper, but the basic strategy is sound.
It also works closely, often exclusively, with bigger companies to bring innovation. PepsiCo's Off the Eaten Path snacking range is given significant space and visibility in store. The Tiptree jam jar cocktail bay is even more striking, bringing something significantly different to the alcohol aisle.
Of course, own label continues to be important. Differentiation here is increasingly difficult – Aldi and Lidl for instance offer very good quality top tier. But Sainsbury's is trying to up the ante, applying cutting-edge consumer science to its own-label development, including in-depth market research and semiotics.
Just this bank holiday weekend, Sainsbury's was pushing hard to create trading momentum, with Nectar "spend stretch" vouchering activity, 25% off wine and the 150th birthday activity. But in the longer term, there is a clarity to what it is doing that suggests it will continue to compete hard in our marketplace.
I wouldn't underestimate them.