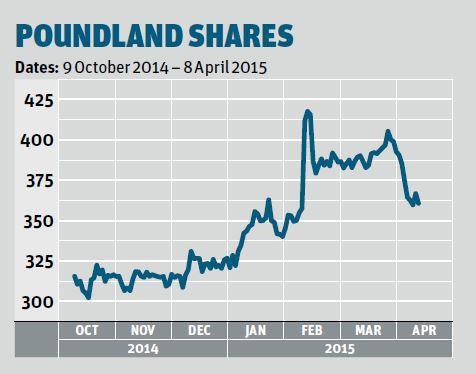 Poundland shares had a rollercoaster Thursday after the Competition and Markets Authority refused to give the green light to its 99p Stores acquisition.

The CMA clearly hasn't bought Poundland's argument its direct competitors include the full gamut of the discount sector, with the UK competition regulator finding a "realistic prospect of a substantial lessening of competition" in areas where both Poundland and 99p Stores operate. That means the CMA will be taking the deal to a more in-depth "phase 2" investigation unless Poundland finds a way to allay its fears.

The announcement caused an immediate plunge in Poundland's share price, falling to 340.7p and 6.6% lower than its opening price of 364.8p on Thursday. However, the shares were not down for long, bouncing back to 363.8p minutes later before settling down at 357.2p by lunchtime (1.1% down on opening price). The shares are up about 9% since the start of the year. Poundland released a short statement saying it is "carefully considering the CMA's announcement"; it is unlikely to say much on the matter before its full-year trading update on 14 April.
House broker Shore Capital shed a little more light on the situation, writing that the "devil will be in the detail" in terms of the proposed remedies the CMA would consider acceptable. However, the broker notes: "If any remedies were deemed penal by Poundland's management… then we believe that the company would walk away from the proposed acquisition".
Elsewhere, Cranswick's full-year trading update was met with good cheer by investors as a rise in fourth-quarter volumes and sales led to a 1.3% share price boost on Thursday to 1,418.3p. The meat producer's quarterly sales volumes were up 4%, which drove a 1% increase in underlying sales as lower input costs were passed on to customers. Investec analysts welcomed the figures: "Cranswick has delivered a stronger second half on new business wins, which started in Q3, but were fully reflected in Q4's stronger volume performance. This should also assist top line momentum in the first half of its 2016 financial year."

Also on Thursday, Walgreens Boots Alliance opened 2% up at $89.50 (£60.74) in New York after the global pharmacy giant reported better-than-expected second quarter earnings and a 35.5% growth in sales following the full merger of Walgreens and Boots last year.