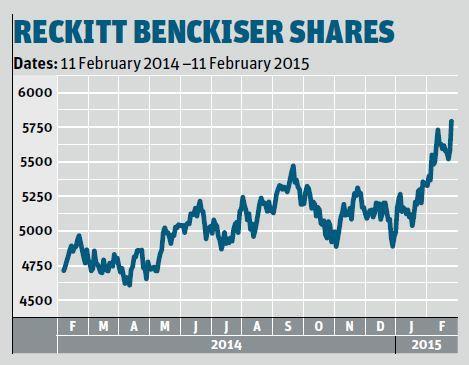 Reckitt Benckiser's full-year earnings release would not have delighted enemies of management speak, but investors liked what they heard.

Amid talk of "power markets," "power brands" and the new "project supercharge," RB unveiled a solid set of results that sets the company up well for life without its recently spun-off pharma arm.

The Durex and Strepsils maker beat market expectations with 4% full-year like-for-like revenue growth (though reported revenues of £8.8bn were 5% down due to currency fluctuations), with consumer health the standout performer having grown by 8% on a like-for-like basis.

The update was warmly welcomed, with RB's share price jumping 3.3% on Wednesday to 5,773.5p after peaking at an all-time high of 5,815p in early trading. RB's shares are up by approximately 20% over the course of the past year.

Jefferies' Martin Deboo doffed his cap: "It all adds up to what the sector has been missing in 2014: a business that has a stretching aspiration, against which it is delivering, and which understands that in a low-growth world, margin and cash are at a premium." However, Shore Capital's Darren Shirley warned: "Notwithstanding the potential for the group to further consolidate the still highly fragmented consumer healthcare market, we struggle to see upside at current levels."

Coca-Cola also defied market expectations when it posted its own full-year results on Tuesday. Coke reported a 2% global rise in volumes, including 1% growth in carbonated soft drinks. It was up 2.8% to $42.40 in New York on Tuesday despite posting a currency-driven 55% fall in fourth-quarter profits and warning that 2015 will be another challenging year.

Fellow fizzy drinks behemoth PepsiCo also issued full-year numbers this week, matching Coca-Cola's solid performance. Organic revenue grew by 4% globally, while reported net revenues were even because of a unfavourable currency impacts. Volumes and profits generally came in ahead of expectations, and shares were up by 2.6% to $100 on Wednesday.