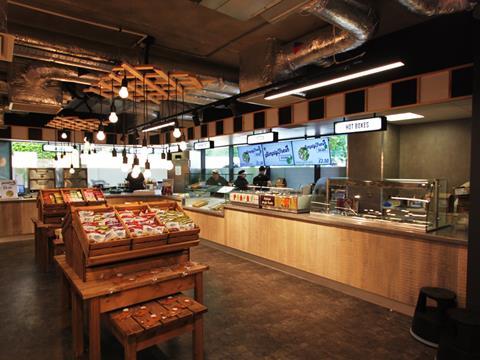 SimplyFresh has launched a new hot meal and food-to-go fixture for its franchisees.

The Kitchen fixture, available for installation now, is fully customisable and includes the options of a hot food counter, fresh salad bar and smoothie station. Franchise stores can also have digital menus to display prices and changeable promotions.

Installation would cost roughly £15,000 per store and retailers could expect about 30%-40% margin from the products sold, SimplyFresh said.

The launch marks the first time SimplyFresh has put its own branding on equipment and food-to-go products.

Kitchen made its debut in the first SimplyFresh campus store at the University of Surrey.

The 5,000 sq ft store, operated by Chartwells, serves a 14,000-strong student population and now offers hot food boxes, pizzas, sandwiches, salads and smoothies alongside a supermarket and bakery.

Simply Fresh recommends the fixture for stores of 2,500 sq ft or more, and said it was created to capitalise on the growing food-to-go and health trends in c-stores. Working with supplier Country Choice, the range includes gluten-free and dairy-free products as well as fresh fruit and veg smoothies displayed on crushed ice.

"People want healthy fast food and if you look at one of our stores you expect a certain degree of quality and healthy alternatives," said the company's creative director, Davinder Jheeta. "You have to look at your demographic and your market, and it's about finding the right fit for the right store."

The group is also working on a digital screen concept for franchisees to advertise promotions and news.

The screens start at £600 for a single 32-inch screen and up to £10,000 for a package of 10 screens in various sizes including installation.