Fruit & nut mixes, on-the-go snack packs and crunchy beans with seeds – combination snacks are growing fast thanks to innovative NPD
One of our 10 Things You Need To Know About… Snacking
Snack brands are mixing things up. Ever since Graze hit the retail scene in July 2015, combination snacks have been booming with NPD flooding the market, from unusual fruit & nut mixes to cheese & pretzels or even confectionery-based trail mixes.
It's not surprising manufacturers and retailers want a piece of the action. Over the past year, Graze has amassed sales of £7.7m, up a whopping 2,730% from a year ago [Kantar Worldpanel 52 w/e 29 July 2017]. Impressive. So, who's giving Graze a run for their money? Here's some of our top picks:
Kerry Foods GoGo's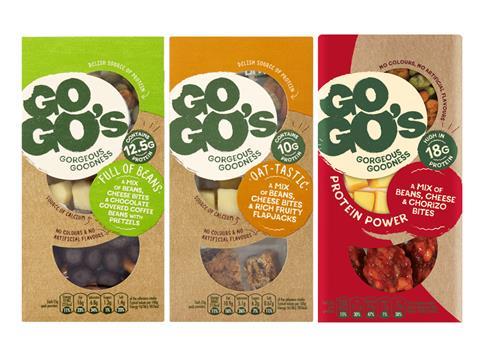 Kerry Foods is targeting adult snackers with its range of GoGo's Gorgeous Goodness range. The three-strong portfolio sees the likes of chocolate-covered coffee beans, chorizo bites and fruity flapjack paired with cheese bites, providing between 10g and 18g of protein. And, unlike other snacking combos, it's found in the chiller.
"There is currently a gap between enjoyment and nutrition in the snacking world as enjoyment is often bundled with guilt, and nutrition is often uninspiring," says Amanda Ryan, senior brand manager of GoGo's at Kerry Foods. "GoGo's will resonate strongly with UK shoppers as our research shows that one in 10 enjoy 43 different types of snacks a month[1]. Finding a gap in the market, GoGo's will disrupt snacking and revolutionise the dairy aisle with a range of products that allow shoppers the chance to experience interesting flavour combinations."
Whitworths Shots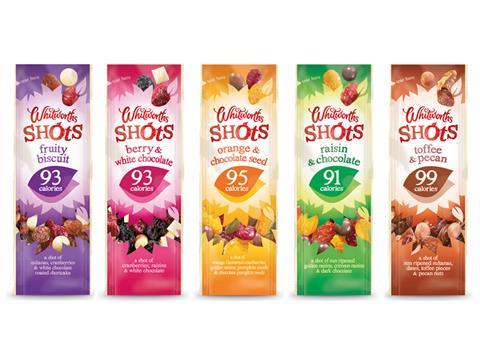 Whitworths Shots were on the retail scene before Graze but they're still making waves, having secured till point listings in Asda from 2 March 2017, stealing space from confectionery.
"As healthier snacks rise in popularity, it's fantastic to see retailers embracing this and changing the products for purchase at point of sale," says brand manager Terri Dainter. Each pack comes in under 100 calories with Berry & White Chocolate, Toffee Pecan, Fruity Biscuit and Raisin & Chocolate the bestsellers, according to the brand.
Planters Trail Mix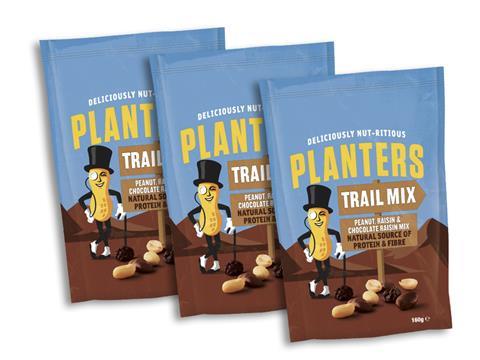 The 'deliciously nut-ricious' Planters Trail Mix was rolled out as part of Kraft Heinz's major overhaul of the Planters range. The Trail Mix – which consists of peanuts, raisins and chocolate-covered raisins – is one of a handful of mixes under Planters' health selection.
These include: Energy mix (almonds, chocolate-covered honeycomb, Brazil nuts, walnuts and peanuts); Health Mix (peanuts, cashews, almonds and cranberries); and Protein Mix (peanuts, redskin peanuts, cashews and almonds).
Mars Trail Mix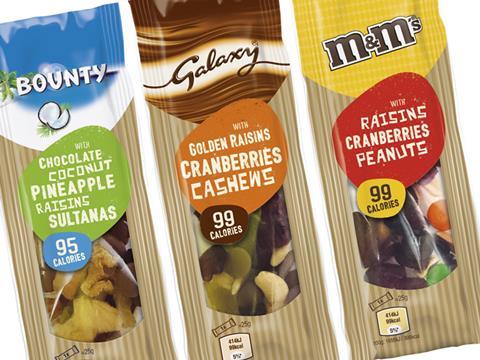 Like Whitworths, Mars Trail Mixes all come in under the 100-calorie mark (per 25g bag) and combine confectionery favourites with fruit, nuts and seeds. They're designed to offer consumers a branded alternative to the predominantly own-label ranges that dominated these types of products.
The three-strong lineup consists of M&M's (raisins, cranberries and peanuts), Bounty (chocolate pieces, coconut, pineapple, raisins and sultanas), and Galaxy (chocolate pieces, golden raisins, cashews and cranberries).
Liberation Foods Get Up & Glow
Liberation is offering consumers a Fairtrade wholesome snack with its snack packs. Get Up & Glow features dark chocolate, crystallised ginger and dried pear with Fairtrade whole Brazil nuts and almonds. Up & At 'Em, meanwhile, packs a punch with almonds, peanuts, sweet raisins, goji berries and pumpkin seeds.
"This range of products were designed to extol the wondrous health virtues of nuts, offering customers the ultimate in modern snacking – delicious, healthy, ethical and a little bit entertaining," says Kate Gaskell, MD of Liberation Foods.
Previous article: Mindless munchers: Half of Brits snack 'out of boredom'