Health is a key driver of innovation in the snacking market right now, but more and more Brits are looking for indulgent, satisfying snacks, argues Pladis
One of our 10 Things You Need To Know About… Snacking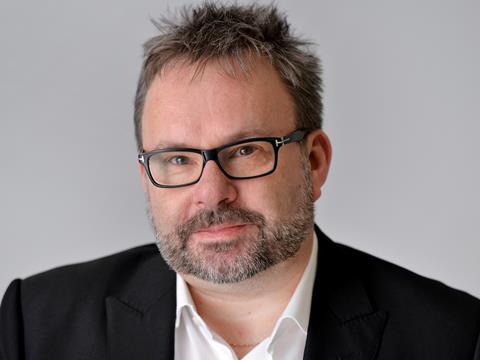 Steve Gladwell
UK consumer & market insights director, Pladis
About the author: Steve knows his snacks. He joined United Biscuits (as it was called back then) in 1998 as head of corporate intelligence. He's since fulfilled various roles at the biscuits giant, rising to research & insights director in 2013. He became CMI director for the newly formed Pladis Global in June.
Snacking and snack foods play a significant role in all of our lives from first thing in the morning to last thing at night; between meals, with meals and sometimes instead of meals. Snacking has, however, been under the microscope, especially within the context of healthier eating. Our recent research tells us there are a number of reasons why consumers choose what they do. One of these is, of course, that people do look for some healthier choices – but the story is much wider than that.
To better understand snacking habits, we carried out our first global research project, interviewing 14,000 people in the UK. We asked them about the six W's of their snack food consumption – What, Why, When, Where, Who with and Why not. This helped us to identify six fundamental needs. These are: Hunger – where we look for something to quite literally fill the gap; Sustain – where we look for something to provide energy and keep us going; Health – a healthier choice to reduce guilt; Nibble – to satisfy a craving; Connect – something to share together; and Reward – something indulgent and comforting.
This is true across all age groups, though those aged 16 to 34 are more likely to want to snack to connect with others, while 35 to 54-year-olds are more driven by rewards, and the over 55s consider health a more important need.
Infographic: The top six reasons for snacking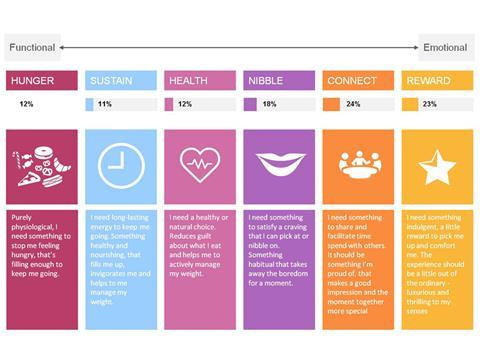 Clearly, snacking isn't always about satisfying hunger. Our research shows that often we snack to meet an emotional need, rather than a physical one. Around a quarter of the time (24%), snacking is about sharing a connection with others. We also snack to reward ourselves, perhaps after a hard day (23%). The results allow us to ensure that we have products that meet those different needs. McVitie's Digestives Nibbles, for example, were created to satisfy those seeking a snack for relaxed, evening sharing.
Health is an important and growing area and manufacturers have been working hard to improve the nutritional value of their snacks range, but what this research shows is that there is more to the picture. We need to offer consumers a range and offer them choice to ensure that we satisfy their daily snack food needs. Increasingly we know that consumers are looking for balance, taking a holistic view on wellbeing – making decisions that are not only driven by physical health but also how they feel; therefore they are looking for snacks that satisfy their body, mind and soul. Our product range will be incomplete - and we will miss an opportunity - if we do not acknowledge that people snack for emotional sustenance as well as for purely physical nourishment.
Previous article: Absolutely nutty! Brits splash out extra £32m on nuts
Next article: Mindless munchers: Half of Brits snack 'out of boredom'