This article is part of our Soft Drinks Report 2015
Hipsters, love them or hate them; they're responsible for a growing number of quirky trends in food and drink. Hipster culture is behind the boom in cocktails in jam jars and flat white coffee, amongst others, and one of the latest trends to emerge from this scene is cold brew coffee.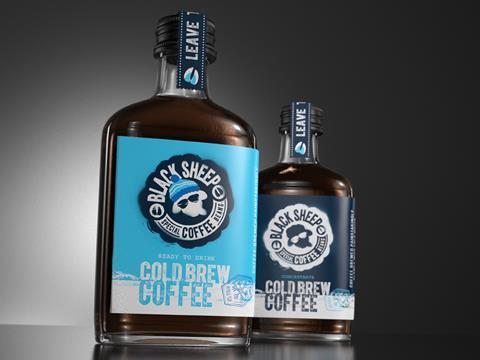 Cold coffee isn't new. Iced coffee has been around for years. But cold brew coffee is different. Rather than pouring freshly brewed coffee over ice, and serving it with milk and syrup, it is steeped in cold water for up to 24 hours. This helps to yield higher caffeine content and less acidity, meaning the resulting coffee has a sweeter taste. It is then diluted and chilled.
Sure, it's hot right now in Shoreditch, but does it have mainstream potential?
"Some people might tell you that cold brew can only be made on site with a bearded barista and all of the geeky stuff that goes with it but I like to think we can make great cold brew available in large retailers that people can consumer at home and on the go," says Gabe Shohet, co-founder of Black Sheep Coffee, which launched its cold brew variant in September 2014.
He believes there is a market for cold brew emerging in the UK as a result of its success in America and the move towards premium coffee. "At the minute cold brew is a rarity," he says. "We're not in a saturated market when it comes to speciality coffee so there's space to grow. Any new companies arriving is helpful to us as it just gets people curious about what it is."
Black Sheep Coffee's cold brew isn't available in retail outlets yet – the market is less of a priority for the company – due to its short shelf life of three weeks. "We are currently testing the shelf life to see if we can improve it so we are able to supply large retailers," explains Shohet.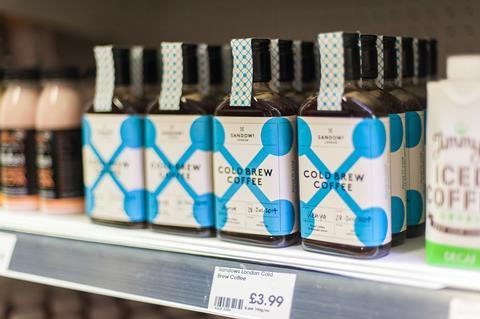 This hasn't stopped Sandows from gaining listings in Selfridges, Harvey Nichols and Whole Foods but co-founder Hugh Duffie says "we haven't made it easy for ourselves" by choosing an unpasteurised product in a glass bottle with chilled distribution, limiting the shelf life to four weeks from brewing.
Black Sheep also comes in a glass bottle – giving the product a distinctly alcoholic feel to it. "One customer said it looks like a quart of Jack," Duffie comments, adding that Sandows' glass bottle and handwritten label gives the product a premium feel to match its £4 price point (£3.59 in Whole Foods).
"We'd love it to be cheaper and would love for people to buy it every day but it takes 16 hours to brew and it took us a long time to work out how to make coffee this nice. It really is a premium product but hopefully as we grow we can bring the price down," Duffie adds.
The premium price could be a potential sticking point to cold brew's mainstream acceptance, believes Jonathan Chiu, managing director of Minor Figures, whose cold brew retails at £2.25 to £2.60 in places such as Selfridges, Whole Foods, Harvey Nichols and Daylesford Organic. Notably, Minor Figures doesn't come in a glass bottle.
"Cold brew is almost universally bottled in glass beer, whisky or medicine bottles which is a barrier to mainstream acceptance. Does a girl want to be walking down the high street drinking from a glass beer bottle? We have overcome this by using a Tetra Pak," he says. Compared to its competitors, Minor Figures cold brew has a shelf life of nine months and ambient storage.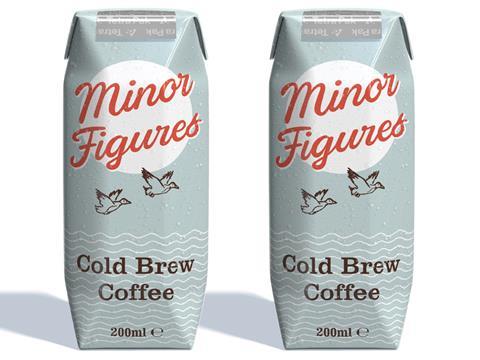 Looking at potential growth areas for cold brew, Chiu says he is targeting health conscious consumers and those looking to trade up from RTD coffee as well as drawing in new consumers that drink cold pressed juices for example.
Sandows, meanwhile, is targeting the younger coffee drinker. "If we're sampling and there's a guy aged between 20 and 30 with a beard I'll make sure he has a sample," says Sandows' Duffie, but he insists cold brew's appeal is far wider. "It's just a matter of time before cold brew goes more mainstream and makes it into the supermarkets."
So what comes next? Both Sandows and Minor Figures are looking to release a cold brew with milk – Minor Figures' is due for launch this summer and is also developing a non-dairy version. Sandows is also developing a 750ml version for use in the restaurant, bar and on-trade market but it's got something really special up its sleeve. "We're then looking at nitro draught. You pump nitrous oxide through the coffee and it pours like a Guinness. That is really going to shake things up," Duffie adds. "It's going to be the most exciting thing to come out of the coffee industry this year."