This article is part of our Soft Drinks Report 2015
No shelf is spared when it comes to soft drinks and the war on sugar. Volumes are falling almost as quickly as value in the squashes and cordials market, prompting market leader Britvic to axe all full-sugar lines from Robinsons fruit squash.
Overall value sales in the category are down 4.3%, on volumes down 6.6% [IRI 52 w/e 31 January 2015] and even low calorie offerings are suffering. Robinsons is replacing all its full-sugar squashes with no added sugar variants and rolling out a new look to boost the brand's association with fruit with the strapline 'Real fruit in every drop.'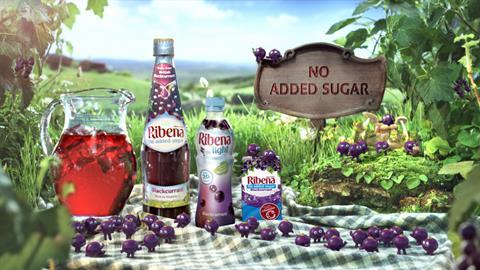 But not every brand is a casualty. Ribena's fortunes have been turned around – value sales are up 32.8%, on volumes up 41.7% [IRI] - since the brand was taken over by Suntory thanks to NPD including the August 2014 launch of a mango & lime squash and the brand's biggest ad spend in five years.
Ribena's iconic animated blackcurrant characters returned to TV screens for the first time since 2011 in a £2m campaign championing the brand's no added sugar range.
That said, Ribena's Really Light Low Calorie and Plus Low Calorie lines are plummeting even faster than the Robinsons portfolio, suggesting the issue isn't sugar content per se, but the fact shoppers simply don't want artificially sweetened products.
It's a trend Amanda Grabham, marketing director at SHS Drinks, which owns cordial brands Blossom Cottage and Bottlegreen, says is informing the company's strategy. "Our consumers value the natural credentials of our products and don't want an artificially sweetened product," says Grabham. "They don't mind sugar in moderation."
Cordial and presse brand Belvoir Fruit Farms, Bottlegreen and Bottlegreen's sister brand Blossom Cottage are all bucking market trends with value and volume growth, suggesting there is growing appetite for posher squashes.

Blossom Cottage has grown from value sales of £1.2m to become a £1.7m brand thanks to increased distribution – it won a nationwide Asda listing in 2014 – a design refresh in September 2014 and a 3% price drop from £4.31 a litre to £4.18 [IRI].
SHS Drinks says it is using Blossom Cottage, which with a 4:1 water-cordial ratio tastes more like squash than Bottlegreen cordial's 10:1 ratio, to recruit shoppers to the category before trading them up to pricier Bottlegreen, whose NPD for this year includes a lime cordial and limited edition grapefruit & honeysuckle, exclusive to Waitrose.
With Bottlegreen and Blossom Cottage unashamedly focussing on their standard full-sugar lines Belvoir is turning to lower calorie offerings to build on value growth of 4.9%, on volumes up 4.2% [IRI]. After launching an Elderflower Light presse in January 2014, a no added sugar Cox Apple Presse joined the line-up in February this year, and further NPD will follow in April.
"Despite a continued media buzz around sugar, moderate, sensible consumption of cordials which contain sugar is preferable to artificial sweeteners and flavourings," says Lucy Sidorewic, senior national account manager for grocery at Belvoir Fruit Farms.
With Robinsons full-sugar lines accounting for around 10% of the brand's volume sales Britvic's commercial director for at home Ian Forshew says the decision to axe the variants is part of a strategy to develop a new 'dilutes segment', including further expansion of its no added sugar Squash'd water enhancers.
With pocket squashes a key market trend – they're worth more than $300m in the US and the market is tipped to grow to £200m in the UK in the next five years – Robinsons is adding citrus, tropical and pear & blueberry flavours to the range this year.
But do pocket squashes have what it takes to return the category to growth?
Coca-Cola Enterprises says its low-sugar Oasis Mighty Drops has helped achieve value growth of 14.7% for the brand as a whole since launch in April 2014, delivering an additional £10m to the sector, and Vimto says its no added sugar Squeezy pocket squash, launched in January 2014, has added around £1m to retail sales.
Posket squash could soon be worth a pretty packet.