How are things faring in the non-alchoholic and own-label drinks departments? Part 3 of our special report turns the spotlight on these two sectors.
Playing the functional card hasn't paid off for everyone. Ribena's value sales slipped 9.6% and volumes by 13% [IRI] despite new labelling clearly displaying the brand's fortification with vitamins A, C and E and calcium.
Martin Hall, CEO of soft drinks manufacturer Freedrinks, thinks he knows the reason why. "The country's collective palate has matured rapidly over recent years," he argues. "The UK is now a nation of foodies and catered to accordingly, with one glaring exception - soft drinks. It's a category that needs to catch up."
And a host of brands are looking to do just that with sophisticated offerings aimed at tapping demand from health-conscious consumers looking to cut alcohol consumption.
With sales of adult soft drinks soaring, J2O has brought out limited-edition Pear Gold, blending pear and guava. "It's a non-alcoholic alternative to cider," says brand owner Britvic's Graham. "It taps into the trend for in-home socialising and consumers' desire for premium products to create the out-of-home experience at home."
Alternatives to alcohol
Shloer is thinking along the same lines with its limited-edition Raspberry and Rhubarb Punch, designed to be served in a punch bowl with ice. "When entertaining at home, consumers want to offer guests something special and the opportunity to create some theatre around the serving of the drinks is a very motivating factor in the purchasing decision," says Amanda Grabham, head of brand marketing at Shloer.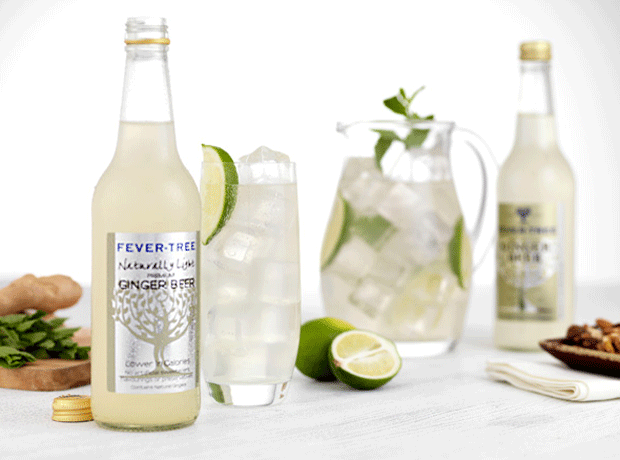 The trend is also benefiting lemonade, as drinkers demand more authentic traditional lemonades as an alternative to alcohol. "There is an apparent growing demand for more authentic lemonades," says Luke Benson, on-trade marketing executive for soft drinks brand Fever Tree, pointing to lemonade's 8.2% growth on volumes down 0.9% [Kantar]. "We launched a cloudy Sicilian lemonade using lemon extracts from Sicily last year with great success."
Schweppes, whose sales rose as volumes fell, is targeting such consumers with a new limited-edition summer punch. The lemonade, which hit shelves in February, comes in 2-litre bottles and six-packs of 330ml cans. "The summer punch has been created with adult taste and quality expectations in mind," says Canney at CCE, Schweppes' distributor.
Others are more explicitly mimicking alcoholic drinks in their efforts to appeal to the abstemious. Soft Brew had beer drinkers in mind when it launched its non-alcoholic brewed range of soft drinks in October 2011. Distributor RH Amar says volume sales of Soft Brew - made with malted barley, hops, fruit juice and spring water - grew 14.8% in 2012.
The drink pours like a beer with a frothy head and delivers a 'rasp' on the back of the throat to mimic a beer - a unique selling point compared with other adult soft drinks, claims Lesley Parker, product marketing manager at RH Amar: "Soft Brew offers an unashamedly proper adult drink, without compromise. These are exciting times for the category."
Freedrinks clearly agrees. It says it has spent €4.5m developing Zeo, an adult soft drink containing 32 natural herbs and botanicals designed to mimic the kick of a 30% abv drink. "It's a soft drink with a difference, which delivers a tingling taste sensation but is also fruity, clean, crisp and refreshing," says Freedrinks' Hall. The company has secured listings in Harvey Nichols from this month.
Own label
Despite the host of branded NPD in the adult soft drinks subcategory, it is actually own label that's contributing most to the sub -category's growth. While adult soft drink brands' sales were more or less flat last year, own label surged 22.3% on volumes up 51% [Kantar].
In the soft drinks category as a whole, of the big four Tesco gained the greatest market share, with sales up 5.7%, but Sainsbury's and Morrisons are underperforming with growth of just 2% for Sainsbury's, and Morrisons down 1.7% [Kantar].
In a bid to catch up, Sainsbury's is in the process of reformulating its offering and all of its own-label carbonates now have no-added-sugar options. "We have done a great deal of reformulation work over the years within the soft drink category on reducing sugar and calories," says Jessica Weston, product technologist for soft drinks at Sainsbury's. "All of our flavoured carbonates have gone into no-added-sugar variants, such as our cherry and pineapple and grapefruit carbonates."
Even category giant Coca-Cola is expanding its range of flavours, by launching limited-edition Coke Zero Cherry Twist, which hit Asda in February, and bringing back Vanilla Coke. "When Vanilla Coke first arrived in the UK in 2003, it generated sales of £54m," says Canney. "It delivered penetration of 3.2 million households in its first year and the highest volume of any flavoured cola launch before or since. It's the product consumers ask us to bring back most frequently, and we've listened to them."
CCE's decision to price-mark bottles (500ml and 1.5-litre) and 330ml cans of Vanilla Coke is significant, too. Many other players are adopting this strategy to at least offer pricing transparency and reassurance if not directly compete with value brands, particularly active in energy drinks, and own label.
"Good value is key," says Troy. "Consumers are getting more savvy about what value means. They are recognising that markets are 'pricing up to promote back'. Simplicity in good value, everyday pricing will become important again. Absolute price points have become more important for consumers."
Price-marked packs provide a compelling solution, agrees Georgina Thomas, category management controller for GSK. "Price-marked packs are a way to demonstrate value and trust, and they ensure the saving is passed on to the shopper," she says. "Shoppers are wanting consistent everyday value rather than high and low promotions."
Red Bull will roll out marked packs across its entire range in 2013 to put a stop to the "massive variances" in price in indies. Vimto has upped the number of products in marked packs from 33% in 2011 to 45% in 2012.
"They help the retailer to sell through stock faster," explains Vimto's Hunt. "Our research shows stocking price-marked packs translates into higher average spend per shopper per visit, and encourages repeat visits."
As does offering deals that fit well with consumer lifestyles, as Pepsi claims it has proven with its reliance on linked deals with PepsiCo snack brands over the past year. "We offered shopper deals with strong consumer appeal," says Britvic's Graham, pointing to cross-promotions of Pepsi Max and Walkers crisps during Pepsi's sponsorship of ITV's The X Factor and with Doritos. "We had a strong activity plan throughout the year."
Although the depth of its promotions clearly played a more significant role, Pepsi Original bucked the trend towards lower-calorie offerings and grew 11% on volumes up 14.6% last year [IRI], thanks in part to such promotional tactics. Cordial and pressé brand Bottle Green claims it enjoyed similar success with a cross-promotion with Gordon's Gin.
Featured space promotions are also gaining importance in soft drinks, with the 10 most promoted brands in the category having upped their use of featured space by 41.4% last year [Assosia 52 w/e 31 March 2013]. Depth of deal was also a significant factor. While the average saving offered by the 10 most promoted brands over the past year was £1.48, down from £1.59 in the previous year, Pepsi offered consumers a much greater saving of £1.72 [Assosia], clearly helping the brand steal sales from its rivals. How sustainable such tactics are in the long run is another question, of course.
Read part 4: Promos and marketing
Or skip back to Part 1: Health, responsibility and stevia
Part 2: Energy and sports drinks