Soft drinks brands have their work cut out dealing with the health lobby. Are naturally sweetened and adult soft drinks the answer? Here's part 1 of our special report.
Soft drinks have become a soft target in the battle against obesity… and now they're fighting back. Last month Coca-Cola launched a UK version of its controversial US ad promising "choices, innovation and information" to help consumers live healthier lives. One TV ad, Be OK, suggested ways to burn off the 139 calories in a can of Coke, for example.

Unfortunately for Coca-Cola, 'OK' would be a very generous description of how it's fared in the past year. In what should have been a boom period given the company's Olympic sponsorship, Coke Zero was the only major Coke brand to achieve significant value and volume gains. Its other core brands lost share.

"We didn't sell as much as we wanted to in 2012," admits Nick Canney, VP of sales at Coke's UK bottler and distributor Coca-Cola Enterprises (CCE). "Coke has been associated with the Olympics for decades, but did it all go to plan? No."

The reasons are myriad, but tellingly, while CCE hiked promotions 81.4%, it reduced their depth from 31.1% to 29.8% [Assosia]. Conversely, while Pepsi only increased its activity by 16.5%, it boosted the depth from 41.5% to 44.6%. The upshot? Coca-Cola's price rose 4% on average versus a 2.6% fall for Pepsi [IRI] - and cash-strapped consumers responded accordingly.

The bad news for CCE is that it faces even more heavyweight competition this year in the shape of a merged AG Barr and Britvic (a decision on which is expected in June) and Gerber Emig and Refresco, not to mention the growing challenge posed by the burgeoning adult soft drinks category.
" Over the past few years we've made some big inroads into lowering the calorie content of our drinks" Paul Graham, Britvic
As well as reviewing its promotional strategy, CCE will, like other soft drink players, be hoping to boost its health credentials through NPD - like the naturally sweetened lower-calorie (as opposed to zero calorie) Sprite. But will this be enough to rejuvenate sales of its biggest brands, and indeed the category as a whole?

Over the past year, more than half the growth in the cola category has come from Coke Zero and Pepsi Max. Together, the zero-calorie rivals accounted for £24.8m of cola's £41.5m growth [IRI]. Coke Zero grew 10.8% by value on volumes up 7.5% despite a slash in ad spend and thanks in no small part to its Skyfall tie-up, while Pepsi Max rose 10.9% on volumes up 12.2%.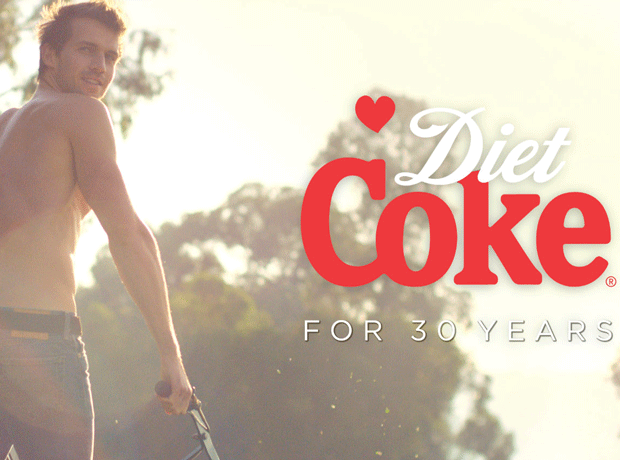 Although Diet Coke lost out as a result of the decision to focus on Zero last year, CCE will be hoping this year's return of the Diet Coke Hunk will rejuvenate its fortunes.

The success of the other two zero brands certainly suggests that pop drinkers are thinking more about their calorie intake, says Paul Graham, customer management director for Pepsi's bottler and distributor Britvic, pointing out that Pepsi Max has accounted for 60% of the brand's growth in the past year. "Health and functional benefits do influence decisions," says Graham. "Over the past few years we've made some big inroads into lowering the calorie content of our drinks."

Responsibility Deal

Not that Britvic or anyone else in the industry have had much choice. The move to cut the calorie content of its portfolio by 9.4% in the past five years - through measures including the reformulation of Robinsons and J2O and the addition of stevia to Juicy Drench - has been prompted by the government's Responsibility Deal, under which signatories have pledged to reduce the content of substances like salt and sugar in their products.

"Obesity is a complex issue with many contributing factors and requires a collective effort across government, business, communities and individuals to make the differences necessary," says Adrian Troy, head of marketing at AG Barr, which signed the deal in January and committed to reducing the calorie content of its drinks portfolio, which includes Irn-Bru and energy drink Rockstar, by 5% per 100ml by 2016.

But as criticism of the Deal's alleged shortcomings and pressure from health lobbyists and the political opposition mounts, the rhetoric from government is getting tougher. In January, the health secretary Jeremy Hunt warned that the government "reserved the right to legislate" if retailers and manufacturers did not make sufficient progress in lowering salt and sugar content. "This is not a problem we can just wish away," he said. "If we don't meet our targets and continue to make the progress that we have to make, then we would consider legislation."
" Research shows that more than 60% of soft drinks now contain no added sugar" Emma Hunt, Vimto
Hence Coca-Cola's latest push to convince the world that it does care about the health of its customers. The move was no doubt also motivated by concern for the health of its business, given that sales of Coke Original and Diet Coke have inched up just 0.9% and 1.5% respectively on volumes down 3% and 4.2% over the past year [IRI].

Things haven't exactly been fizzing elsewhere in CCE's portfolio either. Powerade, the Olympics' official sports drink, failed to cash in on the summer of sport despite heavyweight advertising fronted by Jessica Ennis: sales plummeted 10.1% on volumes down 9.5%. Fanta sales have also fallen, by 2.7% on volumes down 4.5%, and Sprite has lost 6.4% on volumes down 7.3% [IRI].

Stevia

CCE is hoping to put the spring back in Sprite's step with stevia. Last month, it announced it had cut its calorie content by 30% by adding the herbal sweetener to its recipe. The company reports growing sales of Glaceau Vitaminwater after its reformulation with stevia last year and has high hopes for the reformulation of Sprite and potentially other brands in its portfolio. "It's the first of our carbonated products to contain stevia," says CCE's Canney. "The lemon and lime flavour of Sprite means we can mask the bitter taste."

The move to stevia points to a shift away from zero-calorie offerings containing artificial sweeteners to lower-calorie offerings containing natural ones - one likely to appease a health lobby as worried about artificial ingredients as calories.

No other brands have yet publicly committed to using stevia in the UK. However, in February, Pepsi launched lower-calorie cola Pepsi Next in Australia (a US version of the drink does not include stevia). Fast-growing cordials and pressé brand Belvoir Fruit Farms adds that it is also "looking closely" at it.

Other players, meanwhile, are looking at different ways to reduce the calorie content of their drinks - and with good reason. Vimto, which outperformed the market, attributes all of its 7.7% value growth on volumes up 1.1% [IRI] to its no-added-sugar squash. "Research highlighted by the British Soft Drinks Association shows that more than 60% of soft drinks now contain no added sugar," says Emma Hunt, soft drinks marketing manager at Vimto. "That's up from 30% 20 years ago."

No wonder AG Barr is reducing the sugar levels in 16 of its products, including Tizer and Dandelion & Burdock. The move comes in the wake of the 2011 rebranding of Diet Irn-Bru as Irn-Bru Sugar Free, which Troy says has been a hit despite the brand's 8.3% decline in value sales on volumes down 9.3% [IRI] in the past year.

"Irn-Bru Sugar Free now makes up over a third of our total brand sales and is growing fast," says Troy. "We're focusing our NPD on low and mid-calorie products and reducing the calorie content of our existing drinks where it is possible to do so."
Read part 2: Energy and sports drinks