Part 4 of our Focus on soft drinks looks at tactics around promotions and marketing.
Targeted deals could prove more fruitful. Shloer says promotional activity to tie in with occasions such as Mother's Day, Easter and Bonfire Night paid dividends in 2012. "Volumes increased on average by 180% and a plinth-end price promotion at Easter delivered a six-fold sales uplift for one multiple," claims Grabham. "Retailers who stepped up visibility for Shloer during the Spring Bank Holiday and jubilee almost tripled volumes."
With 13 key events other than Christmas each year, many brands could be missing a trick, she argues. "If adult soft drinks were given extra visibility as part of those occasions, an average uplift of 180% per event would generate around £15m worth of incremental business and grow the category 13%," she says. "Retailers are missing an incremental sales opportunity."
Offering drinks in smaller formats to suit the convenience channel could be another incremental sales opportunity, not to mention the additional attraction for brands of such formats fetching a higher price per litre. "Being able to adapt the range to suit the needs of each retail channel will be key to success over the next 12 months," believes Joanna Watling, marketing director at Princes-owned Jucee, which boosted value and volume sales of its squash by more than a third in 2012. "Increasingly one size does not fit all for retailers, so by giving the impulse sector something different to major multiples, brands will ensure they make the most of all opportunities open to them."
The increase in promotions appears to have been paid for in part by a cut in traditional ad spend. Ebiquity notes an 8.5% decline in ad space bought by the 10 most advertised soft drinks brands [52 w/e 31 December 2012], with spend on Diet Coke and Coke Zero declining by about a third and spend on Coke Original remaining more or less flat.
That's not to say that Coca-Cola hasn't been forking out. While its Olympic sponsorship did not reap the expected rewards, other initiatives did.
Take Coke Zero's sponsorship of James Bond movie Skyfall, for instance. Marketing included a stunt at Antwerp Central train station in Belgium, which gave unsuspecting travellers the chance to play out their James Bond fantasies by stepping up to a vending machine where they were charged with an 007-style task. They had 70 seconds to race to another platform, overcoming a host of obstacles along the way. Videos of consumers undertaking the challenge soon went viral.
" We have to be acutely aware of consumer trends and government initiatives" Nick Canney, Coca-Cola Enterprises
Marketing
Coca-Cola is also hoping to pull at consumers' heartstrings. It's joined forces with the World Wide Fund For Nature (WWF) to launch its Arctic Home project to conserve the home of polar bears. More than 300 million cans of Coke will feature a mother polar bear and her two cubs and the brand has pledged to donate €3m over the next three years to Arctic conservation.
Another initiative, announced this week, has been to replace the name 'Coke' on 100 million 500ml and 375ml bottles with a random selection of Britain's 150 most popular names. CCE says the initiative is aimed at encouraging consumers to find bottles bearing the names of loved ones, and share a Coke with them.
Pepsi has adopted a different tack, sticking to its strategy of big pop music name tie-ups. The brand has signed Beyoncé as the current face of Pepsi Max, and in 2012 signed a deal with Michael Jackson's estate to put The King of Pop on special edition cans of Pepsi in a global ad campaign. Consumers can scan codes on the cans with their phones to download remixes of Jackson's songs.
Appletiser is also looking to appeal to music lovers by enlisting its first-ever brand ambassador: singer songwriter Eliza Doolittle. The star is fronting the brand's 10-week Sparkle On campaign launched in March. Her image has been added to packs, which feature a promotion offering consumers the chance to win one of 100 pairs of tickets to a private performance at a secret London location in June.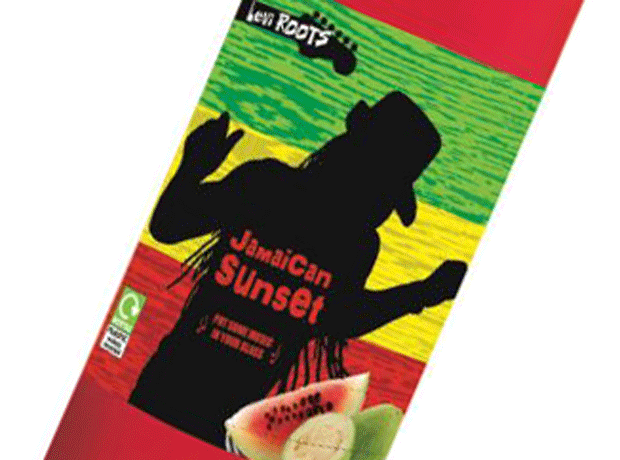 The musical theme continues at Levi Roots drinks. As a part of distributor Vimto's marketing campaign for the latest variant Jamaican Sunset, fans are encouraged to go online to find hidden prize money behind musical notes. The brand is also launching a £20m nationwide on-pack promotion giving consumers the chance to instantly win £10 in cash.
The weather
While many recent marketing campaigns have tapped into pop music, the environment and Health, others have sought to play to the consumer's growing interest in provenance and British ingredients. Belvoir Fruit Farms has come up with a subtle twist with the 'inspired by an English garden' theme of its latest cordials and pressés and teamed up with upmarket gardening company Crocus to launch an on-pack promotion offering two consumers the chance to win a £2,500 garden designed and planted by Crocus.
This contributed to roaring growth for Belvoir of 25.6% on volumes up 25% [IRI], but MD Pev Manners says the growth would have been even greater had it not been for another important factor. "Terrible weather and the lack of a 'proper' summer certainly damaged sales - companies have all had to work harder to grow," he says. "Adverse weather patterns played a substantial role in depressing growth rates."
Whether 2013 is a washout remains to be seen, but with traditional fizzy pop sales looking less than sparkling, action must be taken. "The category has to respond to an increasing and ageing population, and also a fitter, healthier population," says Canney.
It also has to communicate more clearly what's in a bottle or can, says Steve Carter, sales and marketing director at soft drink brand Frobishers. "People want to know what they're consuming," he says. "They are prepared to pay more for higher quality and more natural products, as long as they believe they're gaining value."
As long as they don't overdo it, cautions Manners. "The danger with the debate on obesity is that more and more drinks will have ingredients declarations that look like they belong in A-level chemistry exams rather than on the dinner table or in a lunchbox."
Which may satisfy the health lobbyists but it is unlikely to be viewed so kindly by consumers - no matter how health conscious.
Read part 1: Health, responsibility and stevia
Part 2: Energy and sports drinks