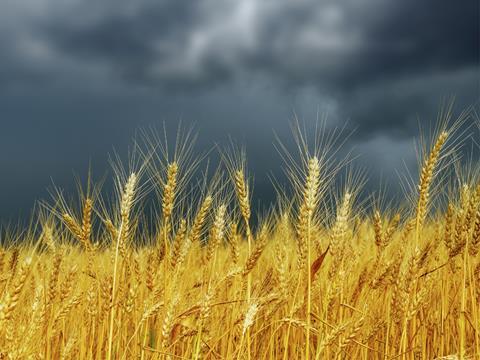 Cereals plantings have fallen 2% year on year according to a new study by the Agriculture and Horticulture Development Board (AHDB).
The area planted with wheat for harvest in 2015 has fallen 3% on last year's figures, and the area for oilseed rape 7%, the AHDB Cereals & Oilseeds Planting & Variety survey has found. Oat area has risen 1% over the period, while barley is up 3%.
"A lower area planted to oilseed rape and the major cereals this year reflects evolving cropping patterns throughout Great Britain," said AHDB market analyst Anna Lockwood. "Changes are likely to be in response to developing economic and agronomic trends."
Published annually, this year's survey has been compiled from surveys completed by more than 3,000 farmers, who were asked to submit intended harvest areas and the area harvested last year.
AHDB said the sharp drop in oilseed rape planting was a result of factors including: restriction on the use of neonicotinoid seed treatments, which deterred planting and caused some crop failure; increasing risks in growing the crop pushing down market prices; possible impact of the three-crop rule for farms with intensive wheat and oilseed rape rotations.
The biggest declines in rape plantings were in the Eastern and South East regions, while plantings in Scotland rose slightly.
The three-crop rule – implemented under the reformed Common Agricultural Policy to encourage crop diversification – may also have impacted wheat planting, said the AHDB.
Plantings of Group 1 wheat that is most suitable for bread making had dropped slightly compared with last year but was up considerably compared with 2013 levels. Group 4 wheat varieties are estimated to account for 63% of the Great Britain wheat area, up from 58% in 2014, largely at the expense of Group 3.
While total barley area will be up 3% year on year, it has fallen 6% in Scotland. In England, the largest increases for spring barley have been seen in the Eastern, East Midlands and South East regions, and are likely to have been driven by efforts to control black-grass with spring cropping, said the AHDB. Overall, malting varieties account for 58% of the total barley area.
The total area of oats has risen 1% on last year but is below 2013 levels, which were the highest seen in 36 years. The could be a result of oats being used as a break crop in the place of the declining oilseed rape area, said the AHDB.