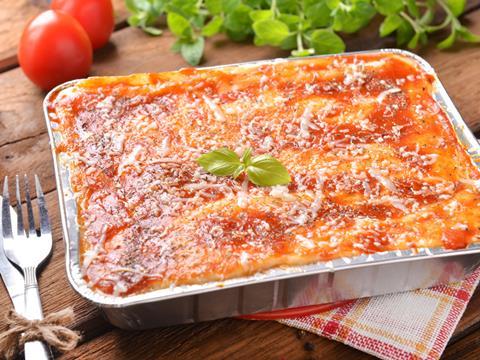 Supermarkets are "falling short" on animal welfare and provenance for meat used as an ingredient in ready meals, the Eating Better alliance has claimed.
Currently, only three retailers (M&S, Waitrose and The Co-op) include ingredient meat sourced for their own-brand ready meals in their farm animal welfare policies, according to a new study published by the alliance today.
Elsewhere, the research identified just one supermarket ready meal labelled as containing meat certified to higher welfare standards: Lidl's own-brand Chef Select Spaghetti Carbonara, containing RSPCA Assured pork.
There was also a small percentage (3.5%) of beef and lamb products certified as Red Tractor, found in Asda and Lidl, but while that guaranteed UK provenance and traceability, it did not indicate higher animal welfare above legal requirements, Eating Better said.
"For all other retailers, we found no labelling of meat sourced to higher standards," it added.
The Eating Better research also found that despite growing consumer concern over provenance, nearly a third (30%) of meat-based ready meals did not indicate the country of origin of meat ingredients.
Just over half (57%) of ready meals labelled with provenance stated British meat had been used, but assuming the meat in meals with no indication of provenance was "unlikely to have been sourced in the UK", Eating Better estimated that less than half of the meat used in ready meals in supermarket shelves was sourced in the UK.
In value ranges, the percentage of meals using British meat fell to 32%, compared to just over 52% in regular ranges and 80% in premium ranges.
Despite the rapid growth of interest in plant-based eating, Eating Better also found that meat still dominates the ready meal aisles. It was the main ingredient in three out of four (77%) of the 1,350 own-brand and branded ready meals surveyed from 10 retailers (Asda, Aldi, Co-op, Iceland, Lidl, Marks & Spencer, Morrisons, Sainsbury's, Tesco and Waitrose).
Overall only 3% of ready meals were vegan, with Tesco, Waitrose and Sainsbury's offering the largest number of choices. No plant-based options were found in Iceland and only one in M&S.
"We busy Brits love convenience food, but we also care about provenance and farm animal welfare. Our survey found that many retailers are falling short on meat in ready meals," said Simon Billing, executive director of Eating Better.
"Nearly a third of ready meals give no indication of origin, and there are only a few examples of labelling of higher welfare standards. With three in four ready meals still meat-based, we want to see retailers demonstrate their commitment to better meat with higher animal welfare and environmental standards and more transparent labelling."