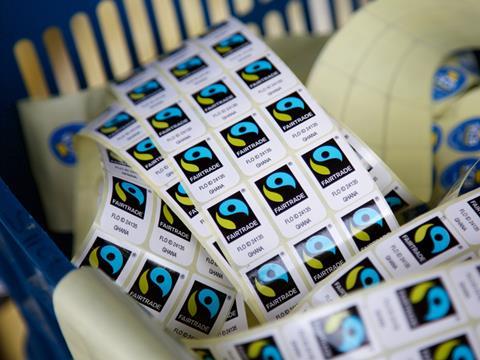 Despite soaring input costs and rampant consumer price inflation, both retailers and shoppers are continuing to seek out ethically labelled food and drink, the Fairtrade Foundation has said.
Support for what were usually pricier and sometimes niche Fairtrade products had remained strong over the course of the pandemic, despite the supply chain challenges faced, said Anna Barker, Fairtrade head of responsible business.
"We haven't any had businesses drop Fairtrade commitments due to these problems," she said, adding that retailers particularly strong in stocking sustainable goods – such as the Co-op, Sainsbury's and Waitrose – had been "giants".
This came despite the fact, as Barker acknowledged, that "as margins are squeezed, the business case for Fairtrade can be harder for them to justify".
Her comments follow a December report by the Co-op Group that demonstrated strong demand remained for such goods, with "ethical" spending in the UK breaking the £100bn mark for the first time in 2020 – despite the imposition of pandemic restrictions that closed cafés and restaurants for long stretches and caused GDP to fall by nearly 10%.
Value sales of Fairtrade goods rose by 14% from 2019 to 2020, the report showed, with organic food sales up 13% and sales of free-range eggs topping £1bn for the first time.
Co-op CEO Steve Murrells said at the time that the numbers were "a warning to brands that they must do business a better way for workers, communities and the planet" or face consumer boycotts.
However, UK consumer price inflation hit a near 30-year high of over 5% late last year, with food the leading driver of December's rise. And with prices of fuel and food set to remain high during the first half of 2022, even the most conscientious shopper could end up having to rationalise, in turn raising the question of how supermarkets could respond if Fairtrade sales tail off.
"We are nervous," Barker said. "Profit is king, that's the dynamic of the market we work in."
But at the same time, tighter margins could open new discussions around fair pricing, Barker added, saying Fairtrade food was "not actually considerably more expensive".
"It's a really interesting moment to test price elasticity, if consumers understand that costs are going up," she said. "Should we be paying so little for products that travelled halfway across the world to get there?"
Farmers and growers around the world have been squeezed by rising costs and shortages, Barker said, from fertiliser to fuel to labour, while supply chains had been tested by a roughly four-fold rise in shipping costs that had left international air and sea freight "much harder to access".
According to Barker, it was "really tough for producers" last year as "costs of input have gone up".
For farmers supplying the Fairtrade lines, "the premium, the minimum price has been a lifeline", she added.