A hundred years ago the Sri Lankan tea industry was limited to a handful of companies - including British planters like Sir Thomas Lipton - operating from plantations in central Sri Lanka. But over time tea production spread and today more then 70% of the nation's tea is produced by smallholders. These smallholders have helped Sri Lankan tea become big business - the island is the second-biggest tea exporter in the world, with only 5% of exports going to the UK.
To outsiders, then, it might sound like everything is rosy in the (tea) garden, but the the nation's tea growers face a new threat - climate change. Large plantation owners and smallholders alike have had to radically change what they farm because of global warming. Tea grower Samarweera Samaranayka, who has been tending a plot of less than one hectare for more than 30 years, would once have grown rice twice a year, but now there is only enough rain for one season. As for his tea, output has fallen gradually over the past 10 years.
It's not just reduced rainfall and higher temperatures growers report. "If it is a dry period it will go to the extreme; and when it rains we get a lot of rainfall in one hour - as much as would previously have fallen in a day," says Samaranayka.
Throughout the main tea growing region in central Sri Lanka, there are myriad micro-climates. Earlier this year, many growers were badly affected by a period of exceptionally hot and dry weather. Bundula Herath, a large smallholder with a 50 hectare plot, saw his tea output plunge to a fraction of normal levels and cause long-term damage to tea bushes. Now he is moving away from tea and diversifying into other crops. "Some are permanently damaged. That's why I am trying to grow pepper," he says. "This season, I've planted about eight hectares of pepper alone - it provides extra shade and it's quite a hardy plant."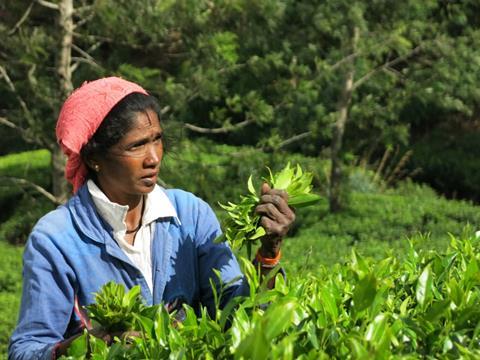 Even the big plantation owners are not immune. At Finlays' Dammeria estate in the hot, dry area of Passara, only a quarter of the land is now given over to tea, whereas 10 years ago it was all tea. "Soil had become eroded because of drought - so we had to take action," says Finlays Tea Estates CEO Dhyan Madawala.
So does this spell the beginning of the end for the Sri Lankan tea industry? Not necessarily, thanks to the Rainforest Alliance, which has been working hard over the last few years to educate growers about more sustainable agriculture techniques.
Finlays became the first plantation company in Sri Lanka to have all its estates certified by the Rainforest Alliance earlier this year. Madawala says the Alliance has helped Finlays improve productivity by reducing the use of chemicals and improving shade and ground cover as part of the certification process. Initiatives aimed at cleaning up estates, better management of waste and improved sanitation have also dramatically reduced worker illnesses and absenteeism. Instances of fever, coughs and colds on Finlays' Madulkelle estate, for example, have fallen from 1,500 in 2010 to 400 in 2013, and diarrhoea cases have dropped from 89 to 11.
Now, like their larger rivals, smallholders are starting to show a growing interest in certification to cope with climate change. Samaranayka believes chemicals make tea plants more vulnerable in dry weather, so he hopes to learn how he can reduce their use without compromising yield. "In future we're not going to use any chemicals - we want to preserve what we have for future generations," he says.
Although certified tea currently doesn't command a premium, growers hope it will before too long. "If certified teas can fetch a better price, we will stick with it," says one smallholder. In Britain, many big brands - including Tetley, PG Tips and Typhoo - are already certified, and if other countries follow suit, consumer pressure will mean growers have little choice but to embrace sustainable agriculture.
At Sir Thomas Lipton's old tea estate, now owned by Lankem, buyer pressure drove change. Unilever, which owns the Lipton brand, still buys a large portion of its tea from the estate and as part of its commitment to sell only Rainforest tea by 2015, it provided funding to get the estate certified. Ultimately, the future of the humble cuppa depends as much on the choices of consumers as it does on the people producing it.