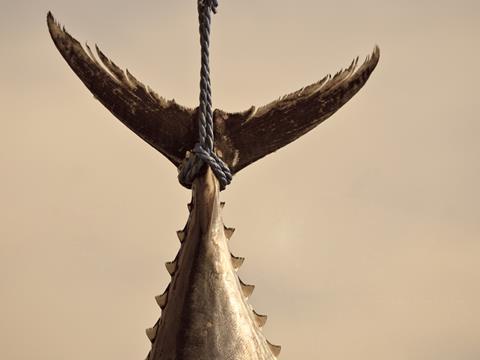 Tuna is in a pickle. For years, pole-and-line caught fish have been held up as the ultimate in sustainability that all tuna producers should aspire to. But now the Maldives pole-and-line fishery - the only MSC-certified pole-and-line fishery in the world - is in danger of losing its MSC accreditation.

Its future has been thrown into doubt by a row over whether Spanish company Pesqueras Echebastar should be granted MSC certification for its Indian Ocean purse seine (where boats drop a large wall of netting around a wide area of fish, then 'purse' the net to scoop them up) fishery.

Last November, upholding objections from the WWF and the International Pole & Line Foundation, an independent adjudicator ruled Echebastar should not be granted MSC certification because of a lack of harvest controls in the Indian Ocean, where tuna stocks are under pressure.

Unfortunately the Maldives pole-and-line fishery falls under the same harvest controls, and the Echebastar ruling will have to be taken into account when the Maldives pole-and-line fishery undergoes its own annual review, scheduled to take place in a matter of weeks.

It's a potentially massive blow for the fishery. And for the sustainability credentials of the UK supermarkets that source their tuna from it.

Until now, retailers have focused almost exclusively on working to eliminate fishing aggregate devices (FADs) and to switch to lower impact methods like pole-and-line (p31).

This has won them praise from Greenpeace. But the bigger picture, it says, is of a commercial tuna industry that is "out of control, emptying our oceans, harming other marine life and exploiting workers in shocking ways". And it launched a campaign last October exposing John West (and its parent Thai Union) for dropping a commitment to ban FADs and renewing calls for the UK to commit to 100% pole-and-line fishing.

The situation in the Maldives highlights the complexities involved in tackling tuna fish sustainability. On the one hand, in the face of the alarming (and growing) decline in tuna stocks (p29), many believe it's unhealthy to have a singular focus on fishing methods given justifiable concerns over harvest controls and tuna stock levels. On the other hand, others argue it's unfair that artisanal fishermen are banned from fishing due to the actions of much bigger international fleets.

So how have we arrived at this situation? Is pole-and-line still the panacea we were led to believe? And if not, is there a sustainable future for tuna?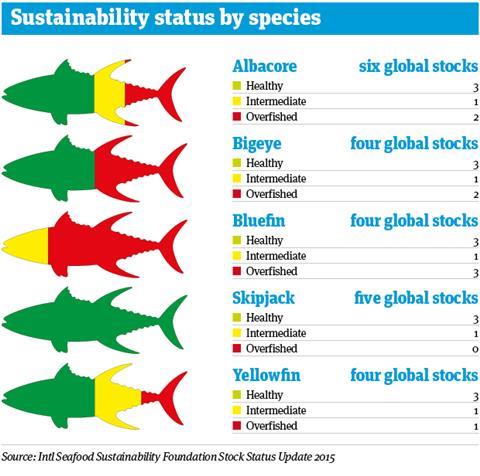 Slaughter
Alarm bells first started ringing over tuna in the 1980s, particularly in relation to so-called 'bycatch'. American biologist Samuel LaBudde was awarded the Goldman Environmental Prize for helping bring to the world's attention the fact that more than seven million dolphins had been killed over four decades by purse seine fishermen in the Eastern Tropical Pacific Ocean (ETP), who were netting dolphins to catch the yellowfin tuna that swam below them, after he secured a job on board a Panamanian fishing boat and secretly filmed the slaughter of hundreds of dolphins during the setting and hauling of nets.

Sparking global outrage, the horrific footage helped rally support for a US consumer boycott of tuna brands organised by the Earth Island Institute - which is still widely recognised as the most successful consumer boycott in American history.

Although most of the tuna eaten in the UK was skipjack, which doesn't have the same association with dolphins as yellowfin in the ETP, concerns over dolphin deaths soon spread over the Atlantic and resulted in a campaign to eliminate driftnets - another fishing method with a high dolphin bycatch.

Since then, the Earth Island Institute's Dolphin Safe monitoring programme, which guarantees no driftnets were used and no dolphins encircled or killed, has spread worldwide and covers 95% of the tuna produced globally.

So clear progress has been made, but Greenpeace claims the tuna industry still has blood on its hands. The group's Not Just Tuna campaign, which Will McCallum, head of oceans at Greenpeace, admits is targeting Thai Union and John West because they are "the biggest", focuses on three key issues: overfishing, bycatch and allegations of human rights abuse on board fishing vessels.

McCallum says there is still a "massive problem" with overfishing at a global level, with many tuna stocks now "severely depleted". He claims overfishing is the result of overcapacity in the purse seiner fleet, which now accounts for the majority of tuna caught globally (64%) - and the soaring use of FADs to attract fish, which can significantly boost the catch per vessel.

Greenpeace's concerns over the fate of some tuna species are well justified. According to an International Seafood Sustainability Foundation (ISSF) report published earlier this year, 35% of tuna stocks are overfished and facing dangerous decline - with bluefin and albacore in biggest danger of collapsing.

Most of the tuna eaten in the UK is skipjack, which has healthy stocks across the board, says Paul Reenan, MD at John West UK. "In terms of the sustainability of biomass, skipjack does not have a problem. And that is the business we are in."

Skipjack also accounts for more than half (58%) the total global catch of tuna, and when viewed from a total catch point of view, 87% of the tuna caught internationally comes from healthy stocks.

However, Regional Fisheries Management Organisation data shows the global tuna catch continues to increase, and David Agnew, MSC science & standards director, warns even skipjack could find itself in trouble if fishing levels are not controlled.

"There is clearly an urgent need to reduce fishing pressure on those stocks that are currently overfished," he says. "But continued increases in the level of fishing on other stocks also threaten their continued high population status."

Even if skipjack stocks remain healthy, Greenpeace claims methods used to net tuna can result in high bycatch of juveniles from other tuna stocks, putting already at-risk species under greater pressure. It also says other marine species are caught as bycatch of the tuna industry, with million of sharks and thousands of turtles killed every year.

"Endangered species are being caught as a result of fishing methods that are indiscriminate and non-selective," says McCallum.

Agnew agrees the FADs used by purse seine fleets are particularly problematic for bycatch because they attract "large numbers" of species that are not the target of the fishery. His particular concerns are "juveniles of overfished tuna species, and turtles and sharks, which in addition to being caught may become entangled in FAD material."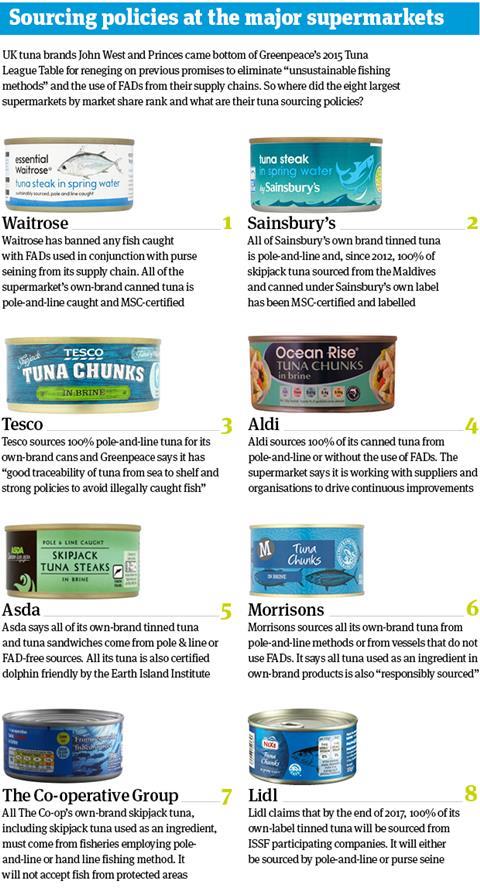 Catching methods, technical terms and environmental standards explained
Purse seine
A fishing method where vessels deploy a large wall of netting around an entire area or school of fish, then 'purse' the net around the fish to catch them. Frequently uses FADs to attract fish
Pole-and-line
A traditional fishing method that catches fish one-by-one with a hook and line. This method reduces the risk of bycatch of sharks, turtles and other large marine mammals
Longline
A fishing method for catching tuna species that inhabit deeper waters, such as albacore, bigeye and yellowfin. The gear consists of a long 'main' line, with smaller lines attached at intervals
FADs
A fish aggregating device used to attract fish. Usually man-made floating wooden struct-
ures with hanging nets, although some fisheries use natural objects like free-floating logs or even whale sharks
Regional Fisheries Management Organisations
Manage tuna species. There are four primary RFMOs - in the Western and Central Pacific, Eastern Pacific, Indian and the Atlantic
Harvest Control Rules (HCRs)
Rules for how catches should be reduced if a fish stock declines. When that happens pre-agreed catch reductions go into effect aimed at allowing stocks to recover
Marine Stewardship Certification
Programme for sustainable wild fishing. Criteria include status of fish stocks, bycatch, management and impacts on ecosystem
Friend of the Sea
Certification programme for sustainable wild and farmed fish. Criteria for wild fish includes status of fish stocks, max 8% discards, bycatch, and compliance with legal requirements
Dolphin Safe/Dolphin Friendly
Labelling initiative. Requirements are that dolphins may not be intentionally chased, circled or netted; driftnets and gillnets cannot be used
Tuna stock
Fish of a given species that live in a particular area. Described as overfished when the biomass (body weight of all the fish in the stock) is insufficient to support the maximum sustainable yield
Human rights abuse
It's not just fish falling victim. Greenpeace claims overfishing of tuna is "intertwined" with unjust labour conditions and human rights abuses in the Western Central Pacific. So it was quick to seize on the fact that Thailand has been yellow-carded by Europe over concerns about illegal, unreported and unregulated fishing (IUU) and human rights violations. EU investigators flew into Thailand this month to investigate whether the country has done enough to justify lifting restrictions, or whether it should be handed a red card - essentially banning Thai exports to Europe.

The majority of evidence of human rights abuse in Thailand's fishing industry has so far been found in shrimp supply chains, but McCallum claims it is "only a matter of time" before abuse is found on tuna boats. "We are led to believe it is just as endemic, if not worse, on long liners in Thailand," he says.

Although there has been no evidence of abuse in Thai Union's tuna supply chain, Greenpeace has made human rights a central part of its campaign against the canner, calling on it to use its powers to drive change, and to increase transparency and prove there are no problems with labour rights in any parts of its business.

Thai Union has vehemently denied any link to human rights abuse and IUU in its tuna operations. Executive chairman Cheng Niruttinanon says the industry is also taking efforts to ensure any local boats it sources from are treating workers fairly.

"We are auditing all of the local vessels one by one, and since May we have not bought any fish from vessels that we have not audited," he says.

It is highly unlikely any tuna sourced from locally owned Thai boats ends up in UK cans. Brands like John West buy almost exclusively from the international purse seine fleet when sourcing tuna from the Western Central Pacific.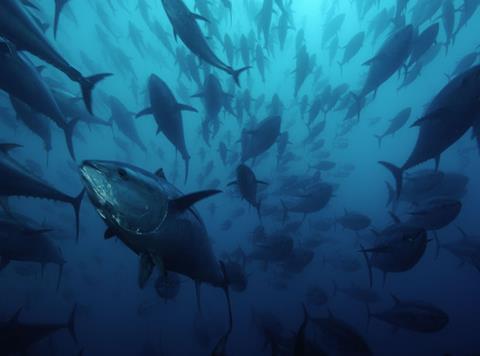 But the argument that Thai boat owners are resorting to illegal fishing and labour abuse because of rock-bottom tuna prices - which is itself the result of too many fish being netted by international fleets - is a compelling one.

Even the tuna industry itself admits overfishing is a problem. Speaking at a Friend of the Sea meeting between retailers and tuna processors in Bangkok last November, Dr Chanintr Chalisarapong, president of the Thai Tuna Industry Association, warned rapid growth of the purse seine fleet was set to boost the global tuna catch to over five million. "This is a 10% to 15% oversupply. It is overfishing and it must be stopped," he said.

Skipjack prices are already so low that Thai canners are now finding petfood destined for the Japanese market almost as profitable as tinned tuna for humans. "We have had to diversify into petfood to survive," says Asian Alliance MD Apichai Sriarunlucksana.

And even if low prices don't directly lead to abuse, they put huge pressure on the fishing communities around the world that rely on tuna to survive.

Encouragingly, industry and environmental groups agree something must be done to protect tuna stocks, push up prices, reduce deaths of marine life and protect workers' rights. But opinions on how to achieve it remain divided, to say the least.

As a campaign group with a long history of holding corporations to account, Greenpeace believes the best way to achieve change is to pressure the biggest players and hope, if they move, others will follow suit.

Human rights concerns are less relevant to the UK market, so its campaign against John West has focused primarily on the fact the brand is still sourcing tuna from purse seiners using FADs - a combination it claims is causing the bulk of overfishing and bycatch problems. "FADs have particular relevance to the UK market," says McCallum. "If the UK is going to be a leader in sustainability, brands like John West have a responsibility to go further, faster and that would involve eliminating FADs."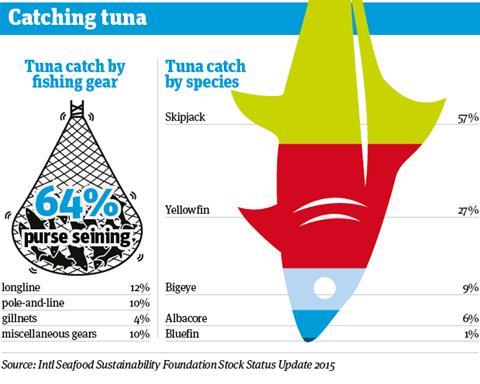 Ban on single method "too simplistic"
But Tracy Cambridge, fisheries and seafood manager, corporate stewardship at WWF-UK, argues the current situation in the Maldives demonstrates that a ban on a single fishing method or gear type is too simplistic to solve tuna's problems. "We are pragmatic, we aren't saying a blanket no to FADs," she says. "However unless FAD management plans for particular regions or oceans are adopted as part of wider fisheries management we will not promote FADs."

Friend of the Sea, a seafood certification body with links to the Earth Island Institute, agrees a total ban on FADs is unnecessary, and the industry should instead focus on better management of the devices, alongside other sustainability criteria, including the impact on local fish populations and other marine life.

"We agree you need to better manage the use of FADs and enforce the use of non-entangling nets," says CEO Paulo Bray. "The other problem is the lack of data about how many FADs each vessel is using. We are trying to set targets on decrease in the use of FADs."

Reenan says the impact of FADs can be reduced by improving the retention policy of the vessel owners,"so they are responsible for picking them back up when they are finished".
MSC certification

The WWF also believes a better approach to fisheries management is urgently needed - with good harvest controls, limits on bycatch and careful management of FADs all important aspects.

Currently, about 721,000 metric tonnnes of tuna caught per year is MSC certified - about 15% of total tuna catches. With this in mind, the group believes the best approach is to push more fisheries towards MSC certification, where they are assessed against 28 performance indicators including the health of fish stocks, levels of bycatch, management systems, research and monitoring and a robust chain of custody.

"We are working to improve all tuna not achieving MSC certification - whether it is caught with pole-and-line or a net," says Cambridge.

This stance is supported by the ISSF, a non-profit partnership between industry, scientists and environmentalists. "The MSC certification standards are the current best standard for seafood sustainability, and that applies to tuna just as it does to other fish," says ISSF president Susan Jackson. "ISSF wants all tuna fisheries to meet all aspects of the MSC standard without conditions, and works with companies who are committed to making that happen."

In a bid to help more fisheries move towards MSC certification, the ISSF has established its ProActive Vessel Register (PVR), which provides independently validated information of the steps vessels are taking on implementing a series of commitments designed to improve responsible tuna fishing practices.

WWF hopes to move the industry towards MSC by working collaboratively with brands like John West. "When we made our sustainability promise in 2011 [to eliminate FADs by the end of 2016] we thought we could move the industry towards FAD-free pole-and-line and in the first year we did extremely well, servicing a number of our retail partners with pole-and-line," says Reenan.

"But in the last two years it has become clear the total supply of pole-and-line is not moving above 10% of total catch, and the price escalated quite quickly.

"We felt it was not economically viable to pass on that cost to the consumer so we had a rethink about how we could deliver on our sustainability promise."

John West has now signed up to a four-year sustainability programme with WWF, with the aim of sourcing all its tuna from MSC-certified fisheries or fisheries that are in a Fish Improvement Plan towards MSC certification by the time the four years are up.

Princes faced similar supply problems and failed to meet its target to ban FADs by the end of 2014, says Ruth Simpson, corporate relations director. However, Prince's commitment to progress is "ongoing" and it only buys purse seine tuna from vessels registered on the PVR, she adds.

Industry efforts to move towards MSC certification should be of some comfort to Greenpeace, particularly as MSC requirements for bycatch mean fisheries using FADs can struggle to achieve certification. "There are currently no purse seine fisheries certified to the MSC Fisheries Standard for tuna caught using FAD-associated fishing techniques," says Agnew.

But while admitting MSC certification is a "step in the right direction" on the sustainability front, McCallum says Greenpeace does not consider it a "gold standard", pointing to the "dodgy Echebastar situation" as proof there are still issues to be addressed in the accreditation process.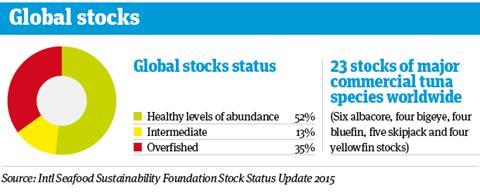 Silver bullet
Which brings us back to the Maldives. Adley Ismail, CEO of the government-owned Maldives Industrial Fisheries Co (MIFCO), insists overfishing problems in the Indian Ocean have not been caused by the pole-and-line fleet, which is made up of small locally owned boats that catch tuna one by one, but foreign purse seiners in the area, and claims local fishermen have seen their catch fall by 30% in the past year alone.

"In previous years, one of our boats could catch 15 to 20 tonnes of tuna a day, at the moment we are only catching two to three tonnes," he says. "The resource is getting scarcer and scarcer all the time."

The Maldives has been campaigning for the Indian Ocean Tuna Commission to do a better job controlling foreign boats. "Somalian pirates were actually doing a very good job of scaring them off, but in the last two years we have seen them return and our fishing levels have dropped."

To make matters worse, the depressed tuna commodity market means prices have been halved. Although MIFCO continues to pay fishermen above-market prices for their tuna, for the 35,000 families in the Maldives who directly benefit from the fishing industry, the loss of the fishery's MSC accreditation, which enables it to command such a premium for its tuna on international markets, would be a devastating blow.

Ismail is confident a solution will be found and the fishery will hold on to its MSC accreditation, but he warns that without better control of foreign purse seiners in the area, the Maldives will find it hard to increase pole-and-line supplies to meet growing demand for FAD-free tuna.

Which is exactly why the industry shouldn't rely on one fishing method as the silver bullet to solve tuna's woes, says Cambridge. As a wild, migratory fish, tuna knows no borders and guaranteeing its future will require a much wider approach than a simple change in gear.

"The urgency is to establish regional ocean strategies with agreed and implemented rules on fishing quantities," she warns. "Otherwise, the future is uncertain. Even for currently healthy stocks."