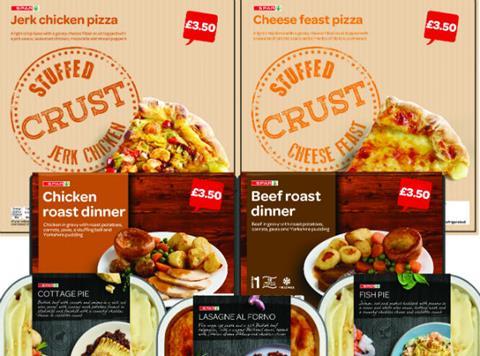 Spar is adding three new premium products to its ready-made meal range.

The new dishes are fish pie, lasagne al forno and cottage pie.

They will cost £4 each or two for £7, and go on sale from 5 October.

"Our new premium ready meals are the three most popular flavours in the market. We are confident that their great quality is set to appeal both to new customers and to existing shoppers as a treat," said Spar UK head of brand Cath McIlwham.

"The total evening meals market is worth £6bn and performing at 2.9% year on year, while Spar is performing ahead of the market, growing at 10.5%. We are encouraging all our retailers to block merchandise the new range alongside prepared meals and meals for tonight in their stores."

New chicken and beef roast dinners have been added to its standard own-label range and will be available in price-marked packs at £3.50.

Spar has also launched two new stuffed crust pizzas, jerk chicken and cheese feast, for £3.50.

The symbol group predicts these additions will trigger retail sales of more than £800,000.