The right EPoS system can transform a business by improving record keeping, stock flow and marketing activity – and even manage allergen labelling
Electronic point of sale (EPoS) systems are almost as common a sight in farm shops as jars of home-made chutney.
But how many farm shop operators use the full functionality of their EPoS system? And how might a new system benefit their business?
A one-size-fits-all approach to EPoS is suitable for many non-food retail operations, but not for a food retailer – particularly one with as varied a range of stock as a farm shop or delicatessen.
"Food is one of the few sectors that has considerations that render many of the generic EPoS solutions on the market to little or no use," says Nigel Bogle, MD of The EPOS Bureau.
The right system, however, can give a retailer good oversight of stock and insight into customer behaviour.
"An EPoS system not only accurately records your VAT and provides daily sales broken down by item and transactions, it can be your stock system," says Jennifer Horton of The Corbridge Larder, Northumberland. "It can show what your bestsellers are and what your slow-moving stock items are, and allow you to check how sales are doing throughout the day."
Horton is in the process of setting up a new EPoS system to improve stock control as her current one cannot record sales of weighed stock such as cheese.
"Having control of stock on a daily basis is very important to me," she says. "Without that you can only accurately know your margin/stock levels when you do a stock count, which is time-consuming and costly. With an EPoS system that works as stock control, you can do rolling stock checks so your stock value is real-time."
She hopes an up-to-date system will enable her to monitor bestsellers and slow lines so that she can push the slower-selling items and reduce wastage.
Marketing is another area where EPoS systems can bring benefits, such as enabling a business to track how many people have taken up a promotional offer.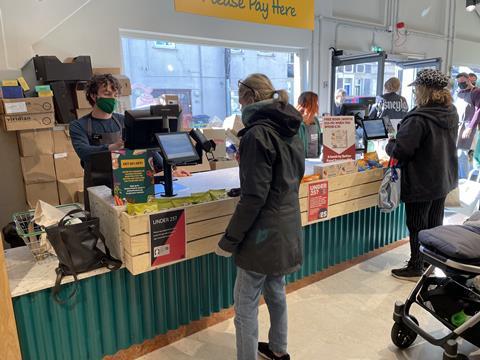 EPoS supplier CSY Retail Systems provides a system called Retail Intelligence, which enables a retailer to create targeted offers that can be sent as part of an email campaign.
"Retailers can attract the attention of customers who haven't visited in a while with a discount code, or encourage customers to buy more with a percentage off their next shop," says CSY Retail Systems MD Ross Pierrepont.
An EPoS system can also help a store keep pace with changing regulation, such as allergen labelling, takeaway cup levies and demands for nutritional information. For example, The EPOS Bureau has developed a solution to enable labels to be produced for businesses to comply with the new food labelling legislation known as Natasha's Law.
The Covid pandemic has shone a spotlight on the functionality of EPoS systems, as retailers adapted their operations to mitigate the impact of lockdown on trade. Many independent food stores, benefiting from shorter supply chains than the multiple retailers, started delivery and click & collect services to help their local communities when supermarkets struggled to meet demand.
"Online ordering and drive-through farm shops became the new norm for businesses that were previously only used to welcoming customers through the doors on a daily basis," says Bogle, adding that a good, food-centric EPoS solution makes it easy for retailers to manage their online store alongside their bricks and mortar operation.
"Product availability, pricing, allergen and ingredient information and more can be sent seamlessly from the EPoS to the online store in a matter of seconds," he adds. "Completed orders can then be pulled down for picking."
Some EPoS systems also have a role to play in social distancing, with CSY Retail Systems introducing an at-table ordering system for cafés and restaurants during the pandemic.
Customers scan a QR code at their table to open the ordering platform. They then select their menu options and pay for their order on their phone. The same platform can be used to order at home for collection on-site.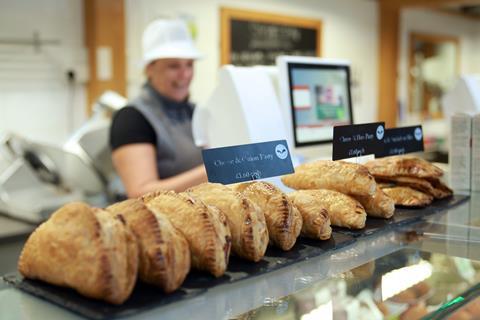 Many independent businesses have also partnered with mobile food ordering apps, although how an app integrates with an EPoS system can vary greatly.
One major barrier to installing or upgrading an EPoS system is the disruption it may cause to a business, but suppliers are quick to reassure that this doesn't have to be the case.
"Changing EPoS doesn't need to be disruptive – we know how busy retail shops can get, which is why we have a smooth process to get customers up and running," says Pierrepont at CSY Retail Systems.
The Corbridge Larder will be bringing in its new EPoS system in January, after the December rush.
"I'm hoping it will go smoothly as we will just swap over systems once the new one is set up and staff have been trained on it," says Horton.
The other big barrier is cost, but the initial expenditure need not be huge.
Horton explains the Larder's current EPoS system is paid on a monthly subscription, while the only capital expenditure was the cost of two iPads that act as tills.
Thr system replacing it is more capital-intensive as the business is purchasing new EPoS tills, Avery scales to print barcodes and a barcode labelling machine, as Horton wants the majority of stock items to have a barcode, reducing the risk of human error.
"It all depends what you want from your system," she says. "We have thousands of items in store and I want to ensure we are accurately recording purchases and sales, so having a state-of-the-art EPoS system is very important to me.
"Saying that, our current system has served us well over the past six years."
What to look for in an EPoS system
Nigel Bogle, MD of The EPOS Bureau, offers a list of functions single-site food operators should look for in an EPoS system:
Produce a legal receipt in line with 'weights and measures' requirements
Accept payments in a range of forms including cards, ApplePay and GooglePay
Track stock levels, wastage, sales and bestsellers
Integrate with the retailer's accounting software
Integrate well with weighing scales
Be capable of producing labels

Are you a specialist retailer looking to source the best quality local and regional produce? Visit the Farm Shop & Deli Show 2022 to find trend-setting food and drink from hundreds of British suppliers, plus the latest technology and industry insight. Register your interest now