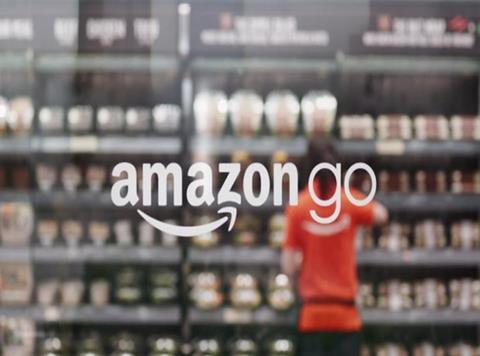 The dream of a checkout-less store is nearing reality and it's not really a shock to see one of the world's largest digital businesses take the lead. Amazon has been taking small footsteps in the grocery arena for some time, but yesterday's announcement of its 'Go' initiative is its first big statement.
Priding itself on an ethos and culture that the customer always comes first, Amazon has certainly put that message at the heart of its grocery strategy. 'Go' is a concept that has the potential to signal a huge change in bricks and mortar retailing, but initially it marks the start of what could be a long period of experimenting within the industry.
Few would argue that the removal of queues will improve a customer's in-store experience. Just today Barclaycard revealed retailers could be losing out on valuable sales by failing to make the shopping experience stress-free. With more and more consumers choosing to shop online, there is a huge amount of pressure on brick and mortar stores to deliver the best environment possible, while millennials' penchant for technology is already a catalyst for evolving the shop floor.
On the face of it, the notion of a checkout-free store is appealing. In terms of its significance, it compares to how self-service terminals and 'scan as you shop' have changed customers' expectations. Both these initiatives have gone on to be a success, but had many challenges to get them where they are today, particularly when it comes to theft.
When retailers began installing self-service terminals they saw shrink increase as dishonest shoppers targeted them as an easier way to steal merchandise. In fact, almost a fifth of shoppers that use these checkouts have admitted to stealing via them. Much work has been done to tackle the issue, but the reality is store staff are a great deterrent as well as being essential to monitoring the sale of age-restricted items.
The story was similar with 'scan as you shop'. Initially there were issues with the deactivation of products through the wireless scanner. Ultimately, it took all the involved parties – the retailers and suppliers – to come together and develop an appropriate solution, both in terms of cost and consumer experience.
The convenience of not having to queue may be highly attractive to some customers, but checkout-less stores will inevitably encounter their own teething problems. From a loss prevention perspective, will the removal of a point of sale lead to increased theft? Or will older customers be put off from even entering the store as they don't know how to pay using their mobile device?
Even if this concept doesn't work, we expect that it will be the first in a line of 'faceless' stores that will be trialled around the world. I'm curious to see how consumers receive it and how the company responds to the issues. For example, what happens if the IT system goes down and no customers can pay?
This is the ultimate in convenience retailing. Anything that impacts the delivery of this convenience, be it a technical glitch or on-shelf availability, will result in a backlash, particularly from time-poor customers. It's an exciting time to see if this really is the dawn of a new era, but there will be lots going on behind the scenes to make it successful.
Neville Payne is VP of Merchandise Availability Solutions at Checkpoint Systems UK