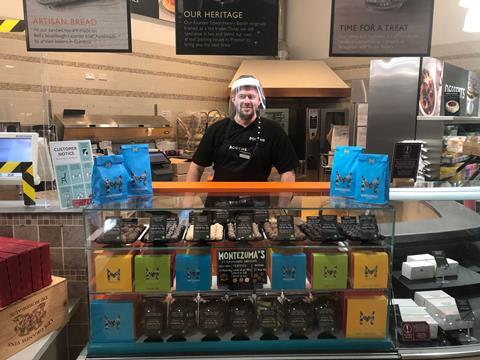 Booths has further expanded its concession offering with the opening of a chocolate counter at its Knutsford, Cheshire store.
The upmarket grocer has partnered with British bespoke chocolate brand Montezuma's for the stand, which stocks a selection of hand finished truffles (rsp £6/100g), giant milk or dark chocolate buttons (rsp £2.70/100g) and several varieties of Montezuma's signature item, Choc O Block chocolate bars (£3.50/100g).
Choc O Block flavours include milk chocolate with a soft salted caramel centre, dark chocolate with an orange centre, white chocolate with strawberries and champagne, and dark chocolate with a Madagascan vanilla centre.
All items can also be gift wrapped on request.
"We are delighted to be introducing a counter of this kind within our Knutsford store, and we're really excited to be working with Montezuma's," said Matt Bruno, brand and innovations manager at Booths. "The counter will be perfect for our customers who want to indulge in a mid-week treat or seek out that special gift."
Booths' Knutsford branch is also home to a spice concession counter in partnership with Rafi's Spicebox. This was installed in 2019, alongside stands at its Burscough and Fulwood stores in Lancashire, followed by its Ilkey, West Yorkshire branch last month.
Rafi's Spicebox's range for the retailer is made up of more than 50 hand-blended spices that can be tailored to different heats, while staff offer advice to shoppers on the taste of blends and how to incorporate seasonal produce into dishes.