Waitrose hopes its Unpacked scheme will lead to permanent changes in behaviour. But is it viable to roll out nationwide?
Waitrose last week became the first mainstream supermarket to trial plastic-free lines in its Botley Road store in Oxford.

The 11-week trial is being carried out on 200 lines out of thousands in the 24,600 sq ft store - chosen for its large size and diverse customer base. As well as cutting packaging, Waitrose wants to discover how customers might be prepared to shop differently in the future through the trial.

So is going packaging-free viable at scale? And can we expect to see others follow suit?

Waitrose is not the first to sell groceries out of their packaging. Many smaller grocers have been doing it for years, including Hisbe in Brighton and Thornton's Budgens in London.

It is also not the first time one of the big supermarkets has removed packaging from fresh produce. Tesco, Morrisons and Aldi have all kicked off plastic-free trials with varying levels of intensity.

But this is the first time a mainstream supermarket has offered dry ingredients such as pasta, rice and cereal packaging-free.
Waitrose has said it will not commit to a wider rollout until its Botley Road trial comes to an end on 18 August and it has had time to analyse customer feedback. So far, it claims, the response has been overwhelmingly positive, with the majority of negatives calling for packaging to be removed from even more products.

But some of those independent store owners with experience of stocking unpackaged goods have warned of difficulties. Hisbe founder and director Amy Anslow says the trial is an "acknowledgement that the supermarkets know they should be doing more to capture this market" but warns of challenges in scaling it. "It would require a lot of change in processes for them. That's quite hard to do when you have several hundred stores."

Jeanette Wong, co-founder of plastic-free supermarket The Clean Kilo in Birmingham, says it's likely to be more difficult for regular supermarkets to follow the packaging-free model due to the complexity of their supply chains and lack of localised sourcing. "One of the main issues for them is that it would be more costly," she adds.
Challenges
There are other inherent difficulties in making packaging-free work. Staffing, for one. Waitrose has had to bulk up shop floor headcount to tend to refill stations and help shoppers get the hang of the dispensers, weighing station and coffee grinder.
There is also the issue of keeping the area clean and tidy. "We buy in bulk (mostly 25kg sacks) and we are constantly filling up and cleaning dispensers," says Wong. "It is a labour-intensive, time-consuming job. Choosing to help save the environment over fast profit is a decision every independent zero-waste shop owner makes."

Were the refill stations rolled out more widely, queues would likely be another problem. The store wasn't busy when The Grocer went on day three of the trial, but we didn't visit in peak hours. However, the shopping process is clearly less streamlined than simply putting items in a basket and paying.

Customers must weigh their container and print a label with a barcode on it, then fill the container, weigh it again, scan the barcode on the printed label and print another label with the actual price on it. During our visit, one elderly shopper found the process so confusing she asked our reporter for help.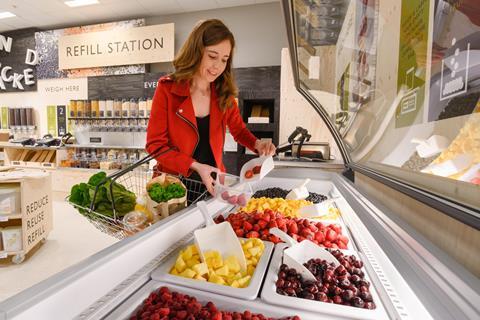 The system also seems reliant on honesty - it is easy to imagine unscrupulous shoppers adding a bit more after printing a price label or, for that matter, snaffling containers. Indeed, we had to alert a staff member that a £6 container was not in fact one we had brought with us on a return visit, as had been presumed, but a new one, which needed to be paid for.

And then there is the issue of brands. Selling own-label produce in dispensers is one thing but convincing brands to give up their packaging, and therefore an important part of their brand identity, will be another.
Having said that, the opportunity to be part of an initiative so clearly tapping the zeitgeist might be enough to convince them, believes Sam Stone, creative director at Coley Porter Bell. After all "brand building doesn't need to be the visible branding of a product". "I am sure that the good intentions shown by Waitrose in this trial will go far to earn and maintain the trust of customers."
Echo Brand Design creative director Andy Capper says design should be used to create packaging that "does it all". It must promote brands in appropriate ways, uses the right materials and technologies, looks great displayed on a customer's shelf at home, is light and efficient to transport back to store, yet keeps purchases in prime condition and is functionally superior to single use packs - easy to refill and easy to clean. Critically, he adds, it must be durable enough to make the refill equation stack up and become "ritualistic in a way that people want to integrate it as part of their everyday lives."
Even if brand support will take some work, Waitrose should be praised for drawing attention to the plastics problem with a step towards reducing waste, says Clean Kilo co-founder Tom Pell. "It is, however, important they maintain the longevity of this service," he adds. "It is also a good indication to all the independent zero-waste shops that we clearly have been noticed. Overall consumer confidence in shopping this way will be boosted if mainstream supermarkets are doing it."

Hisbe's Anslow says she welcomes "any retail organisation that's using more sustainable, or less, or no packaging. It helps all of us."

All in all, there is a definite sense of excitement and buzz about the Unpacked initiative from staff and shoppers alike. What's not clear yet is how long that will last: how quickly might consumers tire of lugging their refillable wine bottles and glass kilner jars to the supermarket with every shop? And are consumers committed to the cause in sufficient numbers to make the initiative sustainable for a major supermarket?

Waitrose will have to work hard to ensure this trial is more than just an awareness-raising exercise, and leads to permanent change.
Key features
Refill station for dry products including pasta and rice
Frozen fruit pick & mix
Wine and beer on staffed taps
Coffee refills, and a grinder
Detergent and washing-up liquid dispensers from Ecover
Shoppers can borrow a container for a refundable deposit. A wide selection is available to buy
A food prep "veg kitchen" where two qualified chefs chop unpackaged produce
Plastic wrap-free flowers
Recycling point for batteries, Brita filters and carrier bags