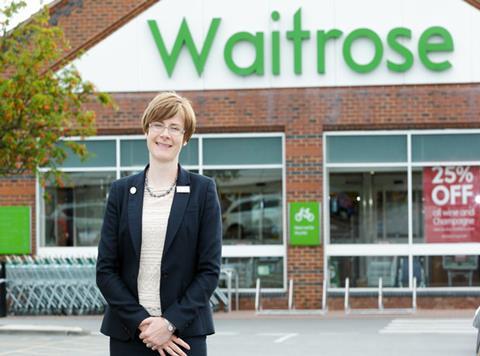 This week we are looking at how the traditional Sunday roast is changing. You had a roast dinner display on an aisle end - was it popular? The Yorkshire roast dinner is alive and well in Willerby! People might stop buying hot chocolate and porridge oats when it's hot, but they never stop buying roast dinners - not here, anyway. Even when we have barbecue foods they'll choose a leg of lamb, have it butterflied at our meat counter and put that on the barbecue!

You're not a typical Waitrose - you're big with lots of chilled space and an extended non-food range. Yes, this was a Safeway and Morrisons before so we inherited the space. Our extended non-food range is a good growth area for us, actually. We sell children's clothes, some items for grown-ups like hosiery, underwear and slippers, dining and kitchen accessories, and gifts, mostly Waitrose branded but some others as well as a John Lewis assortment.

You are on a retail park, not a town centre: how does that affect you? We have a lot of offices around us and a housing estate where people can walk from, so we're like a big corner shop for some of them. Having said that, we have a really warm customer base as well.

You run a 24/7 operation. How hard is it stay in touch with everyone? We have to make sure we work as one team because there are some partners who never see colleagues on the night shifts who have put the products on shelves. We work hard to keep everyone informed.

Your front of store has a dry cleaning service as well as a concierge desk, coffee machine, breakfast bar with stools and a 'browsing area' with magazines etc. What's the thinking? We refreshed the area recently. It's about trying to create more of an experience for the customer, so when they come to Waitrose it's more than just a shopping trip. A better-looking shop floor is a big part of my thinking.
Winner: Waitrose Willerby, East Yorkshire
Branch manager: Jenny Candy
Size: 36,000 sq ft
Opened: 2004
Nearest rivals: Lidl - 0.2 miles Aldi - 0.2 miles Iceland - 0.2 miles Morrisons - 2.0 miles
Store data source: Analysis by CACI. Call the market planning group on 020 7602 6000