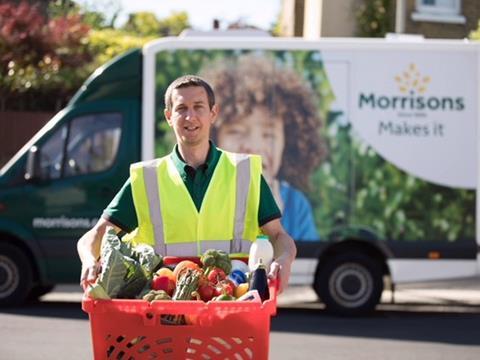 Morrisons has introduced a three-item restriction across all SKUs ordered online in a bid to tackle panic buying.
In an email sent to customers today, the retailer said the limit would apply across all product lines on morrisons.com to "ensure more customers have access to everyday essentials".
The supermarket has also introduced limits on some items in store. Two-item limits apply to hand sanitiser and toilet roll SKUs, for example, while three-item restrictions apply to categories including frozen fish, canned fish and longlife milks.
Morrisons has also temporarily turned off its app in a bid to help its website "work more efficiently", and will set aside an hour at the beginning of each day for NHS workers.
It follows similar moves by other major supermarkets, who have introduced a swathe of measures to maintain supplies in the face of unprecedented demand in recent weeks.
After meeting with retail bosses today, environment secretary George Eustice echoed their calls for Brits to stop panic buying food, warning frontline workers were suffering as a result of coronavirus stockpiling.
Morrisons has previously announced plans to slash its range by up to a third so that shelves could be replenished more quickly with products in high demand.
The retailer has also pledged to expand its online delivery capacity and guaranteed the pay of its staff amid what it called "unprecedented challenges and uncertainty" around the coronavirus outbreak.
Today Sainsbury's also said it was setting aside hour between 8am-9am every Monday, Wednesday and Friday for NHS staff and social care workers, alongside elderly and vulnerable customers. The NHS staff workers will need to show their ID or pass when the visit the store.
Sainsbury's is also consolidating its opening hours to help make sure more staff can be stocking shelves and serving shoppers during the times customers need help the most.
From next week, all Sainsbury's supermarkets will be open from 8am to 8pm, Monday to Saturday, including those with an Argos store. Opening hours in supermarkets on Sunday, in petrol stations and in Sainsbury's Locals will stay the same.
*This story was updated on 23 March 2020 to clarify that the three-item limit across all products only applies to online orders.