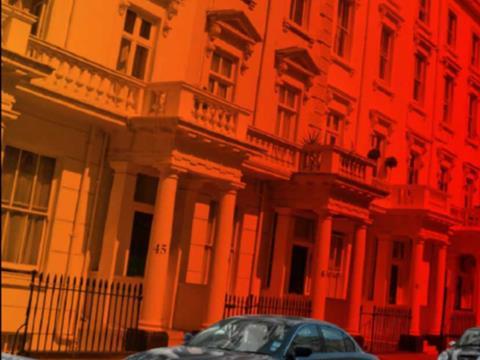 Pimlico is hot, property-wise. And not just because the average price of a two-bed flat is a whopping £1,348,800 [Foxtons]. No. What few people realise is that Pimlico is also a hot location in terms of potential convenience opportunities - with this Central London location relatively underserved, while offering an extremely dense, but very mixed residential catchment of over 9,500 households within 500 sq m.
Download the full spreadsheet of the UK's hottest c-store postcodes.
Hot 100 by region:
London 40
Yorkshire & The Humber 11
South East 10
North West 8
Scotland 8
South West 8
West Midlands 7
East Midlands 4
East of England 2
North East 2
It's postcodes like Pimlico that retailers will have to target if they are to maximise their share of the extra £12bn sales opportunity identified by the IGD in the UK food and grocery convenience market in the next five years (see p3-4). Postcodes that combine the necessary population density and other key footfall drivers, with currently limited convenience options.
But it's not going to be easy. Competition for the best locations is fierce, with supermarket chains, discounters , co-ops, and symbol groups all on the lookout for new sites. How do you find the hot ones? And how do you know if the location is right for your fascia?
The Grocer is here to help. We commissioned location consultants CACI to find the UK's top 100 convenience hotspots, along with the 'best fit' among the leading multiples for each location.
The level of opportunity
The hotspots have been identified by scoring every postcode on the level of opportunity for convenience retail. Scores were based on the density of households, levels of competition, number of workers, and presence of additional demand drivers such as train stations and schools, plus the level of supporting retail, explains Louise Etherden, principal consultant at CACI.
"To identify specific locations, we used our Convenience Clusters product, which indicates the location, extent and size of 30,000 convenience retail destinations from major high streets down to small local parades. Each cluster has then been scored on the average and total score within 500m and the size of the centre. This analysis shows the top 100 centres."
Top 10 most contested areas:
1. Brighton Hollingbury Terrace
2. Cheshunt
3. Fulwell
4. Teddington
5. Sheffield Brincliffe/Greystones
6. Ware High Street
7. Sutton Lower Road
8. Isleworth St. Johns Road
9. Bristol Bedminster
10. Ilford Seven Kings
Identifying which retailer is best suited to an area is based on where it has low market share and good demographic suitability - so for instance Pimlico, with its rising prosperity and abundance of 'city sophisticates', is somewhat unsurprisingly seen as an ideal location for Waitrose .
However, not all of the locations identified by CACI are in areas traditionally targeted by the mostly middle market retailers, says Etherden.
"Around 60% of opportunities are in lower-affluence areas and as Asda , Morrisons and the discounters expand into the convenience market, their brand position may be better placed to serve these markets," she explains.
Regionally, 40% of the hottest locations are in London, with Yorkshire and Humberside second with 11%, followed by the South East with 10%.
Who is the best fit?
Morrisons 31
Asda 29
M&S 15
Waitrose 14
Tesco 9
Co-op 1
Sainsbury 's 1
"Outside London the vast majority of the top locations are in major cities, with Birmingham, Bristol, Leeds, Glasgow and Brighton featuring heavily," says Etherden. "A few smaller towns also come through such as Ilfracombe, Silsden, Ramsgate and Ware."
Cheshunt, on Tesco's doorstep, also appears underserved, although Morrisons - which, based on CACI's data, is the 'best fit' for the town - is currently looking to change all that by converting the town's Victoria Pub into a Morrisons Local.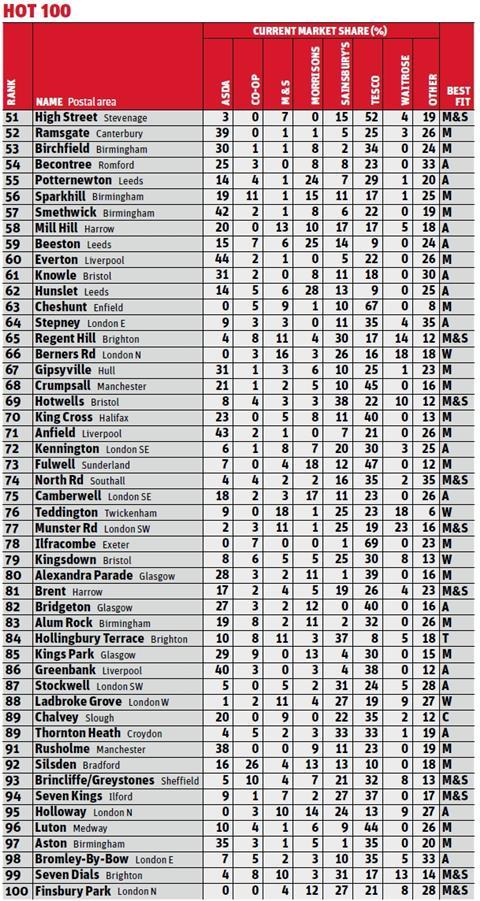 Capital gains
Within London, there is a real split between high and low affluence areas, according to Etherden. "Although a number of the top spots are in challenging high rent areas, many are in affluent residential areas such as Fulham and Highbury where it should be feasible to find an affordable site," she explains. A number of more mixed affluence, but densely populated areas such as Stepney and Holloway also make the top 100.
As for which grocer is best suited to the opportunities identified by CACI, Morrisons and Asda top the list with 31% and 29% respectively - a reflection, clearly, of their limited encroachment into convenience thus far.
For Morrisons, despite its determined push to gain space in London, many of its best-matched opportunities are in lower-rent towns and cities outside the capital, but Etherden say that as it wrestles to turn around its financial performance and refine the M Local format, it may be better focusing on lower-risk opportunities outside London.
It's a view shared by retail analyst Nick Bubb. "As late entrants to the game, the suspicion is that Morrisons hasn't been too choosy about the convenience store sites it has been taking, and it will be interesting to see how it performs in due course," he says.
As for Tesco, its best opportunities, due largely to its ability to tailor to most demographic groups, are largely driven by the pockets where it currently has relatively low market share, including Brighton and Surbiton, according to Etherden.
"For the more upmarket retailers such as Waitrose, M&S and Sainsbury's many of the better opportunities are in London, Bristol and Brighton, but with a few more Northern targets including Hillhead in Glasgow and south west Sheffield."
While this research will undoubtedly provide some useful leads to retailers who are currently scouring the nation for sites, it carries a few caveats, according to Steve Rodell, head of retail at Christie + Co. "Even if you narrow the search down to the ideal postcode for a c-store you have to come up with a specific site," explains Rodell. "And if the road you want to be on in a postal district consists of a row of terraced villas, you're not going to be able to put a store there."
An over-reliance on location analytics software can also cause retailers to miss out on potential opportunities, he adds.
"We've got experience of sending going concern businesses to the multiples that use analytics programs, and the computer says 'no'," he explains. "But it says no because the population count in the immediate vicinity isn't high enough. What it doesn't take into account is human input. We know for a fact that a store might be the only retail operation in a village, that it has five main roads nearby and generates a good income. So although analytics serves a purpose, you have to have that human input."
Ultimately it's those retailers that get the balance right between identifying location hotspots via complex location algorithms coupled with that all important feet-on-the-ground surveying that will gain the upper hand in the race for new convenience space.
Download the full spreadsheet of the UK's hottest c-store postcodes.