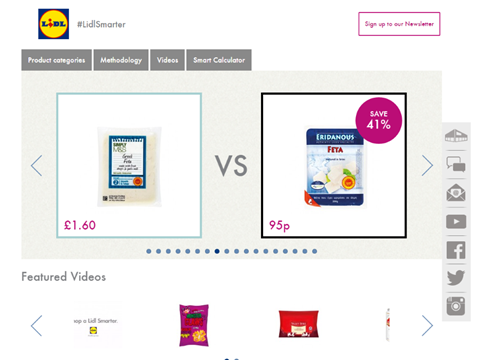 Lidl has launched a website showing how its own products have performed in blind taste tests versus leading branded and rival own-label lines.
The Shop a Lidl Smarter activity kicked off last night (11 June) with a TV ad comparing Cathedral City Cheddar with Lidl's Valley Spire cheddar, and has been followed up this morning with a slew of press ads. These compare products such as Lidl's Solvita cranberry juice drink with Ocean Spray, and its Monster Claws with Monster Munch.
Lidl has also rolled out a dedicated website, shopalidlsmarter.co.uk, that offers comparisons, and includes a Smart Calculator allowing shoppers to directly compare the price of a selection of Lidl products with the branded equivalents. Lidl said it was quoting the lowest price for one unit of the product, including promotional prices but excluding multibuys, from competitor supermarkets on mysupermarket.co.uk. The prices will be updated twice a week.
Lidl's methodology
"Tests commissioned on a great number of Lidl products against a leading branded competitor product to our own brand.
"Each product pair was tested without any packaging so those tasting the products didn't know which one they were trying (either during the test or after). Research agency took great care in ensuring each product pair was tried in exactly the same way so that neither product gained an unfair advantage. After testing each product pair the individual testing was then asked their opinions on the products tested.
"Each individual tested a maximum of five different pairs of products involving Lidl and the relevant competitor. Order of which product was tried first was rotated between the Lidl product and the brand..
"Each product pair was tested by at least 400 consumers and testing took place at 14 different regional centres."
Among the products going head-to-head on the site are Stella Artois vs Galereux Premium Lager; Birds Eye Inspirations salmon fillets vs Ocean Trader Pink Salmon; and Twinings tea vs Knightsbridge tea (see table below). Many of the examples show the Lidl products performed either the same, or only slightly better, than rivals.
The comparisons follow blind taste tests among 9,000 participants that have been carried out by independent market researchers Marketing Sciences Unlimited.
"Our latest campaign is all about encouraging shoppers to let their taste buds guide them rather than be distracted by packaging and gimmicks – two things they're ultimately paying for themselves," said Lidl UK CEO Ronny Gottschlich. "Low price doesn't have to mean low quality."
Part of the #LidlSurprises campaign launched in September 2014, it will also be supported with digital, cinema, social, PR, outdoor and in store activity.
The activity comes days after Lidl took home the Grocer of the Year trophy at the Grocer Gold Awards, marking its first ever triumph in the category. Lidl also took home 13 Gold awards in The Grocer's Own label Food & Drink Awards earlier this year.
How some of the products fared
| Brand | Lidl product | Comparison comment |
| --- | --- | --- |
| Stella Artois (£3.54) | Galereux Premium Lager (£2.79) | '53% of people said that they preferred our Galereux Premium Lager to the competitor.' |
| Birds Eye Inspirations Pink Salmon Fillets (£3.89) | Ocean Trader Easy Steam Pink Salmon with Lemon & Herb sauce (£2.89) | '81% of people liked our own brand Pink Salmon fillets with Lemon & Herb sauce and 78% liked the branded competitor.' |
| Twinings English Breakfast Tea (£2) | Knightsbridge English Breakfast Tea (99p) | '74% said Lidl's own brand Knightsbridge English Breakfast Tea was tasty. 74% salso said that Twinning English Breakfast Tea tasty.' |
| Marks & Spencer Caramel Waffles (£2) | Northwood Caramel Waffle Biscuits (£1.19) | '87% said Lidl's own brand Northwood Caramel Waffle Biscuits were tasty, the same as for M&S's own brand.' |
| All-Bran Bran Flakes (£1.89) | Crownfield Bran Flakes (59p) | '85% of people found our Crownfield Bran Flakes tasty, compared to 82% for the branded competitor.' |