With today's announcement that Andy Clarke will be stepping down from Asda in July, we thought it was the perfect time to offer an overview of his tenure's defining moments.
1. Netto: A False Dawn (May 2010): Andy Clarke is appointed CEO of Asda. In the same month the acquisition of Danish discounter chain Netto is announced in a £778m deal. Clarke had been instrumental in developing Asda's smaller format offer. However, this move was not in response to the threat of the discounters so much as to give Asda greater national exposure in the emerging convenience market. The fundamental proposition was to offer the same price in the new smaller format stores as in its superstores – in contrast with rivals such as Tesco's Express and Sainsbury's Local stores.
2. Price Wars, What Price Wars? (August 2010): Andy Clarke kicks off a price war on milk and other essentials in response to the growing threat from Aldi and Lidl. These selective skirmishes have been used to suggest that Andy Clarke spotted the threat of the discounters earlier than his big four rivals. But it has proved another false dawn: in the following years, Asda recorded profits of £739m (2010), £846m (2011), £841m (2012), £994m (2013), £1,013m (2014). Figures for 2015 have not yet been disclosed but Andy Clarke continued to boast that Asda had not been forced to issue property writedowns. In the meantime the discounters have only grown.
3. Judith McKenna's Departure (January 2013): Asda's impressive and highly energetic COO Judith McKenna moves to Walmart International as executive VP of strategy and international development. She has since been promoted twice: to chief development officer for Walmart US; and in December 2014, to executive vice president and chief operating office for Walmart US, responsible for its 4,500 US store operations.
4. Andy's Five-Year Strategic Plan (November 2013): Perhaps THE defining moment in Andy Clarke's tenure. With the discounters causing carnage, Andy Clarke announces Asda's five-year strategic plan following a McKinsey consultation, promising to cut costs by £1bn, supposedly to take on the discounters on price, while also investing heavily in click & collect, and other online grocery enhancements, together with new forecourt formats. Yet the following year it made record profits of over £1bn.
5. Richard Mayfield's Departure (November 2013): In the same month CFO Richard Mayfield moves to the US as CFO of Walmart's EMEA region. He has since been promoted to senior vice president with responsibility for international strategy, M&A and financial services of Walmart International. He is replaced by Tesco finance veteran Alex Russo.
6. Store Staff Cuts (May 2014): with Christmas out the way Asda announces a huge store staff reorganisation as part of the five-year plan. Andy Clarke insists putting more staff on the shop floor was the motivation for the shop floor restructure, which effectively demotes 4,000 section managers, though he does admit the need for up to 2,600 redundancies. In the event, redundancies are reduced to 1,360 but the changes and the protracted consultations create massive discord among store staff – though Clarke insists "morale is high".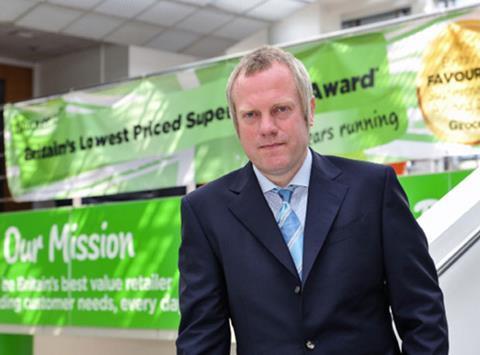 7. Barry Williams Moves Sideways (January 2015): Hugely popular chief merchandising officer Barry Williams is moved out of trading and into a chief customer officer role, as costs continue to be shaved, with George buying guru Andrew Moore taking on responsibility for buying and merchandising across the whole of Asda. A little over a year later Williams was paid off. It's one of several moves Asda has made under Andy Clarke in which experienced executives have been taken out of their comfort zones and effectively set up to fail.
8. Recruiting a COO (February 2015): Andy Clarke begins his search for a new COO as Mark Ibbotson moves to the US as head of innovation at Walmart US. Andy Clarke finally announced the appointment of Sainsbury's Roger Burnley in October 2015, but under the terms of his Sainsbury's contract, Burnley is not due to start until October 2016, 20 months after the search began.
9. Asda's Nadir (August 2015): It takes a brave man to call the bottom of the market, and Andy Clarke's description of Asda's 4.7% Q2 sales fall as "the nadir" came back to haunt him, with sales in the so-called 'golden' fourth quarter down a calamitous 5.8%.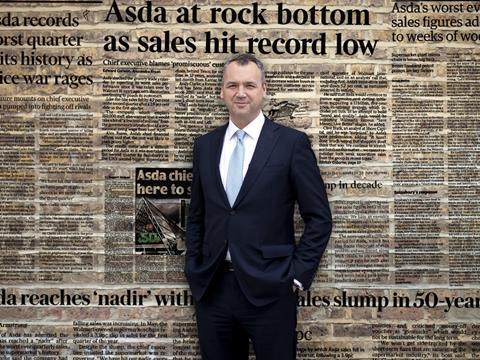 10. U-turn! (October 2015): With sales in freefall, Andy Clarke effectively called a halt to Asda's Five Year Strategic Plan, scrapping its extensive click & collect, online and forecourt plans, and – in an even bigger bombshell, pulling out of Black Friday, an initiative whose UK development it had spearheaded in the previous two years. In its stead Asda launched Project Renewal, a range review similar to the Project Reset Tesco had introduced 20 months earlier, in conjunction with strategy consultants Bain. It was due to be completed by June, although Asda admitted to The Grocer last week that it is only one third of the way through the programme.
11. More Head Office Cuts (Jan/Feb 2016): While pledging to make further price cuts, the biggest cuts have been to its staff levels. In January a further round of 800+ HQ roles were lost, including several more VPs on the buying side.
12. Walmart Wakes Up (June 2016): Walmart International CEO Dave Cheesewright admits to reporters at Walmart's AGM in Bentonville that Asda's performance is "very disappointing" and pledges to change the emphasis from one of margin protection to share recovery. After Clarke lets slip his plans to hand over the reins as CEO to Roger Burnley, it's clear he's not in the loop and his position becomes untenable, as Walmart parachutes in China boss Sean Clarke, with Burnley effectively demoted to deputy CEO.