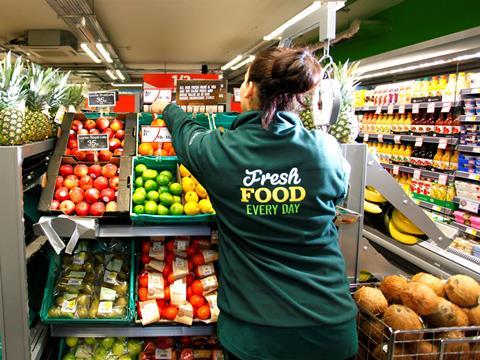 The Liberal Democrats are the Morrisons of the UK political scene, a Lib Dem MP declared this week.
"The Lib Dems are the Morrisons of our day," Jeremy Browne told a fringe event at the party's conference in Glasgow. "We have to think: what are we offering customers that goes beyond those who shop at Morrisons out of habit or because it is the nearest to their home? At the moment we are heavily reliant on habit and geographic proximity."
Browne – who was sacked as a home officer minister earlier this year – argues that the Liberal Democrats can't simply pitch themselves as a restraining force on either Labour or the Conservatives in any potential coalition. He also described the SNP and UKIP as the Aldi and Lidl of politics. But does his supermarket analogy ring true?
If the Lib Dems were Morrisons, they'd be fighting for share in a squeezed market. So far, so good: a poll by Lord Ashcroft this week suggested just 7% of people would vote for Nick Clegg's party next year. Morrisons, meanwhile, saw its share slip to 10.9% in the most recent Kantar Worldpanel figures.
But for the comparison to hold water, surely the Lib Dems would have announced this week they would price-match Labour and the Tories on the Budget? They'd come up with loyalty scheme called 'Clegg & More' for repeat voters, extend MP surgery opening hours, and remove locks from ministerial cars.
Nope; I don't buy it. I think to compare a political party with its popularity in the doldrums to a supermarket that – despite its problems – still serves thousands of customers satisfactorily every week gives Morrisons some severely short shrift. And Morrisons simply isn't taking its customers' "habits" or "geographical proximity" for granted, as its efforts to break into convenience and online retail affirm.
In April, Browne attracted controversy in Lib Dem ranks when he suggested the party would not be invented today if it did not already exist – which to my mind sounds more like M&S. After all, would you invent M&S today if it didn't already exist? (INT. Dragon's Den studio. NERVOUS CONTESTANT: "I've got a great idea for a store concept: posh food downstairs, ladies' undergarments upstairs. People'll love it!")
Nonetheless, Browne raises an intriguing thought. If the Lib Dems are Morrisons, who are the other supermarkets?
With lazy class stereotypes to the fore, the Tories would be Waitrose, clearly. Exclusive; chummy with the Royals (think Duchy Originals); at home in the shires; beloved of people driving four-wheel drives with hunting rifles in the back.
As for Labour: this one's even easier – it's The Co-op. Socialist in heritage (if not exactly policy), with heartlands in the north. Except of course Labour's resemblance to The Co-operative is not illusory but fact. The Co-operative Party was founded in 1917 and regularly returns joint Labour & Co-operative Party MPs to Parliament: there are 31 in the current crop of MPs, including Ed Balls, and The Co-operative Group has been a major donor to the party.
Browne cast Aldi and Lidl as UKIP or the SNP – the disrupters upsetting the old world order. That's fine as far as it goes, although the SNP are now an established party of government, and UKIP will be lucky to get a few seats; Aldi and Lidl are entrenched and here to stay. But who would match Tesco, Asda, or Sainsbury's in this game?
The truth is that comparing political parties to retailers is just plain silly. Browne's remarks are yet another example of a politician getting into a muddle when they start talking about grocers. But politics and grocery do have one thing in common: with the outcome of next year's general election too close to call, and the grocery market in such a state of turmoil, both sagas are gripping to watch.