The takeaway food delivery market is booming – and it's stealing share from grocery as well as restaurants. Will supermarkets be able to take a piece of the pie?
The takeaway market is booming. Driven by the runaway success of Deliveroo, Just Eat and other mobile-enabled services, the market has grown 23% since 2015 to be worth £12.9bn and is forecast to rise to £15bn by 2023 [Retail Economics 2019].

Not surprisingly, the supermarkets want a pizza the action. So they've been undertaking all sorts of trials. Just last month, Morrisons teamed up with Deliveroo to deliver takeaways from the hot food counter at its new store in Canning Town, after a trial with Just Eat in 2017 at its Victoria Shopping Centre store in Bradford.

Meanwhile, Asda has been working with Just East since last November. And Sainsbury's latest takeaway food trial this summer saw it sign up with Deliveroo to deliver hot food from its counters.

So what exactly are they driving at? What is the growth potential? And what are the barriers?
Share of stomach
It's not hard to see the appeal for supermarkets. For takeaway's gain is invariably grocery's loss. In a survey by PwC carried out in May, 70% of consumers said if they hadn't ordered a takeaway, they would have either cooked from scratch, bought a ready meal or meal deal, or used a meal kit. "It's not like [takeaway delivery] is replacing a restaurant occasion," says PwC retail director Kien Tan. "It's because people just don't want to cook."

And it's "encroaching on some of the more attractive parts of your market and your more attractive customers," he adds. "It's no surprise we've seen some of the supermarkets talk to delivery operators about being on their platforms."

There's also plenty of space in store. "It's a big opportunity for supermarkets, given that many of the bigger stores already have hot food counters, as well as cafés and even restaurants," says Tan.
Some of the big restaurant chains are also developing subsidiary brands, which don't have a high street presence, but are cooked out of their kitchens. "I can envisage supermarkets creating brands that only work virtually through these apps," says Tan. "And there's no reason why they shouldn't because consumers are used to it."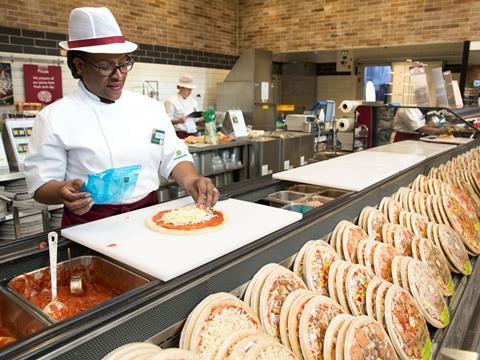 In effect that would mean supermarkets creating 'dark kitchens' - where chefs are employed to cook restaurant-quality food purely to service the takeaway market, and that's already happening outside the UK: in the US, Kroger has set up dark kitchens to prepare and deliver restaurant-style meals (without charging for delivery). And in Europe, Dutch retailer Albert Heijn is offering something similar in Amsterdam - dishes cooked fresh from its cooking platform 'Allerhande', and delivered via Deliveroo and Dutch delivery app Thuisbezorgd.nl.

Brands in the UK have started doing this too. Kellogg's partnered with Deliveroo just last month for 'Kitchen Creations' - a delivery-only meal service with food inspired by its cereals and snacks.

With Deliveroo and Just Eat, the supermarkets have access to a network of couriers who can fulfil small deliveries at a pace unthinkable with ordinary grocery fulfilment. And crucially, that means not just hot takeaways but other top-up items. In the case of Asda's deal with Just Eat, some 100 grocery products - both brands and own-label, including confectionery, crisps and snacks, tea and coffee and milk - are available on the app, in addition to a range of pizzas including BBQ Chicken & Bacon, Vegetable Supreme and American Sizzler, toasties and paninis, chips and sides, cakes and buns, and even burgers and hot dogs (from its Yorkshire locations).
Enhance offers
"It's a win-win," says Andrew Kenny, MD of Just Eat UK. "For supermarkets, because they have access to millions of our loyal customers and they get instant volume uplifts, which is incremental to their existing business. And for Just Eat's customers because they get more choice - a full cuisine offer, with their favourite brands, alongside our core marketplace independents." Such has been the success of the partnership, it will roll out to 51 Asda stores across the UK by the end of this year and to more than 100 stores by the end of 2020. "This success demonstrates how partnering with complementary brands can enhance a supermarket's offer to its customers," Kenny adds.

Sainsbury's also wants in on hot takeaways. An early trial in 2017 with Zizzi to offer hot pizzas for collection, or delivery by Deliveroo, fell through. But now, the mult has partnered with Deliveroo again, this time to deliver takeaways of a range of pizzas from its own hot food counters, as well as sweet and savoury snacks and drinks, in five locations: Cambridge, Selly Oak, West Hove, Pimlico and Hornsey.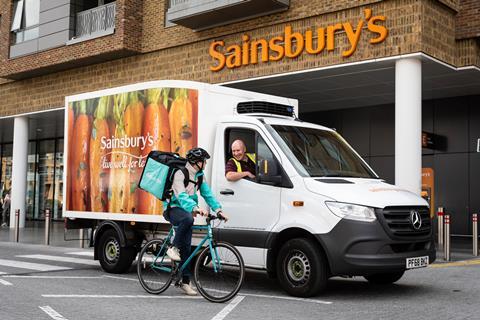 Through the trial, it hopes to "test customer appetite for ordering takeaways from their local Sainsbury's counters through a food delivery platform". However, having extended the two-month trial to further test the offer "before deciding if, how and where we go next with it", at the time of going to press, it was no longer available on the Deliveroo website, as Sainsbury's is understood to have put the trials on pause to focus on Christmas trading.

It's a reminder that this isn't as easy as it looks. One of the challenges for supermarkets is the change of mindset that's required. On the marketing side it's a challenge to know how to market a service when the marketing is mostly done via a third-party app, and you don't have the same level of access to customer data.

On top of this, they have less control over their relationship with these customers, which could be bad for their reputation if the delivery rider or driver connected to the takeaway app gives the end consumer a bad experience. GlobalData UK retail research director Patrick O'Brien says this could be an issue if the supermarket doesn't ensure a stringent service level agreement is in place with the delivery company.
"You may not want your supermarket to be buttoned up with delivery drivers"
Then there's all those delivery couriers to accommodate. While there's more room in a supermarket than in a typical restaurant, "you may not want your supermarket to be buttoned up with delivery drivers" says Tan, while "the kitchen is normally some distance away from where a motorbike rider could come and pick it up. It is a distraction and it will require people".

Supermarkets must ensure the delivery drivers are "serviced promptly" without getting in the way of its regular customers, adds O'Brien.

But still, it's not exactly core. "The question for supermarkets is, is it worth doing?" says Tan. "Or is it a distraction from your core business? They might decide to just stick to groceries and do them well. It's not an easy decision. But there is a market opportunity to do it and there's a customer demand for it."

Another challenge supermarkets face is the commission delivery apps charge. The key delivery platforms charge as much as 30% commission (though this can be halved to around 15% by signing an exclusivity deal), as well as a joining fee of as much as £700. With average spend of £9.50 per head per order [PwC May 2019], the margins on a takeaway-only order are tight, given the overheads.

If they can ensure the volume of deliveries are high enough they should be able to make it worthwhile. "They are on small margins," says O'Brien, "but I imagine they'd have preferential rates in terms of commission they'd be willing to give a delivery app, given that they should be able to drive higher volumes."
"These apps only operate in dense urban areas. They're not the places where you've got supermarkets with spare space and capacity"
Another factor to consider is location. "It's not so much consumer demand," says Tan. "It's more the fact that these apps only operate and are most popular in dense urban areas. They're not necessarily in the places where you've got supermarkets with spare space and capacity to do this."

A certain density of customers and drivers are needed to make it worthwhile for the apps to have a presence. And if there isn't an app presence, but there is local demand for takeaway delivery out of the supermarket, the retailer will need to sort it out themselves. Then they're back to the issue of whether they're actually set up to do so.

Alex Demetriou, MD of Regency Purchasing Group, disagrees that supermarkets aren't well-located. Central London excluded, "when you look at every other city and town in the UK, those supermarkets are perfectly located for where the drivers and the customers are", he says. "And they have adequate car parking and are often located near a dual carriageway for access in and out.

"I think the locations of the supermarkets are actually their biggest strength and the main reason they would be looking to do it."
The value of takeaways
Takeaway turnover
Takeaway value to the economy
2015
£10,585,441,551
£4,570,195,892
2016
£10,951,705,048
£5,001,407,634
2017
£11,773,166,234
£5,470,248,667
2018
£12,498,134,615
£5,938,182,189
2019
£12,961,027,528
£6,158,114,406
2020
£13,437,888,697
£6,384,683,297
2021
£13,928,354,550
£6,617,716,120
2022
£14,456,576,076
£6,868,687,626
2023
£15,002,872,646
£7,128,247,045
Source: Retail Economics, 2019
Differentiated offer
Perhaps the biggest question is whether a consumer would think of, or even want, a hot takeaway pizza from a supermarket. Tan insists this shouldn't be a problem. "Only one in three people specifically choose the brand they want to order from," he says. "The majority of people either choose a cuisine, or they choose one of the apps they've used before. So, a supermarket isn't necessarily at a disadvantage provided it's on the app.

"It's not like people will go 'oh, I couldn't possibly have a supermarket takeaway', they go into the app thinking 'I want a Chinese' or 'I want a burger' and decide on the app."

Nonetheless, it isn't easy for supermarkets to offer something demonstrably different. A cheaper takeaway, perhaps: Asda is selling its pizzas on Just Eat for as little as £4 per nine-inch Margherita pizza, compared with as much as £12.99 for a 9.5-inch Cheese & Tomato pizza on Domino's.
"It's not like people will go 'oh, I couldn't possibly have a supermarket takeaway'"
But selling cheaper isn't necessarily sustainable in the long term given the commission charge, and Tan suggests supermarkets would need to switch up their pricing strategy or ensure bigger orders to make it economically viable after they're charged commission. Askar Bulegenov, founder of delivery app Grocemania, suggests the only viable way of making it work is to increase their prices. "Off-licences are doing this," he says. "They have separate price lists for what they sell in store and what they sell on delivery apps."

All this said, the multitude of challenges supermarkets will face if they go down the route of takeaway delivery shouldn't take away from the benefits they could enjoy if they do it well.

"The research we've done says delivery is going to grow quickly as we get used to using apps, particularly as young people grow older, and it's going to ­cannibalise from grocery," says Tan. "So, there is an opportunity for grocery stores to respond." An opportunity and perhaps even an imperative.
Supermarket takeaway tie-ups
Asda
Who? Just Eat
What? Hot pizza delivery, plus 100 branded and own-label ambient and chilled grocery lines
When? November 2018
Where? Trialled in three Yorkshire stores and one in Scotland
Results? The trial has been a "huge success", and will roll out to 51 Asda stores by end of 2019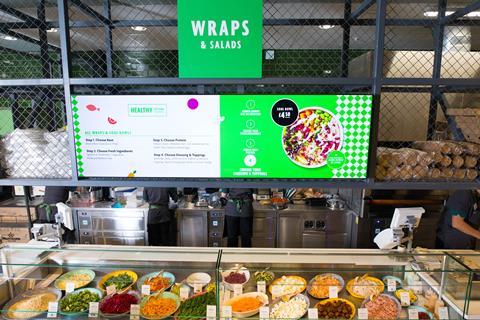 Morrisons
Who? Deliveroo
What? Morrisons Market Kitchen - offering delivery of burgers, pizzas, rice boxes, pasta dishes and chips
When? October 2019
Where? Canning Town, London
Results? An earlier trial with Just Eat was abandoned. This is a second stab at hot takeaways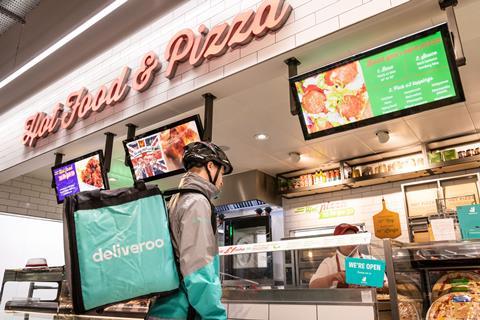 Sainsbury's
Who? Deliveroo
What? Delivering a range of salads, dips, drinks and pizzas
When? July 2019
Where? Cambridge, Selly Oak, West Hove, Pimlico and Hornsey
Results? Current trial on hold but Sainsbury's will revisit in the new year to see "if, how and where we go next with it"