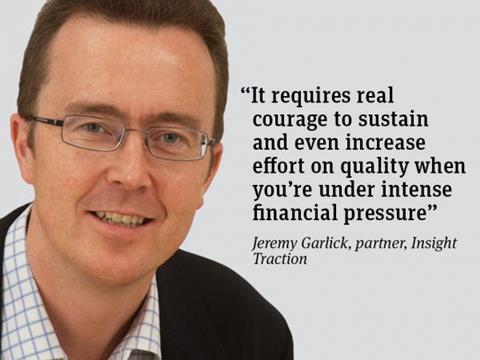 You can think about the current food and grocery landscape as being made up of the establishment and the disruptors. The establishment - the big grocers, the big fmcgs - fighting hard over static or declining markets, with margins under intense pressure. The disruptors - discounters, Amazon, Deliveroo, Pret, Bigham's, Brewdog - full of confidence, on the crest of a wave.
Most people reading this will identify themselves in the establishment group, and some may find the pace of change in the industry painful. So what can be learnt from the disruptors to help the establishment companies stay in the game or even become disruptors themselves?
First, focus on the product, not the profit. In this age of free information you risk getting found out if you're cutting corners to follow the money in the short term, and the consumer will ultimately notice anyway. It requires real courage, when you're under intense financial pressure, to sustain and even increase effort on quality. In food, this means constant attention on taste, quality, packaging and manufacturing excellence every day.
Second, harness digital. A great deal of the food conversation and celebration is on social media. And it isn't the establishment in control. Tesco has 77,000 followers on Instagram. Ella Woodward has 859,000. It seems that people follow people digitally, not companies. So how do you find people who can represent you (authentically) in the digital space? And how can you influence the people who are leading the conversation? It is probably more about earning their respect and affection than buying it. What can you tell them about your products, and what you are trying to do as a company? At a minimum, leaders need to be abreast of the digital conversation.
Thirdly, follow and anticipate the consumer. The only way to keep up with the speed of change is to focus on what consumers want and will value. This is how Amazon, Deliveroo and Aldi have forged ahead. It doesn't have to mean increasing your market research budget. It is about spending time with consumers and shoppers, and activating your own common sense and intuition. The best leaders make time for consumer listening, keeping abreast of the competition, and future thinking, despite all the urgent and conflicting priorities. They do the right thing for consumers, even if it is hard. A good recent example is Sainsbury's move away from multibuy promotions. Difficult, but consumer-driven.

So focus on the product, harness digital, follow and anticipate the consumer. None of these things are easy, but they are all critical to growth.

Jeremy Garlick is a partner of Insight Traction