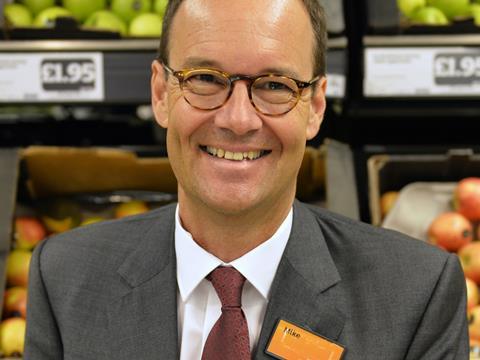 Chief executive Mike Coupe pointed to food deflation and a "highly competitive pricing backdrop" as key contributors to the anticipated sales fall Sainsbury's announced this morning. We rounded up some prominent industry figures and got their reactions to the figures.
John Ibbotson, director, Retail Vision
"Sainsbury's woes cannot simply be explained away by food price deflation.
"While Sainsbury's strong fresh food offering was a key differentiator last year, falling food prices now mean its heavy reliance on groceries is proving an increasing drag on profits.
"But the brand's cardinal sin is complacency. For too long its robust results gave it the misplaced confidence that its higher-end image would protect it from the charge of the discounters.
"With Waitrose and M&S still very strong at the top end of the market, and faced with a resurgent Tesco and a Morrisons which is finally stopping the rot, Sainsbury's is caught between a rock and a hard place in the middle ground.
"Sainsbury's is fighting a war on two fronts. History shows that such wars are rarely won.
"Mike Coupe says they are making good progress with their strategy, but his plans are short on the sort of drastic action that his rivals have successfully taken to raise their games.
"At a time of such fierce competition and rapid change in retailing, Sainsbury's simply isn't doing enough to stand out.
"In the current environment, not standing out is a sure fire way to lose sales fast."
Bryan Roberts, director of retail insights, Kantar Retail
"On the face of it, a sixth consecutive quarter of declining like-for-likes is an obvious disappointment, indicative of the fact that Sainsbury's immunity to the discount menace is well and truly over.
"With Morrisons back on the front foot and Tesco and Asda continuing to spar on pricing, things certainly won't be getting any easier.
"However, the retailer has made some courageous moves on range, stores and promotion and we continue to assert that the Sainsbury's cloud has more silver lining than some."
David Gray, retail analyst, Planet Retail
"Once more, Sainsbury's has turned in a subdued set of quarterly like-for-like numbers as the onset of market deflation hits company performance hard.
"Although the convenience business continues ticking along nicely, the core big-box arm is suffering steep declines in like-for-like sales, meaning that, in a relatively short timeframe, Sainsbury's has stumbled from being one of the best-performing UK grocers to one of the lesser lights.
"Sainsbury's appears particularly vulnerable to Tesco. Should Tesco sustain the numbers achieved at Q4 (-1% LFL), Sainsbury's may well have even further to fall. With practically zero growth to be had in the UK grocery market, Tesco's gains may well be Sainsbury's losses.
"Even so, the picture is not all unremitting gloom. Convenience continues to deliver solid growth, as does the online grocery operation.
"Sainsbury's is also taking decisive measures to adapt its hypermarket format to the changing retailing landscape through repurposing or sub-letting space, tying up with footfall-generators like Argos and so on.
"While perhaps not a cure-all, these moves at least indicate management's willingness to confront pain-points in the business. Such proactive measures will hopefully go some way to easing the company's pain."
Hannah Maundrell, editor of money.co.uk
"Sainsbury's figures may not be great news for shareholders, but the story is very different for shoppers. The supermarket is being forced to drive prices down further to keep up with its 'cheap as chips' rivals; this means consumers get more for less in their weekly shop."