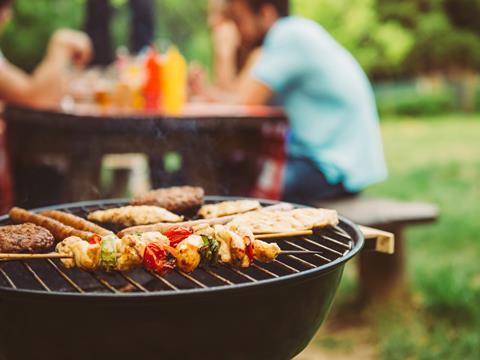 Brits can get fired up for some affordable al fresco dining this bank holiday, as supermarkets are slashing prices on barbecue bestsellers.

Beefburgers - still the UK's top choice for barbecues - are on average 3% cheaper than this time last May across 48 SKUs in the mults. A pack of four own label premium beefburgers (454g) is £2.75 on average, down 14.8% compared with last year, while a four-pack is 3.2% cheaper at £2.66 [Brand View 52 w/e 16 May 2018].

Chicken, which recently overtook sausages to become Brits' second favourite barbecue meat, is also 1% cheaper on average across 292 SKUs in the mults, with a barbecue-friendly pack of own label chicken drumsticks (1.1kg) down 10.8% to just £2.64.

Meat avoiders can also find some good deals compared with last summer, with a pack of two Linda McCartney Vegetarian Quarter Pounder Burgers down 6.3% year on year to £1.87, while a pack of six Cauldron Cumberland sausages is now 6.5% cheaper at £2.17 and a 250g block of own label halloumi is 1.5% cheaper at £1.60.

The mults have even slashed prices on wrapped bakery for the occasion, with a pack of six own label seeded burger buns now 8.8% cheaper at 87p, while six own label white hot dog rolls are down 3.9% to 83p. And there are plenty of savings on sauces, such as Heinz Barbecue Classic Sauce Top Down 480g - down 4.24% to £1.81, Heinz Top Down Tomato Ketchup 460g - down 6.9% to £1.62, and Hellmann's Real Mayonnaise 600g - down 9.9% to £2.02.

Sausage fans, however, might be disappointed, with average prices up 2% year on year across 283 chilled meat sausage SKUs in the mults. A pack of 12 own label British chipolatas is 11.4% more expensive than last year at £1.63 on average, while eight own label large pork sausages are up 22.5% to £1.63 and six premium own label pork Cumberland sausages are 8.8% more expensive at £2.51.

It comes in the wake of sharp inflation across pork last year as a result of tight supplies and exchange rate fluctuations, with average prices for fresh pork surging by 17.2% as sausage prices increased by 3.2% [Kantar Worldpanel 52 w/e 25 March 2018].

The price hike on bangers was one factor behind the 24% drop in occasions last year, with sausages featuring in 25.2 million barbecue occasions in 2017, while chicken featured in 28.5 million occasions to earn the title of Britain's second-favourite barbecue meat [Kantar 52 w/e 3 December 2017]. Chicken, which is perceived as healthier and more versatile than red meat, has benefited from ongoing deflation in the mults.

Inspired by the US low & slow barbecue movement shoppers are increasingly opting for posher cuts like sirloin and brisket, but burgers retained the number one slot on British barbecues last year, featuring in 31 million occasions.