Everyone is switching these days. Whether it's a bank account, an energy provider or insurance cover, it's easy to do. The OFT even gave the green light to the Costcutter and P&H deal on the basis that it's easy for retailers to switch symbol groups after it found the "vast majority" of symbol members could either change from one symbol to another at the end of their contracts (typically three or four years) or quit before the end - so long as they repaid any outstanding balance on store investment.
But although seemingly easy to do, switching levels are "limited", according to the OFT, which found that from 2008 to 2012, just 5% to 15% of Mace members switched to Costcutter and 0% to 10% went the other way. So what are the upsides of switching, why aren't more retailers doing it and what are the symbols doing to make themselves attractive to those that do have a wandering eye?
"Margins and sales are both up and the customers really like it. They are spending around £5 to £6 now, instead of £2 to £3 before"

Ajay Thandi
While the case for switching is not always as immediately obvious as it is with energy suppliers or banks, the benefits can be many. Indeed, Ajay Thandi, who got itchy feet last April and switched to Premier, says it's the "best thing he ever did".
Previously, his 2,400 sq ft store in Halesowen, near Birmingham, was part of Simply Fresh, but he was seduced by Premier's attractive new format, which has a smarter colour scheme featuring muted ivory rather than the old bold yellow, scaled-back window graphics so people wandering past can see inside and its opening hours displayed more clearly.
What do the symbols groups offer? Click here.
Premier also introduced a rash of new in-store promotions, with meal deals available for breakfast, lunch and dinner, 'mega-deals', and own-label products from Booker's value range Euro Shopper prominently displayed.
Four weeks after the switch, Thandi told The Grocer sales had already soared 45%. "It has been a huge success," he enthused. "Margins and sales are both up and the customers really like it. They are spending around £5 to £6 now, instead of £2 to £3 before".
Sales uplift
Nine months on, Thandi is just as upbeat, claiming "sales are still tracking around 60% higher than previously and profits are up around 40%". Recent initiatives, such as the distribution of 3,000 leaflets with vouchers to encourage new customers and repeat visits, have also pulled customers in, he adds.
It's not just Premier retailers bragging about post-switching sales uplifts. "Where we have recently revamped a store, we have seen uplifts in sales in the region of 18% to 30%," claims a Today's spokeswoman.
"On average, we are achieving 22% uplift. This isn't from simply installing a Today's fascia but from the benefit of the complete package, including a complete remerchandising of the shop, review of the product range and internal store appearance and a review of the operational practices. That includes staff scheduling as well as the new branding and signage throughout, both internal and external, and the promotional programme we provide to help our retailer compete in what is an extremely competitive market. This whole package really can make a difference."
"You simply would not get this by relying on a cash & carry method of sourcing product"

Raj Krishan
If the eye-catching sales uplifts have caught your attention, the good news is that switching appears simple enough to do - in fact, whichever symbol you ask, the word 'simple' crops up repeatedly.
Head of Premier Martin Swadling says switching is a "very simple" process. "When a retailer meets our criteria they need to sign a simple contract and their store should be rebranded, merchandised and trading within six to eight weeks."
Costcutter says the "simple process" usually takes "two weeks" and new members are assigned a "dedicated account manager who handles their application, works closely with the retailer and provides a constant point of contact throughout the process". He adds that a support centre handles all the paperwork on behalf of new retailers and the retail team assists in creating new orders for the first few weeks.
Nisa, meanwhile, describes the process as "stress-free" and says hands are held along every step of the way with a variety of "retail development managers, store development managers and merchandisers ready and waiting to guide new recruits through the switch".
What isn't quite so straightforward is which symbol to switch to. Retailers are spoilt for choice with 15 symbol groups to pick from, but it's not always an easy choice when all the symbols are vying for their attention and claiming their package is the best.
Nisa format & development director Raj Krishan says the advantages of joining Nisa are numerous. New members benefit from being part of a "recognised and growing brand that has increased its consumer awareness through national advertising, most recently through a TV ad as well as national press advertising".
He adds that Nisa members can access more than 12,000 products with "hundreds of promotions", which are supported by in-store PoS and marketing as well as through consumer leaflets delivered to homes close to the store every three weeks. "You simply would not get this by relying on a cash & carry method of sourcing product," he says.
Spar points out similar advantages for its new members. Staff training and development, in-store Spar radio, a mystery shopper programme and Operation Excellence, an initiative to support stores in "managing standards", are just some of the benefits on offer, it says. Spar also takes a very flexible approach to new recruits, it claims, with no minimum size for stores, no start-up costs and retailers getting free membership for a year. "We have the right brand, prices, promotions and store formats to help our retailers grow sales and profitability," adds Mark Steven, Spar UK business development controller. "Spar is the largest symbol group in the UK with £3.2bn retail sales. £1 in every £4 spent in the symbol sector is spent in a Spar store and a record 25% of that total is spent on Spar own-label products. And an amazing 96% of the UK population recognise Spar and 93% trust the brand."
Brand values
Retailers specialising in alcohol can also turn to the likes of Bargain Booze, which has recently introduced a new 'cluster measurement' tool that will "allow us to become more sophisticated in terms of promotion selection by store," says Keith Webb, franchise director for Conviviality Retail.
With so many benefits on offer, switching seems like a no-brainer. Yet although many retailers have made the leap, often swapping one for another - Steven says the "majority of recruits and leavers this year have come from, or went to, other symbols" - the vast majority have not switched and are unlikely to do so.
"We work in partnership with our retailers, building strong relationships, which give them support"

Costcutter spokesman
It's not so much that they don't think it's worth the trouble as they don't think it's worth it full stop. In this month's Business Barometer, a staggering 100% of members say they are "happy" with their current symbol group. Him! Convenience Research backs up that suggestion, with the vast majority (70%) of symbol members feeling "valued" by their symbol group.
"Symbol groups do a good job for their members and therefore drive loyalty from them," believes Premier's Swadling. A Costcutter spokesman adds: "Retailers invest a lot of time and effort into their business, not least in building relationships with their symbol group. We work in partnership with our members, building strong relationships, which give them the support and advice they need to develop successful stores. They also invest a lot financially in their store - if a retailer has installed bespoke technology in their store, they may not wish to invest further in new systems in order to switch group."
So while on paper it might be simple to switch, the case for doing so is not necessarily quite so straightforward, not least because of the sterling work symbol groups have done to retain their members.
That said, our Business Barometer reveals that 18% of "happy" retailers remain open to the idea of swapping - especially if they are looking for improved availability of stock, the most important consideration when it comes to choosing a symbol group, according to the Him! research. And, of course, if they can be persuaded it'll boost their profits.
Symbols of the symbols' success
NE Convenience Stores
Symbol group: Nisa
Number of stores: 22
What are they up to? When these guys open up a new store they do it in style. Celebrations at the launch of its 20th store in Newcastle last February saw local chefs cooking up a storm and handing out free food. The first 100 customers also got free two-litre bottles of milk. North East Convenience Stores has just opened its 22nd store in Marton.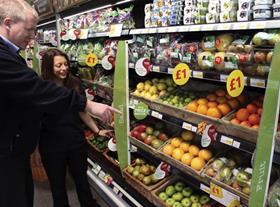 Symonds Forecourts
Symbol group: Musgrave GB
Number of stores: Nine
What are they up to? The winner of The Grocer Gold for Independent Retailer of the Year 2013, Symonds operates nine stores under the Budgens and Londis fascias, but works with local producers such as Jon Thorner's butchers for meats and pies, Box Bush Farm for organic fruit juices and Godminster Farm for organic cheese.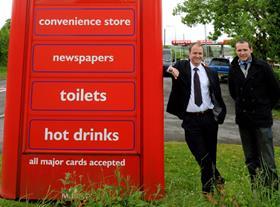 High Noon Store
Symbol group: Spar
Number of Stores: Five
What are they up to? Since it embarked on a mission to beat Asda on pump prices, High Noon MD Gordon Miller, formerly of Aldi, has taken the discounter spirit to the forecourt and reaped the rewards. Since the summer, Miller has more than doubled his forecourt estate, which mixes Murco forecourts with Spar stores, from two to five.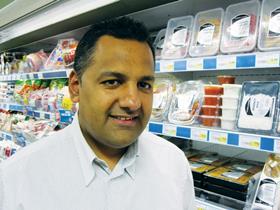 Paul Cheema
Symbol group: Costcutter
Number of stores: Three
What are they up to? The Cheema family snapped up a Texaco forecourt near to their original store in Tile Hill, Coventry just before Christmas. Cheema, who runs the business with his brother Pinda, plans to have completely converted his latest store from the existing Londis into their 'Malcolm's' Costcutter store format early in the new year.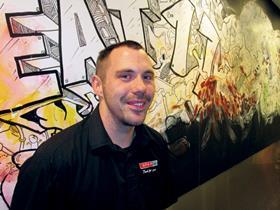 Walthamstow Village Stores
Symbol group: Spar
Number of stores: One
What are they up to? This isn't your average Spar. Packed with artisan produce, craft beer and great-tasting pizzas from its in-store pizzeria, the four-strong Village Stores team, which includes James Brundle (pictured), also run a trendy bistro called Eat 17, where resident chef Chris O'Connor created Bacon Jam. A new store is due to open in Hackney in early 2014.