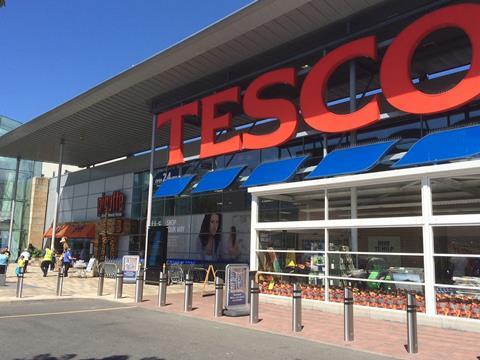 Tesco is set to standardise trade terms with its entire supply base "to free up more time to talk about things that matter".
Tesco's simplification of payment terms will result in six standard payment terms depending on the category: 28 days for produce and meat, fish, poultry; 35 days for chilled, frozen, convenience and petcare; 40 days for dairy; 45 days for ambient grocery (plus household and health and beauty) ; 60 days for BWS, clothing and GM (UK sourced); and 90 days for overseas sourced clothing and GM.
Tesco has also gone further to help smaller suppliers. Following a pledge in March (exclusively revealed by The Grocer) to pay small suppliers within 14 days across all categories (defined as suppliers who deliver up to £100,000 worth of products to Tesco), it has moved to settle accounts at medium-sized suppliers five days quicker than large suppliers (defined as supplier who deliver up to £10m in product value per year).
The changes, which will be effective from the end of June 2016, were announced this afternoon by CEO Dave Lewis in a speech at the IGD conference in London and follows a commitment by Tesco earlier this year to improve relationships with suppliers, including simplification of its notorious commercial income terms, the launch of a 24-hour Supplier Helpline and the establishment of a single team responsible for the entire lifecycle of a product.
"We want to work with our suppliers to get back to innovating on behalf of our customers and these changes will make it easier to do that," said Lewis. "By introducing a new standardised policy across each category, and shorter payment terms for our small and medium suppliers, it will help us deliver a fairer, more transparent and consistent approach across our supply base."
"We believe we now have a competitive set of terms and that we will pay as quickly as any competitor if not quicker"

Jason Tarry
The simplification means that in the majority of categories, Tesco will be offering shorter payment terms to its supplier than they pass onto their own suppliers, Lewis claimed. The smallest suppliers will typically be paid 34 days quicker than before.
Tesco head of product Jason Tarry said that calculation of the category payment terms had been based on the speed at which stock was turned over, as well as its understanding of industry payment "norms".
"We believe we now have a competitive set of terms and that we will pay as quickly as any competitor if not quicker. Above all it's about the terms being simple and transparent.
"Our terms will no longer be a mystery. Everyone will be very clear. The other significant development is that if you are a smaller supplier, we recognise that cashflow is very important. There will be variability but only in the sense that we will give preferential terms to SMEs."
He added that for all suppliers, the terms refer to the day when they will receive the cash and not the day the cheque is put in the post. And the June date for the switch had been made "to give suppliers time for this to be implemented."
"We don't want to waste time around structure of terms. This is about fairer and more transparent terms. And taking terms discussions off the table so we can focus on the things that matter to our customers."