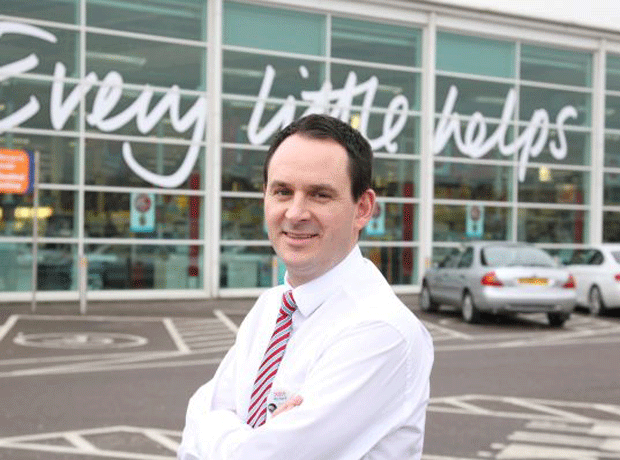 Richard Frear was a cocky 17-year-old when he strolled into Tesco for a job interview 23 years ago. He couldn't care less about the job, he just wanted some regular cash for the weekends.

"I wanted to become a firefighter or do a degree," he reflects, casting his mind back to 1990, when as a "laissez-faire" teenager, he breezed through the interview for a part-time job at Tesco in Brislington and was put to work "filling freezers".

It was the definition of a humble start to working life, but roll on more than two decades and Frear is posing for photos on stage at London's historic Guildhall, clutching a Grocer Gold trophy for Store Manager of the Year.

No mean feat. And not bad for someone who "had no intention of a career in retail". So what changed his mind?

Like so many people who fall into rather than actively choose their careers, he slowly realised he was enjoying himself. "I gained an appreciation for art of retail," he recalls. "I was unaware how complex and interesting working in a large retail environment could be."

Eventually he came to a crossroads. Success in his A-levels meant he had options: take up one of his university offers or go into retail, full-time.
Richard Frear
Age: 39
Engaged to: Jenny
Children: Son, 5, daughter, 2
Career high: Promotion to GSM
Career low: I don't really have one I can think of!
How do you relax? I enjoy exercising a lot, watching football (Swindon Town) and spending time with the family
Favourite meal: Probably a nice Wagamama. I'd order a nice chicken Chilli Men with a nice green tea to go with it

He waved goodbye as his friends headed off to university and took up a full-time position at a nearby Tesco Metro in Bristol as a general assistant. Six months later, he was appointed night manager. It was while working nights that Frear knew he had made the right decision. He talks about the tight-knit teams, the "camaraderie… you probably get closer to the staff being a night manager than in other roles".

Working nights also taught him vital practical skills. "You come in at 10pm, you get the store perfect by the time the doors reopen. That daily measure was an immediate challenge. It was also the most rewarding one because we delivered that every single day."

He broke up the night shifts with trips to visit his old friends at university, the pangs of jealousy at their lifestyles softened by often being the only one with any money. Meanwhile, back at work, he was sharpening his management skills.

"It was hard to reinvent myself. I was thinking, 'How do I now best engage those who were once the same level as me and get things done without using my new status to pull rank?' I wanted people to perform because they wanted to, not because I'm the boss now, and I'm telling them to do it."

Avoiding the heavy-handed tactics worked. More promotion beckoned and Frear took another leap, from the Metro to a Superstore in 1997. Sir Terry Leahy was in charge and Tesco was motoring. "I was very proud to be part of that. My friends were coming out of university trying to find jobs, whereas I was an established manager in a company that was doing brilliantly."

In 2003, he came off nights and the challenges got tougher. "Night teams are the unsung heroes of any retail operation, but every move I made was been a progressive one. When I moved to days, I took the skills learned from nights to coach people on working productively and collaborating as a team. Overlaying the complexities of a working day on top of that stretched my skills further. The challenges were meeting what I had already achieved, then building on top of that."

The final hurdle to becoming a store manager at Tesco is the store manager academy. For four weeks in 2007, Frear worked towards a test covering everything from management to an in-depth knowledge of every department. Candidates have to pass, or it's all over.

Frear scored 114 out of 115. "I'm still aggrieved by that one point." He laughs, but you can tell he means it.

Two store manager appointments at Tesco Metros in Langport and Cardiff followed, before he took up the post of GSM at the Tesco Extra in Cardiff in 2011. It was there he was visited by The Grocer mystery shopper, who said it shone on customer service. That visit led to Frear ending up in front of the judges at the Store Manager of the Year after Tesco put him forward - impressive, given that Tesco had plenty of candidates to choose from after 16 wins (a stunning turnaround from last year, when it won five).

"I really enjoyed seeing our progress over the year. We have improved all the elements of the shopping trip and customers are saying they are enjoying the shopping trip more than they did before."

A Purley king

It's not all compliments, though. Frear often faces criticism of Tesco when he is out and about, but the "fiercely proud individual" fights his corner. "Everyone has an opinion on Tesco. I believe we do the best we possibly can, always. If I meet someone who feels differently I might try and explain that, but I also use it as motivation for me to go back and improve the place I work. Many people just don't realise the pressures involved in running a store. I find myself explaining how hard we try to get it right all the time, because we do."

With that, he has to get back to work. His new store, the Tesco Extra in Purley, is undergoing a refurbishment and there is plenty to do, although he says everything is progressing nicely. He says the refurbishment is typical of the work Tesco has been doing to improve store standards recently, and the company in general.

"The way the company has evolved, diversified and improved during the last 23 years has been a fantastic and sizeable achievement," he says of his employer.

Much the same could be said of Frear himself.