Deep impact or snowflake? The Grocer went shopping to check out the impressive displays and exciting ranging at the multiples as the ferocious battle looms for share of spend this Christmas
Christmas is a time of goodwill. Unless you're the boss of a supermarket, in which case Christmas is when you set out to crush the opposition and leave them weeping into their eggnog. And with five weeks to go until the big day, the woolly gloves are off.

Sensational sales and serious bragging rights are the goal. So what are the supermarkets up to this year to make sure they are the destination of choice for Christmas shoppers? And which look set to enjoy a happy new year?

Festive form should offer obvious clues, but what happened in 2016 makes trying to predict who will come out on top tricky, because there was (almost) good news all round.

Aldi, Lidl and Iceland were the big winners, with respective year-on-year festive increases of 11.8%, 10% and 9.6%, according to Kantar Worldpanel. M&S (up 5.6%), the Co-op (up 3.5%), Morrisons (up 2.9%), and Waitrose (up 2.8%) all went well.

Tesco (up 0.7%) and Sainsbury's (up 0.1%) only saw fractional gains. But with Tesco enjoying a carefully managed resurgence, and Sainsbury's bolstering its non-food offering courtesy of its Argos acquisition, both Dave Lewis and Mike Coupe will be demanding more this year.

As for Asda, even though it was still down year on year in 2016, it delivered an improvement on the year before. And for incoming CEO Roger Burnley, who takes over from Sean Clarke in the new year, Christmas represents the perfect time to make his mark early.

Various reporting periods obfuscate any of those numbers, however. So further clues can be gleaned from the annual (and a little surreal) Christmas in July events, when every retailer unveils its plans for the food.

There were some brilliant standouts, including a 3-litre Jeroboam of prosecco for £40 at Aldi, an ultra-convenient Christmas dinner for two in a box at the Co-op, a duck and guinea fowl two-bird roast with a pork, brandied cherry and Bramley apple stuffing at Sainsbury's, and Snowmen baozi buns filled with shredded duck and hoisin sauce at Morrisons. That barely scratches the surface of the brilliant work done by inventive buyers and product developers this time around, so shoppers have plenty to tempt them when it comes to choosing where they head for the big one.

Still, despite six months of hype, the supermarkets have kept plenty under wraps. Some things can be guessed at - you won't find a bogof at Sainsbury's and at least a couple of the supermarkets will roll out their own version of Aldi's simplistic Super Six. But while pricing and promotional strategies on the food side are yet to be unveiled, their shop floors are already well into preparations.

They need to be - Christmas Day 2017 falls on a Monday, which means the weekend before will see crazed customers hit the supermarkets, hunt down a trolley, and grab everything from tinsel to turkey.

But we are still five weeks out. So broadly speaking there are six early areas to be won: gifts; clothing, including Christmas jumpers and kids outfits; wrapping paper, decorations, fairy lights and tinsel; alcohol drinks and pre-Christmas party fare; ambient food (biscuits, Christmas puds and mince pies); and last but by no means least, securing the fresh shop early via mouthwatering festive food catalogues, so shoppers can have their selection delivered or clicked & collected at a fuss-free specified time slot.

So who is doing what to win that money now? And how well are they doing it?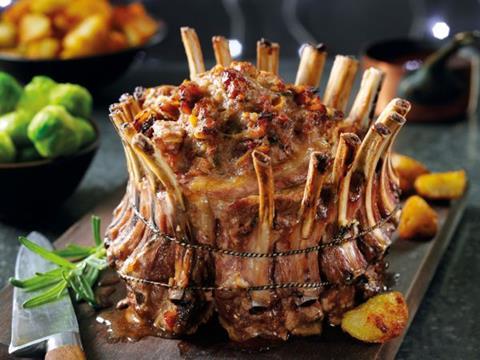 Asda
There is absolutely nothing going on outside Asda in Crawley with five weeks to go, but that all changes when you step inside. Shoppers walk straight into displays of chocolate, Coca-Cola, panettone, Christmas cards and essentials like sellotape and batteries. Then there is a dedicated 16-bay aisle filled with cards, decorations, various artificial trees and toys.
Across the shop floor, big standalone displays are everywhere, stuffed with Advent calendars, chocolates and Christmas Essentials like baking trays (£1.50) and jumbo boxes of Jacob's cream crackers (£3). And over at George there are Christmas jumpers and tops galore, plus accessories like headbands, earrings and hats.
Unusually, the tills are completely free of impulse buys like wrapping paper. And also noticeable is the absence of any catalogue or pre-ordering facility either. Customer services confirm Asda is the only one of the big four not doing one. However, as The Grocer reported last week, it has already ramped up deals on confectionery, biscuits and snacks ahead of Christmas by 4.4% more than in 2016.
Verdict: Asda's strapline this year is 'Best Christmas Ever'. An early lack of Christmas cohesion means it might not manage that, but any improvement on last year will be a positive step.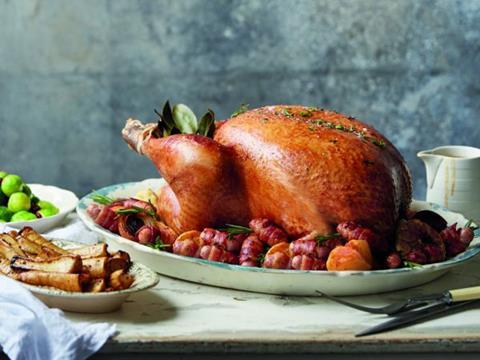 Aldi
Last year's Christmas champ has set out its stall early.
Christmas ads are wrapped on bollards outside the Crawley branch with the strapline 'Have an amazing Christmas together'. Once inside, posters and decorations hang from the ceiling, advertising Aldi's range of hampers and directing shoppers to festive recipes online.
Special buys aisles are filled with wrapping paper, candles, festive twigs, cards and tape, and there is more wrapping paper at the tills (Disney-branded, five metres for 99p). As for the food, there are eight bays filled with ambient favourites like cake and chocolates, plus a handful of wire cages commandeered from the special buy aisles to add more SKUs. But clearly the major rollout is yet to come. And Aldi plans to make it more successful than last year.
"It was our best Christmas ever," says Julie Ashfield, MD of corporate buying. "To build on this we've filled our stores with an even bigger festive selection, introducing 160 new products to the range that is now 400-strong. New products include our jeroboam of prosecco to add theatre at larger scale celebrations and parties, as well as our Specially Selected Exquisite Chocolate Robin Centrepiece, hand-crafted with the finest chocolate, hazelnut praline and honeycomb."
She isn't concerned about thrifty shoppers abandoning Aldi to splash out elsewhere, either. "Traditionally, customers have traded out of Aldi at Christmas. However, last year £38.9m was spent by customers switching to Aldi during this period and we gained customers from all competitors. Shoppers have been impressed by our Specially Selected products."
Verdict: When Aldi has everything in place there is nothing to suggest it won't see similar uplifts to last year.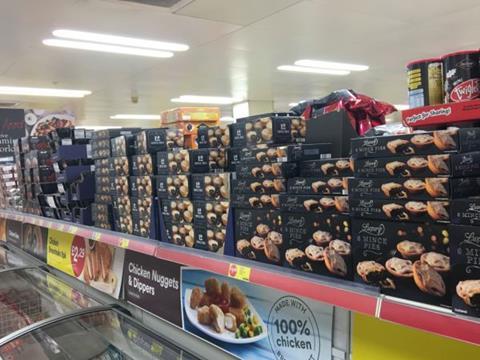 Iceland
Superficially at least, Iceland is keeping its powder dry. The first thing shoppers see in its Redhill store is a standalone cardboard unit housing its award winning mince pies, which give way to a few shelves of Christmas puddings and cakes. Paw Patrol crackers, Thorntons Chocolate Snowmen and other gifting sets, some scented candles and tree decorations are dotted around. There are also a couple of pop-ups containing Create Your Own Hampers and some Christmas Lights. Other impulse buys like Turkey roasters and wrapping paper are plonked here and there and there is a 6ft pre-lit tree on offer for £30. But much like the discounters, the big rollout is yet to come, presumably because space is tight and it's too early to be devoting too much of the store to seasonal SKUs just yet. But premium wines and craft beers for Christmas are on the way, and its extended Luxury range of SKUs will feature in a big way in stores.
Verdict: The Christmas rush is yet to hit Iceland but the inventiveness of its ranging over the last few months points to a solid Christmas ahead.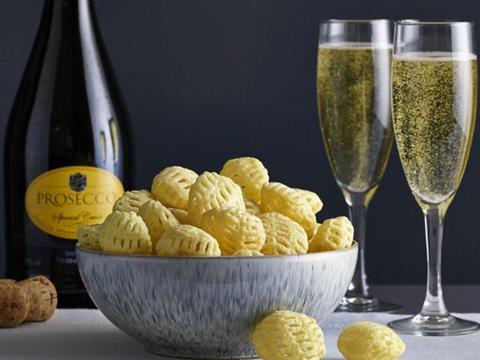 Co-op
It's convoluted structure makes it hard to judge the Co-op's overall strategy from a single store, but five weeks out there were a few little touches dotted around its Reigate branch, like a standalone 'All you need this Christmas' pop-up unit containing Knorr Stock Pots, Paxo stuffing, Bisto gravy and Colman's sauces. It had already seen better days though - one of the shelves has already collapsed.
A couple of other stands offered Advent calendars and wrapping paper, but the overarching strategy is more revealing. A spokeswoman says the Co-op range has been "carefully planned by customer mission to maximise our package and inspire customers with the most relevant offers to best suit their needs. We have built our Christmas plans through our segmentation and different store types so that we can really land the right package in the right stores. We have also increased chilled Christmas promotional space across the estate to allow more of our bestselling Christmas promotions to be merchandised together, especially in our smaller stores, where space is at a premium."
She also highlights the development work being done on the Co-op's premium tier Irresistible' range, but says "being a convenience retailer means customers are still shopping the everyday basics with us right up to Christmas Eve, so we have ensured we balance Christmas treats with all of the Christmas essentials that continue to deliver both great quality and great value. We sell a lot of lemons, milk, bread, Prosecco and toilet roll on Christmas Eve."
Verdict: Striking a balance between an emergency top-up shop and offering quality own-label food is tricky, but the signs are good.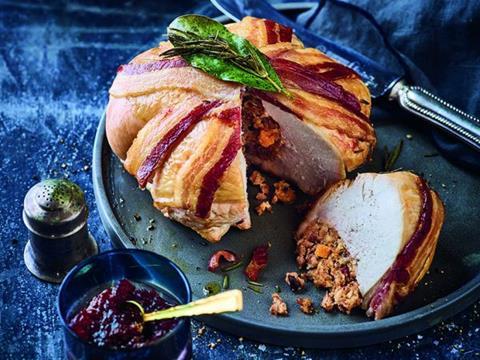 Lidl
As the UK's fastest growing supermarket for the fifth month running, Lidl has the best momentum heading into Christmas - and it's already wishing shoppers a Merry Christmas via ads wrapped around bollards outside its Dorking store.
Once inside the 'Every Lidl thing for Christmas' strapline pops up on a display that interacts with Android phones to offer 50 shoppers the chance to win a £75 Christmas shop.
There are dozens of traditional wooden toys stacked up in the non-food middle aisles but only 10 small bays dedicated to festive fare, half of which are filled with Favorina Christmas cakes, biscuits and chocolates and the remainder with similar premium tier Deluxe SKUs.
There are also several freezers filled with turkeys of various sizes and price points, whole geese and ducks, and there are a few crates of £10.99 champagne and some wrapping paper at the tills.
A spokeswoman says more than a "fifth of our own-brand Christmas range are new products, including a 'world first' Deluxe 24-month matured Christmas pudding and our Deluxe Croquembouche, a showshopper dessert."
It's also expanded its gluten-free offering, added more Canadian ice wines after they sold out in 2016, and will stock more Hortus Pink Gin, which was "exceptionally popular as a seasonal spirit" in 2016.
Verdict: Like Aldi and Iceland, limited shop floor space means the major rollout is still to come, but if 2016 is anything to go by, shoppers are happy to wait.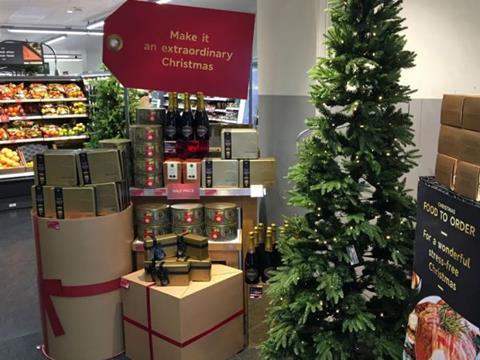 M&S
There is nothing going on outside M&S in Reigate, but once inside the foyer it's like walking into a (relatively, for a supermarket) cosy living room on Christmas Day, with lots of lovely food and drink to look forward to.
A large poster advertises its Order in Advance Christmas food, making it only one of two supermarkets to push this service hard. At the back of the shop there is a dedicated till point for anyone wishing to order.
On entering the shop there are displays of mince pies, mulled wine, cake, chocolates and those elusive gold coins.
M&S is also pushing Christmas sandwiches hard, helped along by donating 5% from every sale from the Festive Collection to homeless charity Shelter (about 17p per sandwich). Its strapline is 'Make it an extraordinary Christmas' and M&S looks to be going the right way about it, with tills groaning under the weight of more cards, wrapping, nuts and batteries, plus there is another poster with a step-by-step guide to ordering fresh food in advance.
Verdict: Christmas is a time for M&S to shine and so far it's doing it, making sure everything ambient is front and centre and that anyone looking to order fresh food early knows how to do it. As its recent food sales slowdown reminded us, however, getting the basics right, like availability, will be key.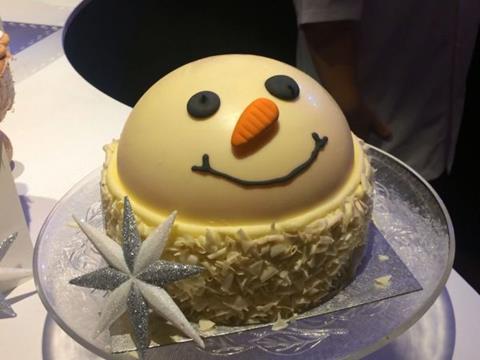 Morrisons
Morrisons has made a big play on discounted spirits in recent months and that's continuing at Christmas, with a seasonal promo offering a 2-for-£22 deal on 70cl bottles of big brands like Gordon's gin and Smirnoff vodka advertised outside the Reigate store. Once inside, a large overhead banner wishes customers a merry Christmas, and whole gold reindeers hang from the ceiling.
'Morrisons Makes It' has been the homely strapline for a while now, and the marketing materials have just plonked the word 'Christmas' in front of it to give it a seasonal update, along with 'We cut, slice, mince and dice to make your Christmas'.
Morrisons has dedicated part of an aisle to Christmas SKUs with a row of 12 bays, but lots of others are dotted around the store, like the handful of Christmas jumpers, which still sit with the rest of the Nutmeg clothing range.
Elsewhere in the store, the café is offering a Christmas Meal Deal, with any three courses (including prawn cocktail, a turkey dinner and Christmas pudding for £7.50), and there are a few 7ft Luxury Woodland fake trees on offer for £60.
There are also some nice touches to sell through the little essentials, with posters hanging from the ceiling directing shoppers to the sellotape and batteries, while wrapping paper is on offer at the tills. And it recently pledged to freeze the price on 100 seasonal lines including mince pies, Maris Piper potatoes and turkey, which is clever.
It also has two 'look books', one of which allows shoppers to order fresh food in advance, although these are available on the way out, rather than on the way in.
Verdict: CEO David Potts is feeling "chipper" heading towards the big weekend for good reason - based on this shop, Morrisons is looking in good shape.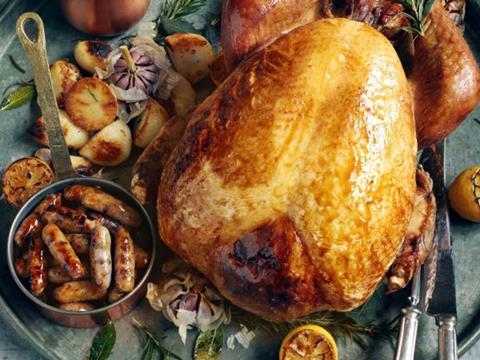 Sainsbury's
Exuding a typically serene aura, Sainsbury's at Redhill has things organised. There is nothing festive going on outside the store, or inside the entrance, but once on the shop floor the retailer has a comprehensive offer - and having Argos on the shop floor massively extends its range (it's advertising 'over 50 trees').
Elaborate 3D Christmas baubles and giant wrapped presents hang from the ceiling to liven things up and there is a large Christmas tree at the front of the store, along with a load of wrapping paper. The Tu clothing section has plenty of Christmas jumpers and novelty hats. But Sainsbury's has made its major play by setting aside a dedicated 'Christmas shop' within a shop, made up of 40 bays filled with crackers, decorations, lights etc.
Once you're out of there, apart from the hanging decorations, Christmas is pretty much nonexistent for Sainsbury's shoppers (for now?). There are more decorations hanging over the tills, but no standalone units anywhere else in the store. And there is only a small display of catalogues to order fresh food for Christmas Day by 15 December with a minimum spend of £20 (plus a £20 deposit).
Verdict: Last time Sainsbury's revealed results profits were down 9%, so it will want to report better news after Christmas - and it has a comprehensive range that should enable it to do so.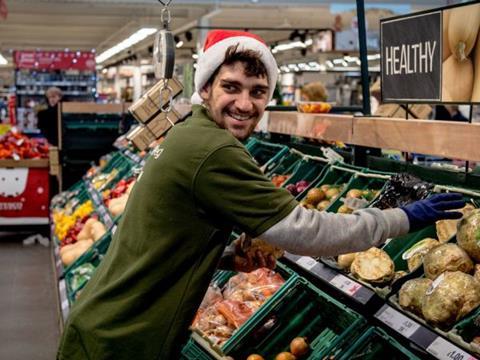 Tesco
There is still no sign of the jolly Santa hat that has sat atop Tesco Extras for a couple of years, and apart from a sandwich board advertising Harris & Hoole hot chocolate there is nothing festive about the outside of the Gatwick store. But inside Tesco has - at this early stage - the most focused and effective proposition when it comes to persuading shoppers to part with their cash.
The first thing anyone sees entering the store is a large display encouraging shoppers to pre-order their fresh food - surprisingly it's the only one of the big four to make a concerted effort to secure that early spend. And that effort continues in the early part of the store, with large standalone pop-ups filled with gifting sets, books and CDs, and dozens of dedicated Christmas bays housing the usual crackers and tinsel, all topped with a cheery 'Christmas is Coming' slogan, alongside its main 'Everyone's Welcome' strapline.
Elsewhere there are standalone pop-ups filled with food and drink tucked inside nearly every aisle throughout the store, plus a gift stand outside its health & beauty department.
Upstairs on the mezzanine floor, in F&F and non-food, the same energy and enthusiasm permeate, with a huge selection of Christmas clothing, from socks to Santa mini dresses, various outfits for kids and some outstanding novelty fancy dress for adults. There are another half-dozen bays upstairs selling stocking fillers and secret Santa-style presents.
A major part of its promotional campaign will be to reveal details of its work with The Trussell Trust and FareShare too, which will resonate with compassionate customers.
Verdict: A canny Christmas campaign, combined with commercial savvy and straightforward volume of SKUs, means Tesco has set itself up for a big one.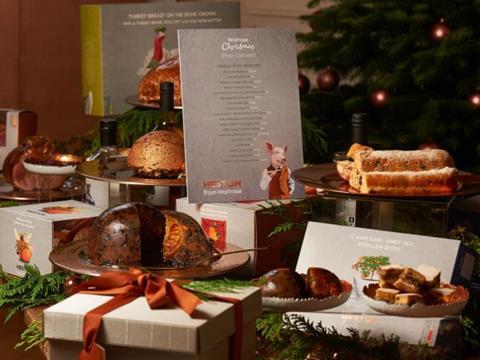 Waitrose
Trees, fairy lights and other festive decorations greet Waitrose shoppers at Horley. In the foyer shoppers can chuck some cuddly Santas and elves into the trolley. And inside it's immediately Christmas all the way and heavily discounting Christmas staples already.
A wall of half-price Christmas crackers (£7.50) and displays of mince pies with 25% off sit front and centre, plus three other large standalone Christmas units filled with Advent calendars, poinsettia plants, mini trees, chocolates and Christmas cards. Food to go is also front of the store, with 25% off all 10 varieties of Christmas sandwich.
The tagline 'stock up for Christmas' tempts shoppers to pick up some of the above incidentals nice and early, leaving them feeling flush closer to the big day.
So far, so festive, but the supermarket has struck a canny tone, resisting overkill. Only two of the 17 available gondola ends are filled with dedicated Christmas produce from Heston and Waitrose 1, although a red and white snowy theme decorates the top of all of them. Only half an aisle, or nine bays, are stuffed with smarter crackers, fairy lights, cards and novelty gift sets. Finally there are nine smaller pop-up displays around the store filled with more of the same. The tills are also festooned with more wrapping paper but although the food-to-order catalogue is gorgeously produced it has a low key presence.
A spokesman says Waitrose has launched over 500 new products this year, including a range of "nostalgic" Black Forest dishes including Heston from Waitrose Black Forest Panettone, Waitrose 1 Black Forest Venison Rack and the Waitrose Black Forest Sparkle Bar.
He also says "alcohol flavours feature strongly in everything from food to beauty. The Prosecco Panettone we launched two years ago proved so popular we had to double orders last year and it will be available again this year. We we will also have several new options featuring alcohol: the Prosecco-basted Italian-style Turkey Parcel, Gin-cured Smoked Salmon with Botanicals, and a new Gin & Tonic Lip Balm, which will sit alongside the sell-out success from last year, Prosecco Lip Balm."
Verdict: Offering the quality you'd expect from Waitrose, but with a sharp eye for a promotion or two, Waitrose has got off to a cracker.
The best of the rest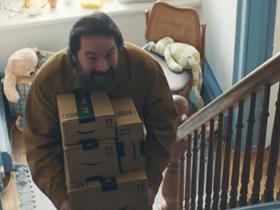 Amazon
The Amazon festive ad's depiction of a dad creeping up the stairs to hide parcels in the back room, no Father Christmas in sight, sent social media awhirl with allegations that the online retailer wanted to rob kids of Christmas magic. But at least on the food front the retailer looks set to prove it can be a one-stop shop for groceries this Christmas with delivery slots up for grabs from Monday (27 November). Those with an eligible AmazonFresh account will be spoilt for choice, with 2,352 results for 'turkey' alone.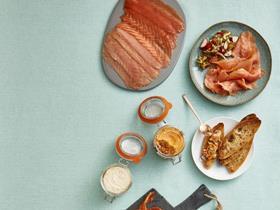 Booths
The theme of a Great Northern Christmas runs throughout Booths' festive range, with prompts to switch to alternative meats such as the Adlington-raised Cockerel Cushion. The standout feature has to be its all-inclusive dinner packages, though. The dinner sets, only available for 22-24 December, range in price from £60 to £165 for the 'ultimate Christmas dinner', which comes complete with smoked salmon starter, three desserts and even coffee and tea, with enough food for up to eight diners.
Gousto
With a business model based around novel recipes for time-poor cooks, Christmas might not be the most obvious target season for recipe box supplier Gousto. But keen not to be forgotten over the festive period, its Festive Get-Together box contains eight seasonal recipe cards, such as balsamic & redcurrant glazed smoked pork loin, chargrilled herby lemon chicken skewers, cheddar brioche sliders and Scandi-style potato salad. With food for eight the box is £74.99 and includes party activities.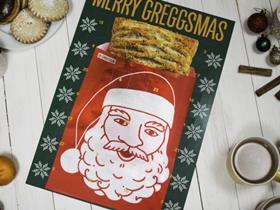 Greggs
Swapping out baby Jesus for a sausage roll in the manger doesn't go down well with everyone, as Greggs found out, with the image to market its new £24 Advent calendar angering many Christians. It's unclear yet whether the suggested boycott will impact sales. Unlikely, though. With only 500 available at 17 stores, the calendar is less money spinner, more light-hearted reminder that Greggs intends to be a serious Christmas contender this year, heavily promoting its cult Christmas bake.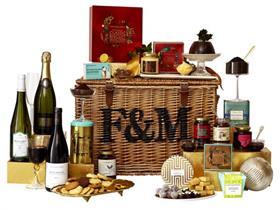 Fortnum & Mason
The West Wing of Somerset House is again transformed into Fortnum's Christmas Arcade this year, in which Welsh rarebit fondue can be tucked into for an eminently reasonable £28. On the gifting front its famous hampers won't disappoint, ranging from £100 to £6,000, with a new click and collect service. And knowing a full trolley of its delectable groceries are out of reach for 99.9% of us the retailer is opting to push impulse buys like a seriously posh Christmas pud over the £130 Christmas beef joint.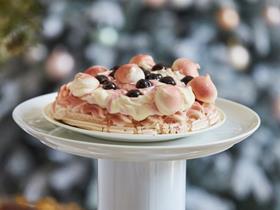 Ocado
Featuring frozen cocktails, Korean snacks and gin-infused cheeses, a sneak peek at new arrivals in the Ocado Christmas range this July suggested it could be looking to more adventurous consumers. Something that the sight of its exclusive insect snacks did little to assuage. As for other key trends, its Christmas Store features an extended selection for vegetarians and vegans, and no fewer than 19 intolerance and dietary filters. Booze is being heavily promoted with a Fizz Sale featuring 87 sparkling wines.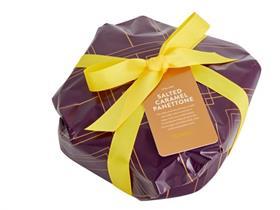 Selfridges
As much a destination as a store to pick up the Christmas turkey from, the Selfridges Christmas experience includes a cabaret troupe bringing an East End pub to Oxford Street, multiple opportunities to meet Santa at three of the stores, and the Selfridges Party Parade. Its limited food selection does have 15 new arrivals to the Christmas range though including a Blonde chocolate topped salted caramel panettone, a festive whiskey mustard and a sparkling gin Christmas pudding.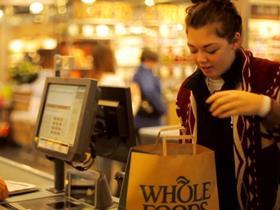 Whole Foods Market
With just nine UK stores and now held in the vice-like grip of Amazon (which is rumoured to be closing branches in the festive run up) the Christmas strategy for Whole Foods appears to rest primarily on new cheaper prices. Amazon Prime customers can now take advantage of cheap organic turkeys (as low as $2.99 a pound in the US) over the holiday season, with news of the price cut accompanied by a statement insisting this is what we can expect 'when Prime becomes the official rewards program of Whole Foods'.