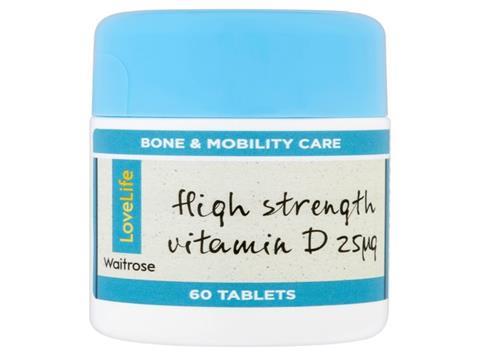 Sales of vitamin D supplements have risen by 70% in Waitrose following the publication of NHS-backed research that suggested the vitamin could help prevent the common cold.

Tinned fish sales have also seen a boost, with 22% growth since the study, which also highlighted oily fish as a good source of the vitamin.

The research, published in February in the British Medical Journal, said vitamin D consumption reduces the risk of colds, flu and other infections such as pneumonia.

The researchers, from Queen Mary University of London, claimed that supplements of vitamin D could mean around 3.25 million fewer people in the UK would have at least one respiratory infection a year.

"Awareness about the importance of vitamin D in the daily diet has been gaining momentum over recent weeks," said Moira Howie, nutrition manager at Waitrose. "This recent study highlights the opportunities to further fortify foods which could have benefits for many individuals in the UK population," she added.

"Through the spring, summer and autumn when the sun shines our bodies can generally make sufficient vitamin D for our needs, particularly if oily fish, eggs and fortified breakfast cereals are part of the weekly diet. But a supplement can certainly make good sense during the winter months too."

This is the latest time sales have been influenced by the headlines, following bacon sales, which fell 11.3% in the 12 months after a WHO report linked processed meat to cancer in October 2015.