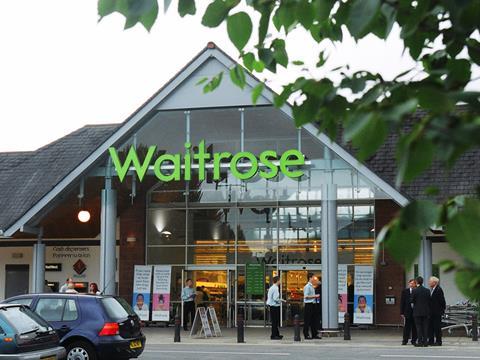 Waitrose is the only one of the mainstream supermarket groups to have enjoyed an uptick in sales in the 12 weeks to 26 April, the latest Kantar Worldpanel data reveals.
Sales at the John Lewis stablemate climbed 1.5% while Aldi and Lidl sales outshone the grocery pack up 15.1% and 10.1% respectively.
But a slowdown from the rest of the trade saw sales growth in the overall grocery retail sector slow to just 0.2% compared with the same period last year.
Fraser McKevitt, head of retail and consumer insight at Kantar Worldpanel, attributed this to record low grocery price deflation with a typical basket of everyday items 2.1% cheaper than it was last year.
Lower prices had taken £532m out of supermarket tills, he said.
Sainsbury's was the strongest performer of the Big Four with a 0.2% fall in sales, compared with Tesco off 1%, Asda, off 2.2% and Morrisons down 1.1%. Iceland's growth was flat while sales at symbols and independents fell 1%.
Sainsbury's share now stands at 16.5%, down 0.1 percentage points on last year. Its increased focus on non-food items and its strength in London, where grocery sales are growing faster than elsewhere in the country, boosted performance.
Aldi and Lidl enjoyed new record high market shares – 5.4% and 3.8% respectively – with growth slower than in recent months, which McKevitt said suggested the discounter momentum was starting to slow a little.
Tesco's market share fell 0.5 percentage points to 28.4% year on year.