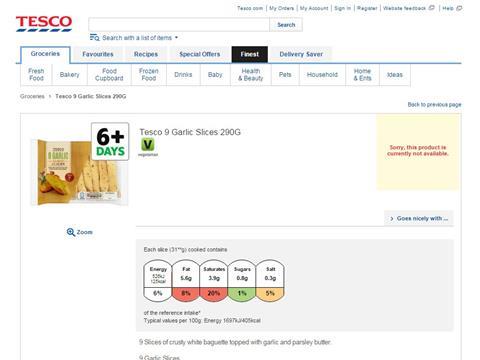 Bakkavor has assured customers it has taken steps to avoid a repeat of the manufacturing fault that led to underweight packs of garlic bread being sold at Tesco.

A routine check by Aberdeenshire Council Trading Standards in August discovered several 290g packs of the own-label product in a store that were underweight by as much as 21%. As a result, Tesco withdrew almost 70,000 packs, with a retail value of £93,000, from sale across the UK. The SKU was still unavailable on the Tesco website at the time of writing, but a spokesman said it was now back in stores.

Bakkavor "sincerely apologised" for the incident and said it had taken further steps to prevent underweight products reaching stores in future. It declined to explain how the incident happened.

One possible explanation was human error, Food Management Services senior partner David Harrison told The Grocer. "The manufacturer will have appropriate process controls in their quality management systems, and probably a check weigher in line," he said. "It's possible the check weigher was faulty and it wasn't spotted at routine checks, or that packs were rejected by the check weigher and then erroneously put back on the line."

A Tesco spokesman said it was "disappointed", adding it was working with the supplier to avoid a repeat of the incident.

Aberdeenshire Trading Standards manager Wilma Urquhart, who discovered the products, said the council's team had also found one underweight pack produced by Bakkavor in another mult, but did not say which one.

Urquhart added looking out for underweight products could be like "looking for a needle in a haystack" and called for greater resources for routine weight checks.