Are robots going to rule the world? Maybe not, but there's an evolving stream of technology ready to revolutionise warehousing – and replace humans
One of the biggest techno tropes is that eventually, robots will rule the world. And before that automated apocalypse happens, they are coming for all your jobs. The future will decide whether that's realistic or risible, but while we wait for the future to deliver its verdict there is the very real spectre of Brexit to contend with.

Atop the disturbingly large pile of Brexit-related problems facing the UK is a predicted shortage of labour, based on the fact that an estimated 25% of the workforce that powers the UK food and drink industry hails from the EU.

There are a number of reasons why that pipeline could dry up, from the economic effect of a weakened sterling on migrant wages, to a rise in ugly and divisive right-wing rhetoric and behaviour.

So could robots, with their infamous reputation for stealing factory and warehousing jobs, be recast as the saviours of any labour issues caused by Brexit?
The first thing to note is there is "already a labour shortage in UK warehousing, so Brexit is exacerbating a problem that is happening anyway", says Christian Hansen, partner at operational improvement expert Newton. "More volume is moving to online across all channels and more and more warehouses are being built. We work with a number of clients who have DCs in the East Midlands, and irrespective of Brexit they are under significant pressure from labour shortages. And all the people coming to the area to fill those jobs are a mix of EU and non-EU migrants."

And they might do an about-turn thanks to Brexit, says Jeremy Hammant, associate director at BearingPoint. "The pound has been devalued against the euro by around 15%, so if you're a worker from the EU sending a significant proportion of your salary back home, you've effectively had a pay cut."

Automation can fill the gap in many respects, says Dematic marketing manager Jane Thompson. "It's faster, more predictable and efficient. And it is great in grocery environments because they operate in all the different temperature ranges: from ambient, chilled or frozen, they can lessen the labour required to fulfil orders, transport products and pallets in the warehouse, and for storage and retrieval. Plus the work done in a grocery warehouse can create issues with personal fatigue and repetitive motion."
"Automation is faster, more predictable and efficient. It's great in grocery environments because it lessens labour required"
Picking is a good example. "We typically see humans performing between 350 and 600 grabs per hour. For robotic picking, we can achieve performance as high as 1,100 items per hour with a single robot worker. It's a robot arm with AI machine learning technology that can be mobilised, which is a real transformation. What's happening is a convergence of technology with 3D vision, sensors and gripper technology, so it can pick anything from a tomato to a tin of beans."

Also "really hot right now is MFCs, or micro-fulfilment centres, which are putting automation in the back room of a retail store," says Sean O'Farrell, Dematic's grocery specialist. "A tote shows up, a person is shown images and text on their monitor or wearable tech to pick items and place them in the tote. You go from doing 60 picks an hour to 600. It's a huge gain in productivity but a small footprint."

Auto guided vehicles, or AGVs, are also popular, he says. "The appeal is instant - they work around the clock, they do point to point deliveries, they can stack pallets 11 metres high and remove them when needed. It's taking on more and more roles in a warehouse and it allows a company to start at that level, build confidence in automation, and add more."

Everybody is investing in automation: suppliers, wholesalers and retailers, says Hammant. Ocado is often cited as the most gleaming example of an automated warehouse, but others include manufacturers and suppliers like AB InBev and Nestlé.

AB InBev's 80,000 cubic metre warehouse, which opened last October, is vast enough to store 23 million pints of Stella and Budweiser. Robotic cranes criss-cross nine miles of racking and can pick any pallet in under 60 seconds.

And Nestlé teamed up with XPO Logistics to build a similar sized "digital warehouse of the future" last June. It's scheduled to open in 2020, and boasts "advanced sorting systems and robotics alongside state-of-the-art automation".
Improvements
Most operations are not starting from scratch, however. "They probably already have a warehouse, and they are looking at how they can best improve things," says Hammant. "Anything from an AGV flexible picking system through to using exo-skeletons to improve productivity. Anything scalable on an existing site, or automation that is transportable to a new site, are the easiest things to build a business case for."

So will this ongoing increase in automation generate new, higher skilled and better paid roles for humans in Industry 4.0? Or will the end result be a net loss of jobs?

"It's very nuanced and case-specific," says Hansen. "There are specific examples where you put in a piece of automation that replaces a chunk of manual work, that does displace jobs. But in the long term, productivity gains delivered by automation creates value, which creates jobs that might require a different skill set."

AB InBev says the "motivation behind the automated warehouse was predominately efficiency and sustainability, rather than cutting back on labour. In fact, this project has created four full-time engineering roles, and there are potential plans to develop an adjacent larger site. If that project is taken forward, it could create up to eight additional engineering roles."
Automation is "great at getting rid of heavy repetitive tasks, and whether that will create the opportunity for new supply chain roles, I am sure it will", says Hammant. "I was with a client the other day and they were looking to recruit data scientists as part of their new logistics function."

But however jobs evolve in the future, a more pressing issue is the fact there are "already labour shortages that will be exacerbated by Brexit", he adds. "There is a lot of activity looking at robots for crop picking because of the worry about labour not coming over any more."

He says there have been "strong advances in visual imagery systems, coupled to robotic systems, which allow irregular shaped items to be picked and checked, which is really useful for picking fresh fruit & vegetables. People have always said picking fresh produce would never be replaced by a robot, because every bunch of bananas is different, for example. But these advances will give other opportunities to replace manual labour with some form of automation."

That's if there are people to replace in the first place, says Thompson, Brexit or otherwise. "There literally isn't the labour pool available," she says. "So it's not about taking those workers and moving them to new jobs. It's that we have to automate because we can't find the people."
Warehousing: the reality of the EU workforce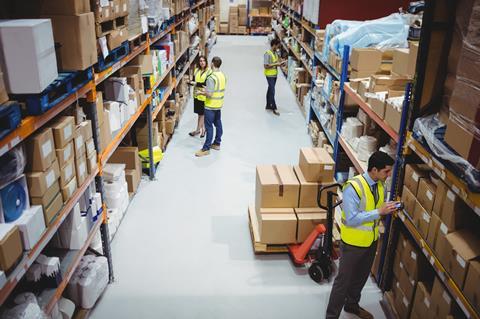 According to the Recruitment & Employment Confederation, 60% of recruiters in the warehousing sector said "at least half of the temporary staff they hire comes from the EU", as did 56% of those providing workers to businesses involved in food and drink supply chains. It also said almost three in 10 warehouse recruiters for "household names like Tesco and Nestlé" said a whopping "75% or more" of their temporary assignments were filled by EU nationals.
Neil Carberry, REC CEO, says the "hospitality, warehousing and food and drink sectors rely heavily on EU nationals and if they can't fill these roles we risk damage to supply chains".
Meanwhile, a report from the Migration Advisory Committee published last October said EU workers in food and drink manufacturing accounted for about one quarter of staff in 2016, followed by warehousing, where 19% of workers hail from the EU. That compares with 8% in construction, 7% in retail, 6% in care and 4% in health. It said they were "particularly well represented at big retailers, with half of Amazon's distribution staff and one third of Morrisons' coming from the EEA."
But government data shows that net migration from eastern Europe hit an eight-year low in the 12 months to March 2018. And last November, Sally Gilson, head of skills at the FTA, sounded a warning, saying "the freedom to recruit from across the EU has helped to keep our lorries and vans on the road, but with uncertainty surrounding the parameters of a future immigration system, the logistics sector is concerned".
And the REC said 29% of recruitment agencies supplying agency workers to the warehousing sector were now unable to meet their clients' overall demand - a figure that rose to 39% for the food and drink sector. It said "businesses in industries that have a significant reliance on EU temporary workers - namely hospitality, food and drink, warehousing and farming - are alarmed by a lack of clarity around post-transition immigration arrangements".