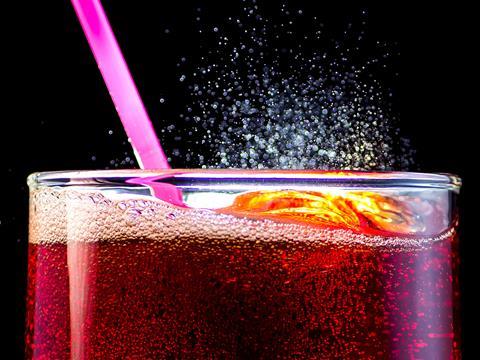 Shortages of food-grade carbon dioxide are threatening to disrupt supplies of UK food and drink, with carbonated soft drinks, alcoholic beverages as well as any foods that rely on gas-flushed packaging at risk of disruption. Here we round up how the UK grocery industry has been responding.
This page was last updated at 16.26 on 25 June 2018
AB InBev
"We've invested in CO2 recovery systems at both of our breweries in the UK. They enable all CO2 from the brewing process to be recovered and sent back round the site. We do that because we're focused on sustainability and this is the best way to operate but it also means that we're largely self-sufficient. So currently our supply across both our breweries is good and we're not anticipating any issue in the near future."
AG Barr
"We invested in additional CO2 storage last year, and have multiple supplier agreements in place, but are monitoring the supply position and production schedules closely to protect customer supply as much as possible."
Beavertown
"The progression of the situation is that we were initially expecting delivery later this week which has been postponed until next week. We have got enough CO2 to package today and tomorrow but then we'll have to halt production.
"Kegging beer uses a lot less CO2 than when you put it into small pack. But you need the gas then to dispense it. We could continue running much longer if we just put all our beer into keg, but then the pubs can't necessarily dispense it because they will run out of those gas cylinders as well."
Bestway
Dawood Pervez, trading director of Bestway Wholesale, said: "The implications of the reported issue have not yet become clear in terms of the actual impact on availability. We are working closely with suppliers to try and maintain our availability and are reviewing all options to ensure we limit any potential availability issues for our customers and the end consumer. Some suppliers have contacted us to indicate that there will be supply failure that will last in excess of a month, however others are relatively unaffected as they have their own captive sources of CO2.
However we are monitoring the situation closely and are working with suppliers and depot teams to limit any impact of the CO2 shortfall."
Booths
"Booths have been in dialogue with their suppliers and have taken immediate steps to ensure orders are placed and the impact of the shortage is minimised. The buying teams will continue to monitor the situation and work with suppliers to ensure any supply issues are resolved quickly."
Brakes
"We are aware of the short-term supply issues with CO2 and are actively working with our suppliers to ensure that any disruption is kept to a minimum. We are not anticipating any major issues at the moment."
British Beer and Pub Association
BBPA chief executive Brigid Simmonds said: "We are aware of a situation affecting the availability of CO2 across Europe, which has now started to impact beer producers in the UK. We have recommended our members to continue to liaise with their providers directly where they have concerns over supply. We will continue to monitor the situation carefully. However, given the time of year and the World Cup, this situation has arisen at an unfortunate time for the brewing industry."
British Meat Processors Association
Fiona Steiger, Deputy Director of the BMPA said: "We are concerned about the CO2 shortage and we and our members are working with the retailers and government officials to keep the supply chain moving. I have not heard that any of my members have stopped production, so I am confident there will still be meat for your barbecue and roast this weekend."
British Retail Consortium
"We are aware of some issues with the current supply of carbon dioxide across Europe. Carbon dioxide is an important input in food processing and retailers are working closely with their suppliers and the government to avoid any disruption to the supply chain."
British Soft Drinks Association
"The shortage of CO2 across Northern Europe is impacting a wide range of businesses across the food and drink sector. Soft drinks producers in the UK are taking active steps to maintain their service to customers including working with their suppliers to mitigate the impact as well as looking at alternative sources."
Coca-Cola European Partners
"We are currently responding to an industry-wide issue that is impacting the supply of CO2 in the UK and across Europe. Our focus is on limiting the effect this may have on the availability of our products. There has been no disruption to supply to date and we are continuing to fulfil orders to our customers. We are working closely with our suppliers, partners and customers on a number of solutions as the situation develops."
Department for Environment, Food and Rural Affairs
"The government is aware that there are reports of a CO2 shortage affecting the food and drink sector, and that industry is working to find a solution. Whilst this is an issue for industry, the government is in contact with the relevant companies and trade associations, including those within the food and drink sector and main CO2 suppliers."
Food and Drink Federation
"CO2 is used widely throughout the food and drink supply chain and we are therefore engaging with members on the matter to establish where there are concerns or issues. We are also speaking with a number of government departments in order to convey these views and ensure that any response is fair, proportionate and well-managed."
Heineken
"We've been informed by our CO2 supplier that they are facing a major issue with supply availability in the UK . Like many other businesses in the food and drinks industry, we are affected by this shortage. We continue to work hard to resolve this issue as quickly as possible within our European supply base and are working with customers to minimise disruption to their business."
Hilton Foods
"We are aware of the carbon dioxide shortage issue. We have extra stocks in place and if the shortage continues, we should be able to source from other areas. We will continue to monitor the situation closely"
Iceland
"We are working with our supplier partners to avoid impact to customers."
Landmark Wholesale
Jim Brown, senior trading controller at Landmark Wholesale, said: "Following recent news regarding limited supply of CO2, Landmark Wholesale can confirm that some of its soft drink suppliers have acknowledged a significant impact and have ceased some production. As a result, some are pulling promotions and restricting volume. Others, including the majority of the brewers, are confident that they will maintain full supply. At this stage, we are focussing on collecting information and sharing it with our members.
"As soon as the scale of the problem becomes clear later this week we will take all necessary steps to work with our suppliers to maximise availability."
Lucozade Ribena Suntory
"Lucozade Ribena Suntory is currently not experiencing any CO2 supply issues and no production is affected."
Matthew Clark
"As you may have seen reported in the national press, a significant shortage of Carbon Dioxide gas (CO2) has been announced across Northern Europe. This is already having an effect on a number of brewers and soft drink manufacturers. The effects of this shortage could be seen by other producers soon.
"The shortage of CO2 has arisen after the closure of several production sites and is affecting a number of UK based food and drink manufacturers. Our suppliers are all working to minimise the impact, and are looking to source gas from elsewhere. We expect that this situation will affect the availability of CO2 and mixed gas cylinders for individual use within our industry too, we advise that you work with your gas supplier to ensure supply during this period.
"While it's too early to tell how the shortage will affect the availability of specific products, as part of our commitment to you, we will continue to keep you updated as the situation develops. Should you have any queries, our account managers and contact centre staff are close at hand to assist. In the event that you experience difficulties sourcing a product through Matthew Clark, please contact your account manager who will be able to suggest replacement products."
McDonald's
"We are aware of the shortage of food-grade carbon dioxide and are working with our suppliers to ensure that our customers are not affected."
Molson Coors
"As a result of the investment we have made in CO2 recovery systems, Molson Coors is fortunately able to generate most of our own CO2 for production and packaging of our major brands. For our smaller breweries, we are working with CO2 suppliers to maintain the supply. We can confirm we are still brewing and packaging and orders based on normal levels are being fulfilled."
Sainsbury's
"We can confirm we're working with our suppliers to ensure we have contingencies in place."
Today's Group
The group has issued the following guidance to its member wholesalers: "We have been made aware this morning of a developing issue regarding CO2 supply, which is likely to have an impact on alcoholic drinks, soft drinks and fresh meat production capabilities. There is currently an industry shortage of C02 across Europe which up to this point, has been at manageable levels for producers, but the shortage has been exacerbated in the UK in recent days due to technical issues with suppliers in the wider supply chain.
"The current CO2 supply issue is still in the early stages, so there are no specific details as yet on the potential impact to product deliveries. We are liaising with Heineken, Molson Coors, AB InBev, Britvic and CCEP to understand their plans and forecasts, and as soon as we have any updates we will let you know."
Wetherspoon
Wetherspoon spokesman Eddie Gershon said: "We are fully aware of the situation. At present, none of our pubs have been affected and are offering their full range of drinks. We are monitoring the situation closely with our suppliers, in order to minimise any disruptions that might occur. Like other pub and bar operators, we have been informed by Heineken of their issues with CO2 and that is likely to affect the supply and availability of certain beers and ciders."