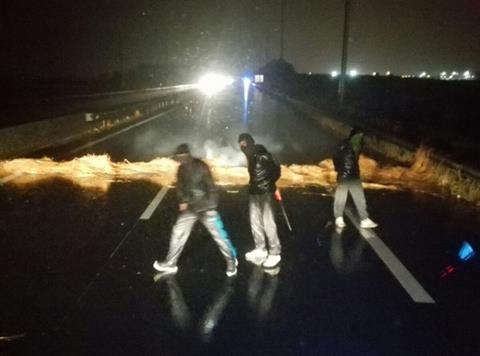 The Freight Transport Association is calling for action after a truck driver was threatened with a chainsaw during a night of violence in Calais.
Riots broke out in the Calais 'Jungle' camp on Monday evening, with migrants setting fire to motorway barricades to stop drivers from approaching the port.

One Belgian driver said he was confronted by a migrant and threatened with a chainsaw as he tried to reach the crossing.

The boss of the driver begged authorities: "Please do something, there will be deaths. Our drivers are threatened every night,"

"These drivers are just trying to do their job, moving goods from Europe to the UK through the country's busiest port," said FTA EU affairs manager Chris Yarsley. "Attacks like this are unacceptable and more needs to be done to protect them as they go about their work."

"A robust process must be put in place to quickly deal with applications from genuine asylum seekers rather than economic migrants and move them out of the camp. Relocating the camp away from the port would prevent the relentless attacks on commercial vehicles passing close by and allow our members to carry out their job without fear of attack or fines for unwittingly carrying migrants on their trucks."

The FTA said it would back a report by the Home Affairs Select Committee to maintain juxtaposed border controls at Calais to protect against terrorism and criminal gangs.

The Migration Crisis report covers humanitarian and security issues including the Le Touquet agreement, which allows UK border controls to operate on French soil.

The FTA said moving controls to Dover would create major disruption on Channel crossings as the UK cannot handle 100% of the vehicle checks that protect drivers from threats as they approach the port and prevent migrants from entering the back of vehicles to stow away illegally.

"A lot of bilateral co-operation and investment has already taken place - it would be against both nations' interests to remove what is already in place and functioning," said Yarsley.

"Improving what is there is the key - not taking it away."

The number of migrants residing in the 'Jungle' camp has reportedly swelled to over 7,000, more than at the peak of last summer's unrest. The UK's vote to leave the EU has reportedly made some migrants more determined to cross the channel before any changes to the current border controls.