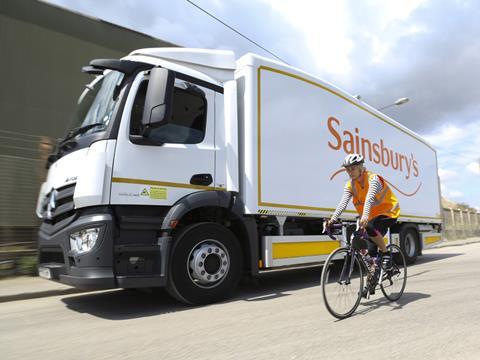 I've never felt safe cycling in London. Not amid the chaos of red buses, the HGVs, the lane-hopping taxis and the shopping-laden pedestrians wandering across busy roads.
It's an opinion held by many and one sadly supported by the reality that last year 14 cyclists died in London owing to traffic collisions. Of this figure the majority – nine – died in accidents involving HGVs.
That so many involved collisions with HGVs is clearly a problem. And it's a problem for the grocery industry too, given how important a role these vehicles play in the supply chain.
As a result the finger of blame (often pointed by Boris Johnson as he tries to balance his public love for bikes with his public love for business) is increasingly directed at businesses that operate lorries in the city.
Boris' goal is to slash by 40% the number of people killed or seriously injured on London's roads by 2020. Towards this aim, this week a consultation was launched proposing that vehicles over 3.5 tonnes must have side guards and additional mirrors added for cycling safety, or else be banned from driving through London altogether.
That seems a reasonable measure. And this week Sainsbury's went even further, unveiling seven hi-tech, gadget-adorned lorries each equipped with a number of safety-enhancing provisions designed to protect cyclists.
The lorries will be used to service Sainsbury's convenience estate across London. And nine more are on order. In fact, these new designs could replace Sainsbury's entire fleet within five years, if successful.
The design is impressive. Each has a 360-degree monitor; extra side lighting for road users at night; low side guards for cyclist safety; proximity sensors; reflective infills to help stop cyclists from falling under the vehicle; indicators along the sides to increase awareness that the truck is turning; side lights that glow at night; and even warning stickers to alert road users when they're in the driver's blind spot.
So: not an average HGV. But is it actually any safer?
The Freight Transport Association agrees changes must be made and welcomes Sainsbury's move. But the body – which has been battling a barrage of blame piled on the transport industry for cycling deaths – has concerns that the responsibility of the cycling community often gets missed in the safety debate.
"Cyclists shouldn't think this gives them immunity or the means of blaming the driver," said FTA MD of policy and communications James Hookham. "Cyclists can help themselves by staying back from large vehicles."
He also pointed out there's a lot of information being thrown at the driver on the new Sainsbury's lorries: "We must make sure we don't overwhelm the driver so he can't react instinctively," he added.
It might not be a perfect solution. But at least it's a step in the right direction.